New York City
With a new austerity measure, Mayor Eric Adams asks agencies to cut budgets by 3%
Looking ahead to budget gaps and a weaker economy, City Hall asks, again, for belt-tightening – but no layoffs.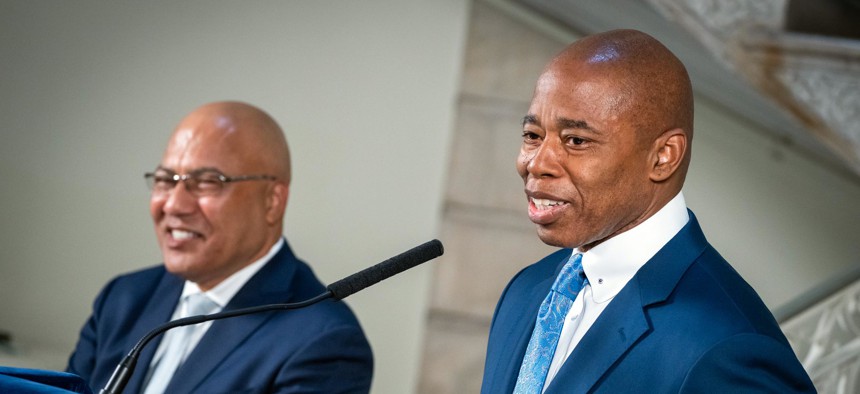 New York City Mayor Eric Adams' administration is once again asking agencies to tighten their belts and reduce spending as City Hall looks warily towards the possibility of huge budget gaps in coming years.
Adams' Office of Management and Budget sent a letter to agencies Monday asking leaders to submit a plan to reduce city-funded spending by 3% in the current fiscal year. They should also cut those expenses by 4.75% from the planned budget for fiscal year 2024, and the years beyond that. 
That would mean an approximately $157 million cut to the New York City Police Department's budget for the current year, and a $227 million reduction to the expected $4.8 billion in city spending in 2024. The calculations don't include funding routed through the state or federal government.
This Program to Eliminate the Gap, or PEG, was first reported by Politico New York. The letter says the city budget office expects a plan by Sept. 30, and if agencies don't meet the targets themselves, the Office of Management and Budget will find savings. The letter says every agency must participate – a change from Adams' previous PEG, when certain agencies including the Department of Correction and Health + Hospitals were exempt. Then, Adams and Budget Director Jacques Jiha aimed for 3% expense reductions ahead of his first preliminary budget. 
Savings can't be found by laying off workers, or by imposing new fines or fees, Jiha wrote in Monday's letter. He also said city services can't be negatively impacted "unless those services are demonstrably underutilized." Agencies are encouraged to look at restructuring, or "identifying new or additional grant funding."
The city's largest public employee union was skeptical of the administration's promises. District Council 37 Executive Director Henry Garrido released a public statement saying the cuts would "unnecessarily strain an already strapped workforce and severely impact the quality and level of City services New Yorkers rely on." 
The Adams administration is starting contract negotiations with DC37 and other public sector unions, and Garrido said this should be done outside of negotiations. "Making these cuts before meeting us at the bargaining table is the ultimate insult to our members, who have worked tirelessly since the pandemic began and gone without a raise for the last 16 months," he said.
Those expiring union contracts – and the expectation that labor costs will rise – are one of the reasons that agencies need to find savings in the first place, Jiha wrote. The city also cited a relatively weak stock market affecting the city's revenue and said expenses have increased due to high inflation and increased energy prices. The letter also cited new expenses, such as the need to house thousands of asylum-seeking migrants finding shelter in the city at a time when the influx of federal funds from COVID-19 relief bills is drying up. 
Some of those are new challenges to the budget. Others, like expiring union contracts and reduced federal funding, were already a part of the city's fiscal picture when Adams passed the $101.1 billion fiscal year 2023 expense budget in mid-June. 
Fiscal watchdogs like the Citizens Budget Commission called for more savings then – and are now praising the new PEG, calling it "a prudent and fiscally necessary step to stabilize New York City's budget in the long run."
Something had to give. While city revenue projections are often purposefully conservative, Adams' first financial plan as mayor projected a $4.2 billion shortfall in fiscal year 2024, $3.7 billion in 2025 and $4 billion in 2026.
Adams has often talked about fiscal restraint, but overall spent aggressively in his first budget, even joking that his critics were getting everything they wanted. This call for budget reductions may be seen as a correction. 
New York City Comptroller Brad Lander, too, called the PEG "a prudent step."
"The economic consensus at this point is that there's a greater likelihood of a sharper, deeper economic downturn if the Fed continues to significantly raise interest rates," he told reporters Monday. "So that's the primary driver here."
The city is having difficulties filling jobs in many agencies – a vacancy rate so high the City Council held a hearing Friday to discuss causes and how to fix it. Lander said that more people certainly needed to be hired into some positions – but the unfilled jobs may present an opportunity for savings. "Sometimes the positions that wind up vacant, you do notice, maybe we don't need to refill them quite as quickly, or with quite as many people as we had before," he said. "And that is an area that we could slightly reduce our headcount."
New York City Council Speaker Adrienne Adams' office was more pessimistic. In a statement, a spokesperson said the Council had "serious concerns" about the potential impact on staffing. "The city needs to be judicious to ensure it is making smart investments that yield long-term benefits for our city and communities, rather than broadly making cuts that can undermine the health of our neighborhoods by depriving its residents of essential services," the council spokesperson said. "The Council will be working with stakeholders across the City to respond more substantively to these initial proposals, as we gather more information."
PEGs seem wonky, but budget politics can often explode into the public conscience. Adams year-over-year reduction to some school budgets has become a major political liability, as even the City Council – which agreed to the budget in the first place – passed a resolution last week calling for the cuts to be refunded.