New York City
An estimated 6,300 asylum-seekers have entered NYC's shelters
A lack of coordination with Texas, Arizona and the feds has created uncertainty about how many migrants will ultimately arrive in the city.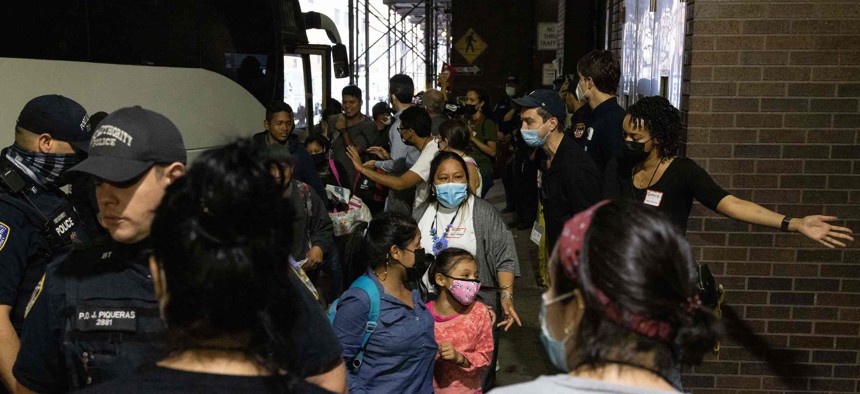 New York City Mayor Eric Adams' administration now estimates 6,300 asylum-seekers have entered the shelter system this summer – more than double the number from just a month ago, officials told City & State on Thursday.
Already, the city has struggled to meet its requirement to house anyone who seeks shelter, given the steep increase in migrants who have traveled or been sent to New York in recent months. What's more, a lack of coordination among federal officials at the southern border and the governments of Texas and Arizona prevents the city from estimating how many asylum-seekers it can expect, according to New York City Council Member Diana Ayala, who chairs the Committee on General Welfare.
"It's pretty alarming to me – how are we able to meet our mandate when the number of people is so unpredictable? It's not like there is any collaboration with Texas or Arizona that allows us to gauge where exactly this number will end up," she said.
Ayala said she learned about the new estimate of asylum-seekers who have entered the shelter system on Thursday at a briefing with officials from the Adams administration, which confirmed the figure. City Hall recently began holding the weekly meetings as the asylum-seeker crisis has worsened.
The situation has left the city in a scramble to find space to shelter migrants. In the past several weeks, it has opened 11 temporary shelters in hotels, many of which contracted with the city previously to provide space when congregate homeless shelters were closed to prevent spread of COVID-19. In both cases, local representatives were not notified in advance by officials at the Department of Social Services and City Hall about the newly opened hotel shelters, which is atypical but permissible under an emergency declaration.
Council members interviewed for this article said it was hard to pin blame on any agency or individual for the chaotic rush to house such a large number of families and children who have migrated here from Latin America, but noted that the Department of Social Services was aware of the problem months before it became public. Ayala said she learned of the crisis when she received a call from a reporter in late June.
"At that point, DSS admitted it was true and they thought they had about 100 people. That number was actually a lot higher, so why there was such a huge discrepancy in what the number was, they haven't been able to clearly explain, and I believe they had some time to compile some sort of a plan, but I don't think even they anticipated the numbers were going to climb as high as they did," she said.
The Department of Investigation has opened a probe into the Department of Social Services about whether it engaged in a cover-up of the crisis, along with violations of the city's right-to-shelter laws. The investigatory agency conducted interviews this week and gathered records as part of the inquiry, according to a source who requested anonymity to speak freely.
Advocates have cast doubt on Adams' numbers since he first said in July that 2,800 asylum-seekers had entered the shelter system. His administration has repeatedly said the figure was an estimate and did not include migrants who were staying with family or friends.
Nonprofit organizations who have been providing aid to migrants also raised concerns that the hotels can't adequately meet the needs of families with children, as they do not have kitchens or other social services, such as education enrollment and health care, that are offered in traditional shelters. At least one hotel shelter is located in each district represented by Council Member Erik Bottcher on Manhattan's West Side and Ayala, whose district spans East Harlem and the south Bronx. The city put out a request last week for proposals to house 600 asylum-seekers at a Midtown hotel, likely Row NYC on Eighth Avenue, and on Wednesday, issued another request for space for an additional 5,000 people, according to the New York Post.
Council members said they received calls about the opening of hotel shelters for asylum-seekers from concerned constituents, who recalled the increased presence of homeless people, drug use and crime in the neighborhoods where they were located during the height of the COVID-19 pandemic. Many of the asylum-seekers, however, are families with children and do not have the same high concentration of substance use and mental health issues as the homeless population.
Other council members who already have a large number of shelters in their districts also voiced concerns about the city opening other facilities to house asylum-seekers.
"I have been giving a lot of pushback in the sense of, not necessarily that I don't want shelters, I don't need any more, because there's a number of districts that don't have any, and I truly believe that they need to start in those districts," said Council Member Althea Stevens, who already has approximately 20 homeless shelters in her Bronx district.