New York City
The private sector vaccine mandate is lifted. What about the public sector?
New York City Mayor Eric Adams is standing by the COVID-19 requirement – despite being challenged in court.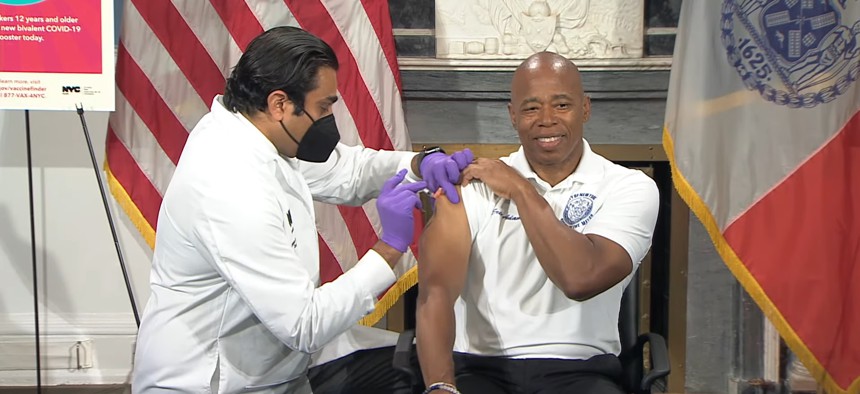 Hours after New York City Mayor Eric Adams announced that the city's COVID-19 vaccine requirement for private sector workers will end on Nov. 1, critics attacked his decision to keep the vaccine mandate in place for municipal workers and vowed to intensify their legal action on behalf of city workers who were fired after refusing to get vaccinated.
For nearly a year, employees who've worked for the city or in private sector jobs like restaurants, hotels and other private businesses have been required to be fully vaccinated against COVID-19. The mandates, which were implemented by then-Mayor Bill de Blasio's administration, have been highly contentious. While many employees supported it as a protective tool to mitigate the spread of the virus, both mandates have also been dogged by legal challenges. Although the private sector mandate, which applied to about 184,000 businesses, went largely unenforced during the nine months it has been in effect, about 1,700 municipal workers have been dismissed over the past year, including police officers and teachers. One New York City Police Department detective who sued the city over the vaccine mandate will have his case considered by the U.S. Supreme Court.
A handful of elected officials and unions, such as the New York City Police Benevolent Association, the Uniformed Firefighters Association, the Sergeants Benevolent Association and the Detectives' Endowment Association condemned the mayor's decision to only roll back restrictions on businesses.
"This announcement is more proof that the vaccine mandate for New York City police officers is arbitrary, capricious and fundamentally irrational," PBA President Pat Lynch said in a statement. "Now that the city has abandoned any pretense of a public health justification for vaccine mandates, we expect it to settle our pending lawsuits and reinstate with back pay our members who unjustly lost their jobs."
In a similar vein, Detectives' Endowment Association President Paul DiGiacomo claimed that the lifted mandate was "irrational pseudoscience" and vowed that the union will be in court Wednesday expecting to have its detectives "who were unjustly cast aside, reinstated and reimbursed."
Republican Rep. Nicole Malliotakis applauded the decision to roll back the private sector vaccine mandate and urged Adams to immediately rehire all of the city workers who had been fired and to lift all remaining restrictions.
"It's a double standard to not apply the same to our cops, firefighters, teachers and sanitation workers," she said in a statement. "As President Biden stated on Sunday, the pandemic is over. Many of our city workers gained immunity while working on the front lines during the pandemic, and with safe and effective therapeutics readily available to treat COVID-19, there is no reason to continue mandating the vaccine."
So far, the majority of the legal challenges filed against the mandates have failed to garner much success. In April, the U.S. Supreme Court declined getting involved in a lawsuit filed by four New York City public school employees, three of whom have been fired with the fourth having taken extended lead. Other lawsuits have played out in a similar manner, with the exception of a Manhattan judge who ruled that a NYPD Officer Alexander Deletto should be allowed to keep his job after the city denied his request for a religious exemption, according to the New York Post.
Adams announced the changes during a Tuesday morning press conference while also introducing a new campaign to promote COVID-19 boosters this fall, which will help keep the pandemic in the city's "rearview mirror." Citing that about 89% of city residents – children included – have now received at least one vaccine dose, Adams said it was time to usher in a new era of flexibility for parents and businesses. Rolling back the mandate on the city's municipal workforce, however, was currently not "on the radar," he said.
Students will also no longer need to be vaccinated to participate in sports or other after-school activities.
But when pressed for an explanation for the city ending the private sector mandate and leaving the public one untouched, Adams and New York City Department of Health and Mental Hygiene Commissioner Ashwin Vasan seemed to avoid offering any specific reasons beyond broad explanations centered on following the latest health guidelines.
"I don't think anything dealing with COVID makes sense, and there's no logical pathway of (what) one can do," Adams said, who rolled his sleeve up a few minutes later to receive a second booster shot. "You make the decisions based on how to keep our city safe, how to keep our employees operating."
Pressed by reporters, Vasan said the city's decision to end the mandate should be looked at as part of a larger strategy.
"It's important not to see these things in isolation, and say, 'Well, what's the narrow rationale for this one decision?' And see it as disconnected from the rest, because we are in the process of transition," Vasan said. "We are no longer in the emergency phase of the pandemic, but we haven't yet defined what the new normal looks like, or endemicity, and this is our process of getting there."
Asked whether the changes will open the city up to legal action, Adams said legal counsel had looked over every decision that they were making.
"We are in complete compliance with the law," he said.
Lawrence Gostin, an authority on public health and professor at Georgetown Law, said, "Although Adams is rolling back private sector mandates, it should not affect his legal authority to require vaccinations among public sector workers. He is the chief executive of New York and has every right to set reasonable, science-based safety standards for the public workforce. Many public service workers interface with the public, often vulnerable people. Adams has a duty to keep his workforce and the public safe."
The New York City Council Common-Sense Caucus – which is composed of Republican and moderate Democrats – challenged officials' reasoning for keeping the municipal worker requirement.
"We asked the health commissioner in our private meeting with him, what's the rationale for keeping it. He was asked today in a public format what's the rationale for keeping it," New York City Council Minority Leader Joe Borelli said in an interview with City & State. "Not only was his answer, I would say, obtuse, but it certainly fell short of an answer strong enough to fire city employees. You really have to have a good reason to fire people."
Borelli said the Common-Sense Caucus has pressed the administration to roll back the mandate with limited success. In a private meeting with city leaders two weeks ago, he said they also pointed to how the Metropolitan Transportation Authority has operated without a vaccine mandate and not experienced any major interruptions or death tolls.
"It's good that we urge vaccination, it's good that the majority of MTA workers are vaccinated … and certainly the pressure helped get that done," Borelli said. "But now, maybe we shouldn't be taking such drastic and permanent steps towards our municipal workforce."  
Data from the city's health department showed that the number of people who died or were hospitalized because of COVID-19 has been decreasing for months, yet dozens of New Yorkers are still dying from the virus each week. Alongside the start of a new school year, cases have also ticked up slightly.
Adams acknowledged that another variant could become dominant, which was why the city should remain vigilant even as it takes additional steps to put the virus in the past.
"We just don't know what's on the horizon," he said.