New York State
Can Republicans hinder absentee voting in New York a month from Election Day?
The state constitution prohibits no-excuse absentee voting. The state GOP is suing to stop people from being able to use fear of COVID-19 as an excuse to request a mail-in ballot.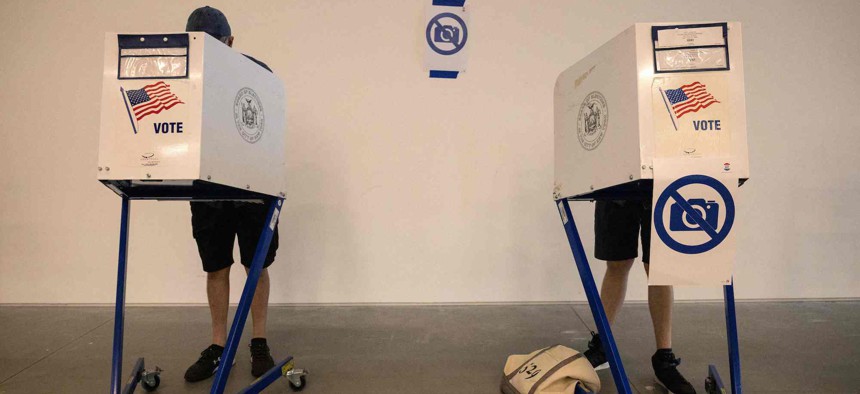 Boards of elections around the state have already begun mailing out absentee ballots, and some New Yorkers may have even voted already. But a new lawsuit from the state Republican and Conservative Parties could upend mail-in voting just a month away from Election Day.
In a joint lawsuit filed that included nearly a dozen conservative politicians and organizations as plaintiffs, the two right-wing parties seek to repeal two recent statutory changes to absentee voting laws, claiming those changes were unconstitutional. That first change expanded the reasons permissible to ask for an absentee ballot to include fear of contracting an illness like COVID-19. The measure has enabled a greater number of voters to access absentee ballots throughout the course of the pandemic and would immediately impact New Yorkers if repealed. The second change expedites the mail-in ballot counting process, permitting it to begin before Election Day so results can come out quicker.
The new lawsuit represents the second time that Republicans have challenged Democrats in the ring of electoral politics in a big way this year. They won their redistricting challenge after filing it in the GOP-friendly Steuben County. Once again, conservatives chose to file their challenge to voting laws in the right-leaning Saratoga County, where the case was assigned to a GOP state Supreme Court judge. "As we did with their illegal gerrymander scheme, we are taking their unconstitutional laws to the courts to protect voter integrity," state GOP Chair Nick Langworthy said in a statement. "Kathy Hochul and the Democrat legislature can't talk about their disastrous record so they are stopping at nothing to try and undermine free and fair elections in New York, but we will not let it stand." 
The question now is whether the judge will issue an order upending the absentee voting process so close to the election. "I'm reluctant to say that (the lawsuit) doesn't have legs in the current environment, but it should not," election attorney Sarah Steiner told City & State. "The change in the law to allow more voters to use absentee ballots, and to count the ones that arrived by Election Day, has been in effect for at least three elections with no issues." One of the defendants, Dutchess County Republican Elections Commissioner Erik Haight, told Gothamist, who first reported on the lawsuit, that "the pandemic is over" and called it "inherently flawed" to continue pandemic era allowances such as expanded absentee voting. But Steiner said such an argument ignores the public health reality. "Many people, especially the elderly and health-compromised, are still reluctant to expose themselves to a  virus that can kill them," she said. "The president may be able to wave his hand and declare the pandemic over, but that does nothing against the virus itself."
The law change enabling absentee voting if one fears contracting a disease codified an executive order from earlier in the pandemic. However, it largely functioned as a way around the state constitution, which prohibits no-excuse mail-in voting. Short of a constitutional amendment, which takes years to get approved, expanding the definition of what constitutes a valid excuse for an absentee ballot became the second-best solution in the eyes of Democrats and voting rights advocates. Voters last year rejected a constitutional amendment to permit no-excuse absentee voting.
Gov. Kathy Hochul is named as a defendant in the lawsuit, but her spokesperson declined to comment on the ongoing litigation. A hearing on the case is set for Wednesday.