Politics
Westchester County Executive George Latimer backs Attorney General Letitia James for governor
The Thursday endorsement is seen as a boon for James in her battle to silo upstate and suburban votes from moderate Gov. Kathy Hochul.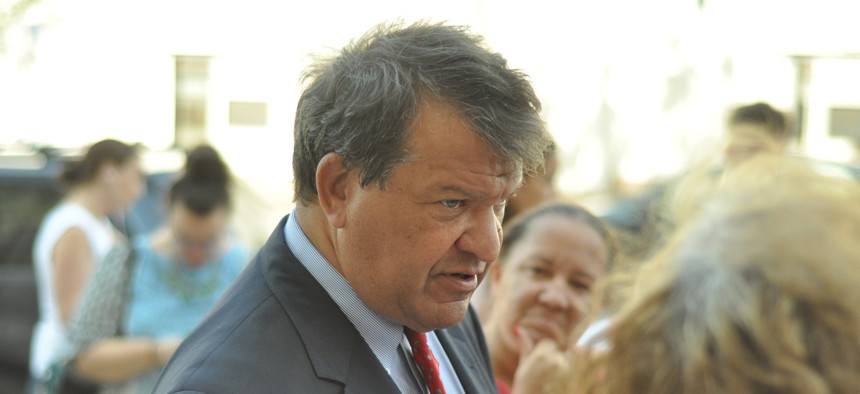 In her first public campaign event since announcing a run for governor, state Attorney General Letitia James received an endorsement Thursday from Westchester County Executive George Latimer – hours after a slew of officials there announced they are backing her opponent, Gov. Kathy Hochul. 
The timing of the endorsements underscores the suburban turf battle brewing between James, who is less known to moderate voters outside of New York City, and Hochul, who is from Buffalo and has strong support in suburban and upstate New York. 
Latimer is seen as the most prominent elected official from outside of New York City to endorse James yet.
"Latimer and his allies are a very good get for Tish James as it gives her a foothold in an important suburb where she may not be as well known as in the city," Larry Levy, executive dean at the National Center for Suburban Studies at Hofstra University, told City & State in a text. "As the incumbent and leading moderate in the primary, Hochul is expected to clean up in the suburbs, as well as upstate, and anybody Significant that she doesn't get is magnified in importance."
Latimer, who has expressed interest in becoming lieutenant governor, touted James' investigations into former President Donald Trump, along with her record on gun control and fighting the opioid crisis while endorsing her outside the Richard Daronco Westchester County Courthouse in White Plains.
"This county … is part urban, part suburban and even part Hudson Valley rural," Latimer said, while flanked by other county officials who also announced that they were endorsing James on Thursday, including Westchester County Legislator Chairman Ben Boykin and Deputy County Executive Ken Jenkins. 
"The success in 2022 in the state of New York is going to require us to bridge the gaps of urban, suburban and rural, and have a message of change, a message of dynamism that can unite all of us first as Democrats through the primary and then to the general election," Latimer said.
James did not rule Latimer out as her running mate and said that she is currently vetting several candidates. 
Meanwhile, Hochul announced the backing of nine elected officials from Rockland County on Thursday, including Assembly Member Amy Paulin and Yonkers Mayor Mike Spano. 
"In just a few short months, Governor Hochul stepped up, hit the ground running and demonstrated her ability to govern effectively and with purpose, especially during such turbulent and uncertain times," Spano said. "Given a full term, I am confident the governor will continue to work collaboratively with other state and local leaders and enact a positive agenda that benefits Yonkers, Westchester County and all those who call New York home."
Correction: This article initially indicated that Latimer endorsed James on Wednesday and that Hochul received additional endorsements on Wednesday.
Powered By
NEXT STORY: How Andrew Cuomo could help Tom Suozzi become governor