New York City
Eric Adams: City is prepared, but unlikely to 'pivot' after weekend flooding at Bronx tent shelter site
The mayor said safety is paramount, and shelter construction will proceed as planned.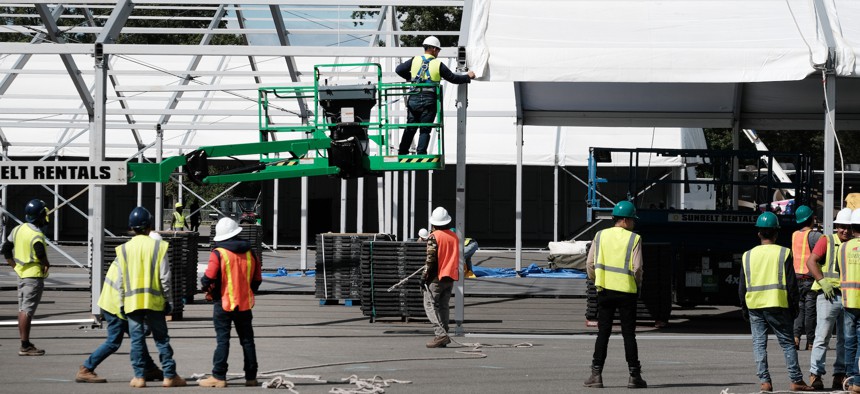 Several days after the city began assembling an emergency facility to temporarily house single adult asylum-seekers, parts of the site – a coastal parking lot in a far-flung corner of the Bronx – flooded with inches of water over the weekend, a risk City & State was the first to note about the decision to house migrants there.
During an unrelated press conference Monday morning, New York City Mayor Eric Adams said the Office of Emergency Management analyzed the "puddling" that took place at Orchard Beach over the weekend in order to see how to adjust preventative measures. He explained there isn't a "one size fits all" solution when it comes to challenges the city has never faced before, but officials aren't "going to be afraid to try different things to solve these unprecedented problems."
As for whether city officials may reconsider plans to shelter so many asylum-seekers in Orchard Beach if flooding proves to be a chronic issue, the mayor said the plan is to continue to adjust as needed, but as of now things are proceeding. 
"Safety is paramount. That's important. And we're going to continue to shift and pivot," Adams said. "We're going to make sure we provide the services, and if need be, we'll pivot and shift as needed, and we're not at that place right now."
After environmentalists, immigrant advocates and elected officials voiced concerns about the flood-prone Orchard Beach location selected for the sweeping tent facility, those worries were confirmed Saturday when less than an inch of rain caused pools of water to collect around the structures. As of Monday afternoon, forecasts showed that rain was expected to continue falling incrementally over the next few days.
Since the city announced the 1,000-bed facility on Sept. 22 and said it's likely to be the first in a series of similar Humanitarian Emergency Response and Relief Centers, officials have repeatedly pointed to the fact that the city is facing a humanitarian crisis. Given the sheer volume of asylum-seekers who've arrived in recent months, officials say emergency, nontraditional actions need to be taken.
The New York City Council's Committee on Immigration held an oversight hearing late last week where leaders of the various agencies involved in the city's response underscored the severity of these challenges, explaining the need for the Orchard Beach facility and other emergency centers as the number of new arrivals crested 15,000.
On a daily basis, four to nine buses carrying asylum-seekers from Texas and other border states have been arriving daily at the Port Authority Bus Terminal, according to Zachary Iscol, commissioner of the city's Office of Emergency Management. While community groups and city agencies have been stationed there to meet new arrivals for weeks, the influx has complicated their ability to offer adequate aid in a timely and thorough manner. The Orchard Beach facility and other planned centers are intended to be an optional brief stop for asylum-seekers where they can receive food, medical care and other services before moving on to longer-term arrangements. Those arrangements could include the New York City shelter system, or moving in with family or friends, he said. The city is also seriously angling to house migrants on a Norwegian cruise ship, the New York Post reported.
Local leaders and environmental organizations have long complained that Orchard Beach is prone to flooding, and the entire parking lot is located in a "special flood hazard area" on the Federal Emergency Management Agency's flood map. Footage shared on Twitter Saturday by South Bronx Mutual Aid showed water flowing under one of the tents during the rainstorm. With the Atlantic hurricane season running through the end of November, the weekend's storm only underscored concerns that flooding could pose an issue at Orchard Beach.
When pressed by council members on Friday, Iscol said the city considered around 60 other locations before landing on the Orchard Beach parking lot. He described the facility as "safe, secure, climate controlled" and asserted that the tents will be drilled several feet into the ground, which will help the structures withstand strong winds. The city is also installing a flexible tubing system called "tiger dams" to prevent flooding. In the case of a hurricane, the city would have adequate warning and would evacuate asylum-seekers from the area, according to Iscol.