New York City
Eric Adams declares state of emergency for asylum-seeker crisis
The mayor said at this rate, the shelter census could exceed 100,000 next year.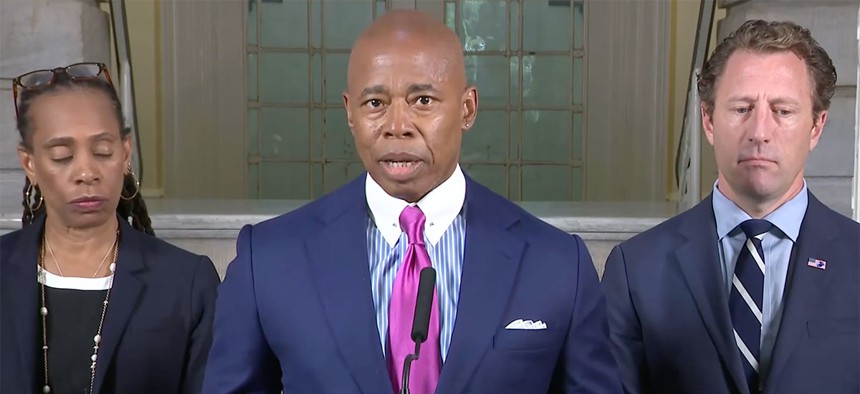 "New Yorkers are angry. And I am angry too," New York City Mayor Adams said in a rare speech from City Hall's Blue Room on Friday, while declaring a state of emergency over the influx of asylum-seekers to the city. Since the spring, over 17,000 asylum seekers have been bused by southern states to New York City, according to the mayor's office, creating what Adams said has become a "manufactured" humanitarian crisis. 
As he has since the crisis began, Adams walked a tightrope in his address, being careful to commend New York City for doing the right thing in providing shelter to asylum-seekers, while stressing that the city's response comes at a cost. "Although our compassion is limitless, our resources are not," Adams said. "The city is going to run out of funding for other priorities." He didn't expand on what city spending could be affected, and it's unclear exactly how much the city has dedicated so far to sheltering asylum-seekers, but Adams said that the city is on track to spend at least $1 billion by the end of this fiscal year. The city's shelter system is nearly at 100% capacity at over 61,000 people, Adams said, and if the current rate of arrivals continues the number of people in the system could exceed 100,000 next year.
Adams laid the blame for this crisis squarely at the feet of the Republican governors who have sent asylum-seekers to Democratic cities including New York with "virtually no coordination" on their arrival. But calling out politicians who have made political sport of this tactic hasn't stopped them. So Adams once again called on the federal and state government for aid, noting that the city is working with the state to identify additional locations for emergency shelters. "We need legislation that will allow these asylum-seekers to legally work now, not in six months," Adams said in a plea to the federal government. "And we need a realistic decompression strategy at the border that will slow the outflow of asylum-seekers."
Adams followed up after the speech, while taking questions from the press, saying that he would like the national government "to make sure that we can be sure that these asylum-seekers are spread throughout the entire country. We all should be part of resolving this issue."
The crisis straining New York's resources has also put a strain on the mayor's political relations, as he finds himself demanding action from President Joe Biden and Gov. Kathy Hochul, one month ahead of the November midterm elections. Adams downplayed the significance of his criticism of federal policy at the border, saying in his discussions with Biden, the president "understood the urgency of the moment." 
The Adams administration has been sharply criticized by immigration advocates – and more recently, lawmakers – for failing to provide adequate services like housing and meals to help asylum-seekers arriving in New York. Up until earlier this week, the administration was planning on opening a temporary emergency tent shelter in a parking lot in Orchard Beach – an isolated location that City & State was the first to report would put the tents in a flood zone. The administration is now planning to build the tent shelter in a parking lot on Randall's Island, which despite having a less severe risk of flooding, has not eliminated all concerns about vulnerability to extreme weather or accessibility issues that migrants sheltered there could face.
City Council Speaker Adrienne Adams and several other council members on Wednesday came out against the administration's plans to build the outdoor shelter on Randall's Island. "While an emergency relief center providing more effective intake services for asylum-seekers than the Port Authority makes sense, neither outdoor locations of Orchard Beach nor Randall's Island are adequate," the speaker said in a statement. "Given its own flood risks in the middle of hurricane season and colder temperatures from exposure to the East River as winter approaches, Randall's Island is inconsistent with humanitarian relief."
Those council members, including Deputy Speaker Diana Ayala, who represents Randall's Island, and Council Member Shahana Hanif, who chairs the immigration committee, called on the administration to consider using 10 large hotels in Manhattan for emergency shelters, and accelerate permanent housing placements for people currently in the shelter system. Responding to questions Friday morning, the mayor said that his office hasn't received a list of those hotels from the council yet. A press release from the Adams administration on Friday said that the city has opened 42 hotels as emergency shelters.
The Adams administration seems committed to the use of temporary shelters, referred to as Humanitarian Emergency Response and Relief Centers, or HERRCs. The emergency executive order issued Friday is primarily focused on setting them up, directing a variety of agencies and suspending the city's lengthy land-use approval process in regards to the siting of emergency shelters. It wasn't clear whether that was legally necessary – the planned tent in Orchard Beach did not go through the land-use review process. 
But Adams mentioned another option for housing asylum-seekers as well: New York residents welcoming them into their homes. Adams said the city was formalizing the legal aspects before providing more details. "So that if you may be someone from Venezuela that is doing well, and you want to help an Venezuelan family, we want to give people the outlet to do so."
That program was inspired in part by a conversation with a Polish mayor whose citizens were housing refugees from the war in Ukraine, Adams said – and that was just one of the nods to major crises, as he tried to put the city's current situation into context. He pointed to the city's response after 9/11 and Superstorm Sandy, as well as the country's history of accepting immigrants. "I don't care who you are in this room," he said during the follow-up press conference at City Hall. "You trace your lineage, we all came from somewhere. All of us. And the same thing some people are saying about these migrant asylum-seekers, they said about your ancestors. Same thing."
This developing story has been updated.
Powered By
NEXT STORY: Federal judge dismantles New York's new gun restrictions