New York City
New York City Council staff won't give up hybrid work without a fight
The council staff's union sent a petition to Speaker Adrienne Adams calling for continued hybrid work flexibility, which is set to end on Oct. 31.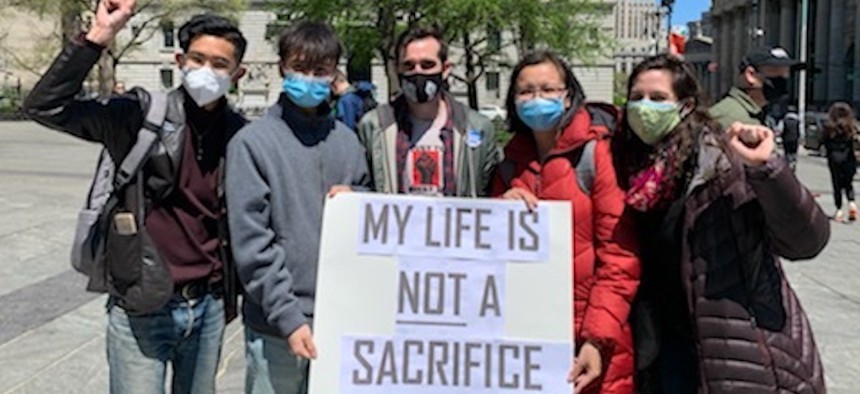 The New York City Council is sending its central staffers back to the office five days a week starting on Oct. 31st – a move that some employees are warning could result in a brain drain not unlike what mayoral agencies have experienced under a mandatory in-office work policy.
"The past year of history in the city government has shown that the elimination of hybrid work increases turnover," said Daniel Kroop, president of the Association of Legislative Employees and a senior financial analyst in the council's finance division. "I would struggle to find anyone who has a counterclaim that somehow being forced into the office five days a week is going to make the offering more attractive to folks."
"The essential public servants of the City Council's central staff are our engine, and returning to full-time in-person schedules is intended to help the council and council members best serve this city," Breeana Mulligan, a council spokesperson, said in a statement after publication. "With a super-majority of new members in this class and the council's public hearings and other activities having returned to in-person, it is important for central staff to support council members and their offices in the same way. In-person work also uniquely provides the opportunity for central staff to build better and stronger relationships with entirely new offices, and many new staff."
A short email sent to central staffers – which includes people working in the council's finance and legislative divisions, for example – on Sept. 22 declared that they would be resuming their pre-pandemic schedules of five days of the week in the office starting on Monday, Oct. 31.
The ALE, which represents about 350 council member aides and central staff finance analysts, delivered a petition to Speaker Adrienne Adams on Wednesday with more than 200 signatures from council employees declaring support for suspending the planned full time return to office and bargaining with council managers on a hybrid work arrangement for both central staff and council member aides. The ALE was officially certified last summer, and is getting ready to negotiate its first contract.
Central staff in the council are currently working on a hybrid schedule, with a few days in the office and a few days remote. Work arrangements for council member aides vary more widely, as they're under the discretion of the particular council member they work for. Kroop said that the policy change on Oct. 31 would only affect central staff, but the union is uniting to push for institutionalizing a hybrid work policy for central staffers and council member aides alike.
Though the council has referred to its return to work as coming in phases – the hybrid policy that required people to come in to the office a few days a week was instituted in April – the impending full time in-person work mandate has caught some staffers off guard. For others, it comes as a direct affront to the council – which is majority female and led by its first speaker who is also a mother – claiming to focus on the needs of mothers, parents and other caregivers. Last week, the City Council passed a package of bills that aimed to support the expansion of affordable and accessible childcare.
"Eliminating hybrid flexibility negatively impacts employment rates and earnings, especially for women," ALE Vice President Vinuri Ranaweera, who works as a scheduler for Council Member Rita Joseph (on a hybrid schedule), said in a statement. "Our female majority council should lead from the front to ensure women, caregivers, and diverse candidates can readily serve the public."
As the ALE prepares to bargain its first contract, the push to maintain a hybrid work policy could be a key first test of how council leadership negotiates with the union. ALE union leaders previously told City & State that maintaining hybrid work flexibility would be a goal in upcoming contract negotiations. But this impending policy change for central staff is coming down the pike quickly. "There's a sense of urgency with ending hybrid policies for central staffers that doesn't make sense to us," Ranaweera told City & State. "We don't understand why it couldn't wait until these negotiations."
ALE leaders said that the union has had some discussion with council managers about the policy change since the Sept. 22 email was sent to central staff, but said that they haven't heard a rationale for the change. "I just don't understand why we're cutting off our nose to spite our face on all that we've learned in the pandemic about the importance of flexibility," Kroop said.
City employees outside the council returned to the office full time in September 2021, under an order from former Mayor Bill de Blasio. And while Mayor Eric Adams spoke about being open to more flexible work arrangements before he took office, he has since doubled down on the mandatory return to office, once memorably referring to remote workers as staying home in their pajamas all day.
A high rate of attrition and vacancies at several city agencies has been blamed on the mandatory in-office work policy, along with other issues including stagnant low salaries and hiring logjams. 
Until now, the council has stood apart from the Adams administration in maintaining a more flexible work arrangement. Some council members have been vocal in urging the Adams administration to adopt more flexible work arrangements in order to attract and retain more employees, and keep workforce shortages from jeopardizing the work of city agencies.
"There's certainly a growing portion of the city workforce that can be remote," Council Member Carmen De La Rosa, who chairs the Committee on Civil Service and Labor, said at a September council hearing on the city's workforce. "Let's have that conversation as we continue this conversation about what the future of work looks like in our city."
Council Member Gale Brewer also pressed administration officials at that hearing about why there hasn't been more flexibility on work arrangements, while Council Member Shekar Krishnan framed it as an equity issue, affecting women and mothers in the workplace. "We're going to have to try something different," Brewer said, mentioning remote work as well as higher salaries as approaches to try to attract more city employees.
Administration officials reiterated the mayor's opposition to remote work several times throughout that hearing. "As the mayor has repeatedly said, in-person work is a position that allows for greater idea sharing, greater cross-pollination amongst employees, and the city is leading by example in this area while encouraging the private sector to follow suit," Barbara Dannenberg, a deputy commissioner at the Department of Citywide Administrative Services, said.
If the City Council were to change course in favor of a permanent hybrid policy for central staffers, it would draw a sharp contrast with the mayor's approach. Jeremiah Cedeño, a former employee at the city's Human Resources Administration and co-founder of City Workers for Justice which has pushed for remote work for city employees, is hopeful that the council will do so, putting pressure on City Hall to adopt a more flexible approach. "Hopefully, this can be the first of many dominoes to fall to push for remote work," Cedeño said.
This story has been updated to include a response from New York City Council Speaker Adrienne Adams' office.
Powered By
NEXT STORY: New York legislative Dems lawyered up for redistricting turmoil months before process unraveled