Policy
NYC chief housing officer: The era of YIMBY is here
Jessica Katz previewed Mayor Eric Adams' housing agenda in Albany including a 421-a replacement, legalizing basement apartments.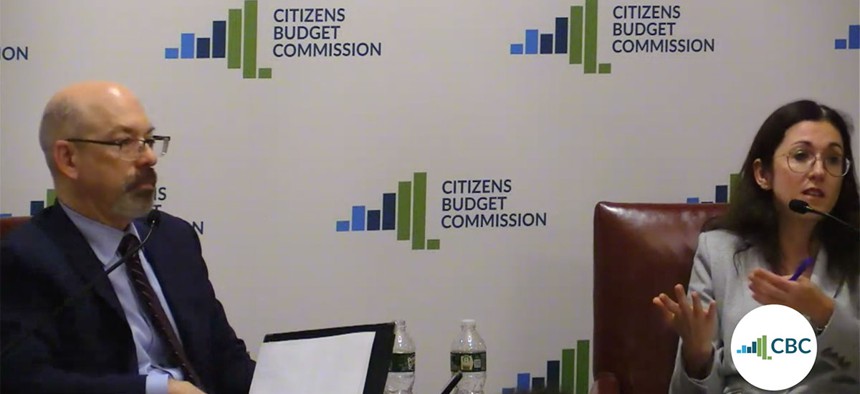 The YIMBY movement is gaining steam – and New York City Chief Housing Officer Jessica Katz couldn't be happier about the shift toward more New Yorkers saying "yes in my backyard" to building housing. "I think there was a debate that – I know whose side I'm on – about whether or not supply and demand is the thing that drives the housing market. And I think that question, increasingly, is being settled," Katz said at a Wednesday breakfast hosted by the Citizens Budget Commission. "And I think it's across the political spectrum that people are realizing why housing supply is really important."
Of course, that doesn't mean homes are getting built. The city has a low rate of housing production. On Tuesday, City Council Member Shahana Hanif negotiated down the size of the residential buildings that would be allowed in a rezoning in Gowanus, meaning fewer units could be built. And individual projects like Innovation QNS proposed for Astoria are still subject to knock down, drag out political fights over affordability levels ("I feel very optimistic" about the project's approval, Katz said. "We're on a roll.")
Katz also previewed the housing agenda for Mayor Eric Adams' administration in Albany next session. That includes a tax abatement for the construction of new affordable housing, to replace 421-a (which Adams failed to get this year) and one to support the preservation of affordable housing, to replace J-51, which also expired. Renovating units to keep them liveable is important with a looming recession, Katz explained, "because now we're in a position where, because of the economic environment, we're starting to worry about housing quality in a way that we haven't had to in a certain amount of time."
City Hall will also push, again, for state action easing regulations for accessory dwelling units and basement apartments.
"It's, I think, a relatively modest request, that homeowners should be able to use their home in that way that's just a little bit more flexible, that meets their needs of what's going on in their family structure at that time," Katz said. "And we've got some work to do in Albany to make sure that message gets out there."