New York City
NYC schools chancellor defends yeshivas
Schools Chancellor David Banks stands by findings that a Brooklyn yeshiva is providing "substantially equivalent" education after the state found the opposite.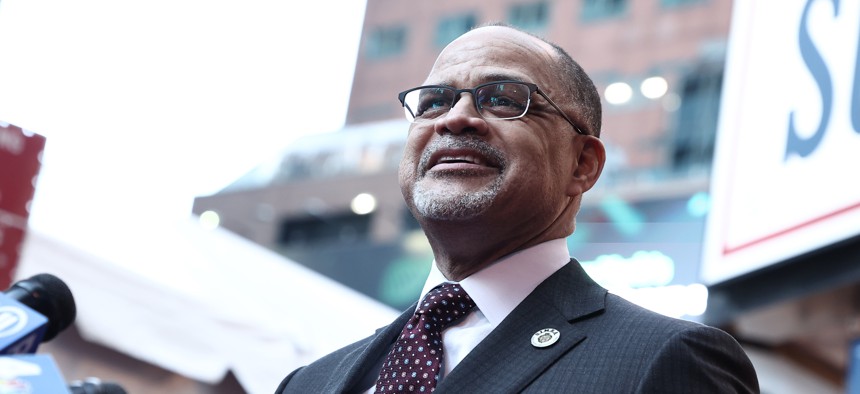 "It's unacceptable that any child does not learn how to read," New York City Schools Chancellor David Banks said at a breakfast hosted by the Association for a Better New York on Thursday, in remarks about students who are still getting left behind in the city's public school system. 
But Banks did not express as much concern about fears that another group of students – those who attend private Hasidic yeshivas – could be getting left behind as well. A recent ruling by the state Education Department found that one yeshiva in Brooklyn is not complying with state law to provide a "substantially equivalent" education to what is provided in public schools, in areas including English, social studies, science and math. The ruling followed reporting by The New York Times about more widespread failures to provide basic education in Hasidic yeshivas across the city, where both city and state authorities have hesitated to intervene. Hasidic neighborhoods in Brooklyn can be powerful voting blocs, and politicians can risk alienating voters if they are perceived as interfering with the religious schools.
When City & State asked Banks about the ruling Thursday the schools chancellor stood by an earlier investigation by the city Department of Education that found the yeshiva in question had in fact met the standard of a substantially equivalent education. 
That was the case, he said, at a number of yeshivas that the city has investigated. "Our team at New York City public schools has been investigating the yeshivas for quite some time, and we have found a number of these schools actually to meet the threshold of what is called a 'substantially equivalent education,'" Banks said. 
In the case of this particular school – Yeshiva Mesivta Arugath Habosem – the state found the opposite. In a statement, city DOE spokesperson Nathaniel Steyer reiterated that the department stands by its findings on the school. "We welcome further guidance from the state and/or the courts that brings greater clarity regarding what is a substantially equivalent education – so that all private schools can be assessed fairly and there is transparency about the process and standard applied," Steyer said.
Despite the city's approval of its educational practices, Yeshiva Mesivta Arugath Habosem must now work on an improvement plan with city and state officials, according to the Times. "If the state says they don't think that it meets the mark, we're going to work with the state, we're going to work with those schools, to try to ensure that they get to the level that they need to be at," Banks said on Thursday.
The state Board of Regents passed new regulations guiding "substantial equivalency" last month. But implementation could be paused, after supporters of Hasidic yeshivas filed a lawsuit last week seeking to strike them down.