Policy
What is Eric Adams' internet master plan?
Big Apple Connect will provide NYCHA residents with free internet and cable. But critics said solving the digital divide requires more than a subsidy program.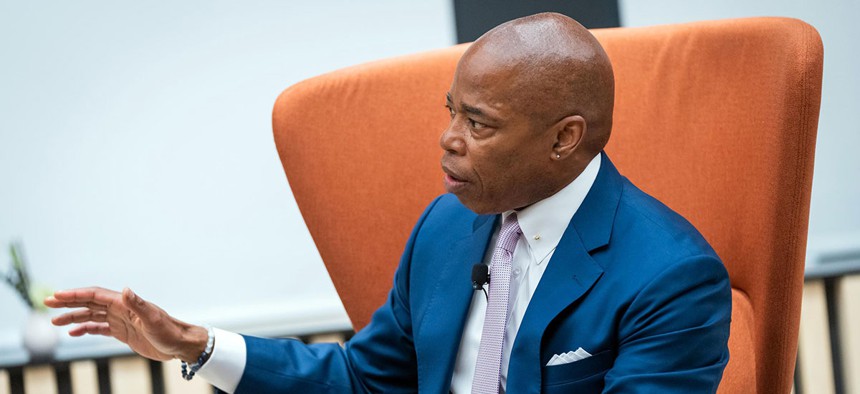 A self-professed "tech geek," cryptocurrency enthusiast and former COBOL programmer, New York City Mayor Eric Adams is an unabashed techie. Adams has been a vocal cheerleader for moving more city services online, diversifying the local tech ecosystem and making the city's own technology offices more efficient.
But when it comes to expanding broadband internet access – something that will allow New Yorkers to participate in the technological evolution Adams champions – some lawmakers and civic technologists warn that despite the well-intentioned goal of getting the least connected New Yorkers wired up, the administration is so far prioritizing quick wins over the long-term goal of universal, affordable and reliable broadband.
Last month, Adams and Matt Fraser – the chief technology officer appointed to lead the city's consolidated tech offices under the Office of Technology and Innovation – announced Big Apple Connect, a new program that commits to offering free in-home internet and basic cable subscriptions to 300,000 public housing residents in over 200 developments by the end of 2023. The program, starting out in more than 100 New York City Housing Authority developments, is essentially a subsidy program. The administration is bulk purchasing internet and cable packages from two large internet service providers – Charter Communications and Altice – at a cost of under $30 per month under three-year agreements. Negotiations are ongoing with the city's third cable franchisee, Verizon. The program is estimated to cost the city $30 million per year, though that will depend on how many residents sign up.
While few disagree that NYCHA residents are most urgently in need of high-speed, affordable broadband, the launch of Big Apple Connect highlighted the fact that New York City already had a comprehensive plan for expanding broadband internet – a plan that the Adams administration has indefinitely shelved.
The Internet Master Plan, released in January 2020 under the de Blasio administration, outlined the existing barriers to greater broadband adoption in New York City. Although the vast majority of the city has access to broadband internet, affordability is a major barrier to adoption. Many people living outside of high-income areas only have an option of one or two providers, and fiber optic infrastructure, which can provide higher speeds, is far from ubiquitous. The report found that 29% of households in the city lack a broadband subscription at home.
The Internet Master Plan's prescription for high-quality and affordable universal broadband included the creation of a competitive marketplace with a diverse range of providers, the utilization of city-owned assets like rooftops and lampposts for providers to install broadband equipment, and an investment in new publicly owned fiber optic infrastructure. The plan included an initial $157 million investment to build new publicly owned infrastructure in underserved areas that could be used by private companies, reducing the city's reliance on privately owned internet infrastructure.
Just before leaving office last fall, former Mayor Bill de Blasio announced that a dozen companies were selected to participate, including some minority-owned or minority-led companies. A pilot program related to the plan had previously tasked a handful of providers with offering low- or no-cost internet plans at 18 NYCHA developments. Those pilots are still going on, but the $157 million has yet to be touched.
With Big Apple Connect – a program that so far relies on only two legacy cable service providers and their existing internet infrastructure – several people who worked on the Internet Master Plan said the city was missing an opportunity to diversify the market and build publicly owned infrastructure.
I am deeply concerned that OTI was not able to provide any details on longer-term plans to connect New Yorkers to the internet.
– New York City Council Member Jennifer Gutiérrez
The Adams administration has said that moving ahead with Big Apple Connect while the Internet Master Plan is still on pause is about "stopping the bleeding."
"While the Master Plan contemplated a multiyear long and very expensive $157 million investment, Big Apple Connect will help citizens immediately," Brett Sikoff, executive director of franchise administration at the Office of Technology and Innovation, said at a City Council hearing last month. Because Charter, Altice and Verizon already have existing internet infrastructure that can serve NYCHA buildings and are already cable franchisees, the city office only sent a request for proposals to participate in Big Apple Connect to those three providers. Now it's just a matter of getting residents signed up.
City officials acknowledged that creating a more competitive market is critical to affordable and reliable internet access. "We will continue to discuss ways to partner with M/WBEs in the future on other telecommunications projects," Office of Technology and Innovation spokesperson Ray Legendre said in an emailed statement.
But at the September hearing, employees from the office were unable to provide a timeline for when additional providers, including MWBEs, might be brought in to participate in Big Apple Connect, or how they would be able to compete for customers with Charter and Altice if those companies have already signed up large swaths of NYCHA residents.
Silicon Harlem was selected as one of the 12 providers in the Internet Master Plan last year. CEO Clayton Banks told City & State that he hasn't been contacted by the Adams administration about either the Internet Master Plan or about participating in Big Apple Connect. "We're very curious what the future looks like," Banks said. "My experience in the last couple of years of putting together the Internet Master Plan, getting an RFP out and having 12 companies identified as competitive ways of making sure everyone gets connected – (Big Apple Connect) was just a little bit of a surprise."
Some proponents of the Internet Master Plan view it as an obvious way for the Adams administration to achieve its stated goal of creating a more competitive and diverse marketplace. "If they were trying to build a more inclusive tech ecosystem in New York City, they were handed it on a silver platter," said one person who worked on the Internet Master Plan and was granted anonymity to speak freely.
Given that the Internet Master Plan isn't moving forward, some lawmakers said the Adams administration doesn't appear to have a master plan of its own in the works to replace it. Following last month's hearing, New York City Council Member Jennifer Gutiérrez, who chairs the Technology Committee, called for a "robust roadmap" and not "pop-up programs" to expand broadband access and adoption across the city. "I am deeply concerned that OTI was not able to provide any details on longer-term plans to connect New Yorkers to the internet beyond the Big Apple Connect program, which was announced the morning of the hearing," Gutiérrez said in a statement. "While I celebrate a program that expediently provides internet access for our NYCHA developments, it's unacceptable that OTI does not have a comprehensive plan that works to connect more New Yorkers to the internet."
At that September hearing, Sikoff said the office was continuing to "reevaluate" the Internet Master Plan, which was the same answer that Fraser gave when asked about the plan in May. Sikoff suggested that in addition to its cost, officials were concerned that the Internet Master Plan would duplicate new build-outs of fiber that have happened since the plan was released in 2020. It's unclear what part of the Internet Master Plan was still being evaluated, though Sikoff left open the possibility that unspecified aspects of the plan could be "leveraged" in the future.
Asked about whether the Adams administration had a master plan of its own for expanding broadband access, Legendre said the administration was "action-oriented when it comes to meeting the digital needs of our lower-income communities, immigrant communities, and communities of color." He pointed to Big Apple Connect, new 5G connectivity at LinkNYC kiosks and the administration providing access to devices and digital skills training to "New Yorkers who have been left behind in the digital age." He also pointed to Connected Communities, a de Blasio-era program that provided devices and digital literacy training in historically underserved areas.
At the September council hearing, Gutiérrez said that it was ironic to hear concerns about the Internet Master Plan duplicating existing work when the new Big Apple Connect program can be seen as a duplication of an existing federal benefit to subsidize internet service.
Under the federal government's Affordable Connectivity Program, all public housing residents are eligible for a $30 per month credit toward internet service. Council Member Julie Menin has piloted a program at NYCHA developments in her district in which she negotiated low-cost plans with Verizon and Spectrum that are fully covered after the federal benefit.
At the recent council hearing, Menin repeatedly questioned why the Office of Technology and Innovation wasn't scaling up a program like this that offers free internet plans at no cost to taxpayers, instead of committing to a three-year program estimated to cost $30 million per year. Sikoff said residents who sign up for Big Apple Connect could apply the federal internet benefit to their mobile internet plans.
"I support any effort to be able to provide free broadband access to those who do not have it, period," Menin later told City & State. "However, I still don't understand why we're spending $90 million when we have a model that does not cost any city money and that is scalable. That question really wasn't answered."