New York City
Could Eric Adams' new tech chief bring NYC out of the dark ages?
Matthew Fraser will serve as chief technology officer, a new position that seems set to carry expanded authority.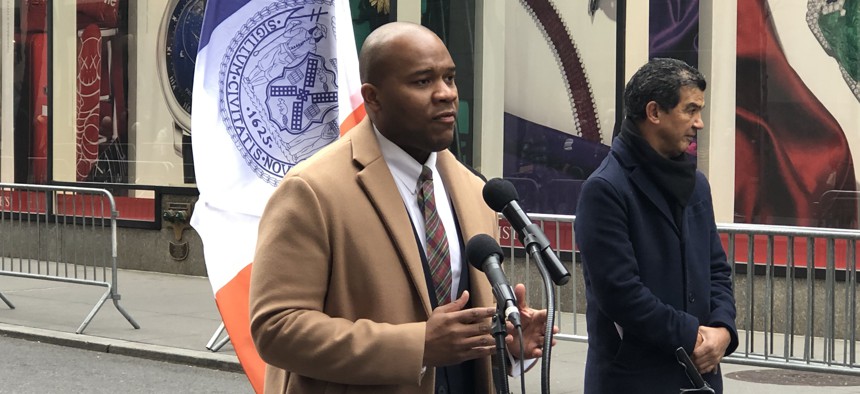 New York City Mayor-elect Eric Adams carried on with his rollout of top administration appointments this week, announcing on Tuesday the appointment of Matthew Fraser as the city's next chief technology officer. While the existing role of chief technology officer doesn't carry a whole lot of authority, it appears that Fraser will have more responsibility than the person currently in the role, John Paul Farmer. 
"The current chief technology officer has a limited scope. So it's more about policy than anything else," Fraser told City & State on Tuesday of the current job description. As it exists now, the role of the chief technology officer includes making recommendations on technology policy and strategy, but the office doesn't have much authority to implement changes in how the city and its agencies use tech. The COVID-19 pandemic has highlighted New York City's failures in providing digital services to all New Yorkers. A prime example was in the rollout of vaccine sign-up websites, which exasperated New Yorkers spent hours navigating amid glitches, a lack of user-friendly design and confusing messaging.
Fraser currently serves as deputy commissioner for information technology at the New York City Police Department, and prior to that was the assistant commissioner for IT services. The city's current DoITT commissioner, Jessica Tisch, was similarly appointed to her role after serving as the NYPD's deputy commissioner for IT. The NYPD recently launched an online portal for filing some low-level criminal complaints.
Fraser was also one of several dozen members of the Adams transition team committee on technology. "Matt Fraser is a highly respected and experienced government technology professional who is the perfect choice to lead Mayor-elect Adams' stated goal of ensuring that technology is put into better service of citizens and businesses while also making sure that diversity and equity are embedded into New York's technological future," Andrew Rasiej, co-lead of the transition's committee on technology, wrote in an emailed statement. 
Though his actual responsibilities were not made clear on Tuesday, Fraser suggested that the city's various technology and IT offices would now fall under a single authority. "What we're doing under this, which makes it different, is if you think about the traditional lines of technology in the city – the Department of Information Technology and Telecommunications, Cyber Command, 311, a lot of the services that have been fragmented – we're pulling all of those things under a single office." 
Fraser added that DoITT – the city's primary information technology agency tasked with maintaining IT infrastructure across city agencies currently led by Tisch – will report to him going forward. 
Details about how exactly this new CTO role will work are scarce, however. Spokespeople for the Adams transition team did not immediately respond to requests for comment on Tuesday. Still, it appears that Fraser's appointment represents a shift in how the city will structure its technology and IT functions.
Fraser mentioned cybersecurity as among the top priorities, for example. Cybersecurity is not an issue that primarily falls under the Mayor's Office of the Chief Technology Officer. "We're looking at everything from public safety to finance and crypto to workforce efficiency to benefits coordination," Fraser said. "So we're looking to pull all those things into a single place, so that when you look at orchestration, you have one entity that you can deal with in the city to talk about what the landscape of technology will and won't be." He also mentioned improving access to city services and closing the digital divide as priorities. 
Restructuring DoITT and the city's other technology offices is among the recommendations put forward by a report from Cornell Tech's Urban Tech Hub on how a new administration can improve city services. "One of the problems that we identified in our research is that the city has divided up authority, so that literally the only person who has authority over all of the city's technology policies is the mayor himself," Rohit Aggarwala, a senior fellow at the Urban Tech Hub, told City & State in November. 
It hasn't always been clear what restructuring the city's IT functions might look like, however. For a while, rumors persisted about Adams potentially nominating a deputy mayor for technology to oversee all of the city's tech-related agencies. (Currently, New York City's IT agencies report to different deputy mayors.) Splitting up DoITT and directing its responsibilities for telecommunications franchisees or 311 to other entities has also been suggested. 
Adams talked about revamping the city's technology and IT services during the campaign. Creating a digital portal for accessing city services and benefits and tracking agency performance with a CompStat-like system are two of his more attention-grabbing government technology proposals. 
Though the shape of the new chief technology officer role is murky, it does appear to be a shift from the status quo. Whether that shift pans out in the direction of providing better technology services to New Yorkers remains to be seen. 
Additional reporting by Jeff Coltin.
Powered By
NEXT STORY: A lot went wrong with Letitia James 2022