Technology
5 ways Eric Adams could revamp how NYC uses tech
Adams has championed New York City as a home for tech companies. Can he make his own city's technology work?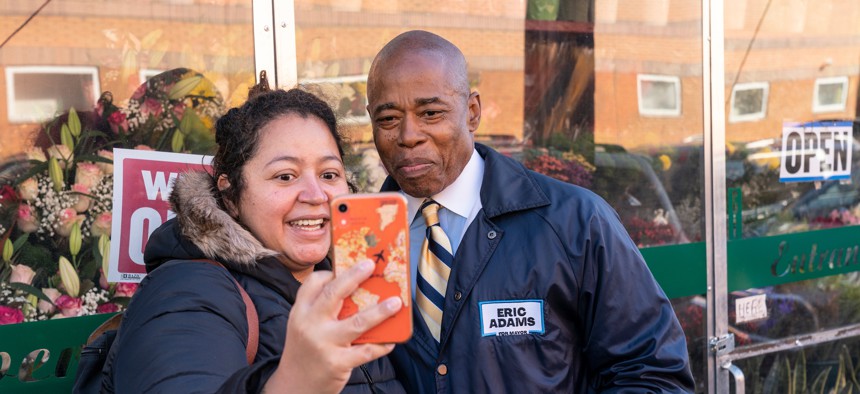 Mayor-elect Eric Adams, if you haven't heard, is kind of a tech guy. And no, not just because he's vowed to make New York City the cryptocurrency capital of the world – a promise that may be hampered by his limited authority in that arena. A former programmer who worked on the New York City Police Department's CompStat program, Adams campaigned on ideas such as adopting a citywide version of that metrics platform.
Amid a pandemic that has demonstrated some of the hitches and full-on failures in New York City's attempts to deliver digital services efficiently and equitably, Adams' ability to improve the city's basic information technology functions will likely be more consequential than his embrace of Bitcoin.From implementing state-of-the-art cybersecurity protocols to hiring talented technologists, few disagree that New York City's approach to government technology is in need of an overhaul. 
Technologists, academics and others who have an interest in seeing those kinds of transformations seem cautiously hopeful that Adams' interest in technology can translate to real improvements in how the city uses tech. "He's enthusiastic about technology in general. And that's a wonderful change. I think it's going to be necessary," said Rohit Aggarwala, a senior fellow at Cornell Tech's Urban Tech Hub and lead author of their May draft report containing recommendations for the new administration on how technology can be used to improve city services and address social equity. 
But as Aggarwala pointed out, there's making New York City attractive to technology companies, and then there's making technology work for New Yorkers. "It is a different thing to be a booster for a private sector industry like crypto, versus driving the somewhat boring, somewhat painful changes that are needed to improve procurement processes and update a website, and things like that," Aggarwala said. "We won't actually be a great place for the technology industry if New York City's government cannot get its own technology right."
Though a challenging task, improving government and civic uses of technology appears to be paying some attention to. As Politico previously reported, a tech subcommittee has been formed to make recommendations to the Adams' transition team. Co-chaired by Julie Samuels, the outgoing executive director of Tech:NYC, and Andrew Rasiej, founder of Civic Hall, the committee includes a couple dozen people from backgrounds including academia, government and the private sector. That subcommittee will make recommendations on a wide range of topics including addressing the digital divide, modernizing government services, and improving digital skills training.
Adams has some ideas of his own for transforming digital government services. Here are some of the goals on his to-do list – and a few steps that experts say should be added to that list.
Adams' ideas
Take CompStat citywide
CompStat, the crime-tracking program conceived in the 1990s by former NYPD Commissioner Bill Bratton and Deputy Police Commissioner Jack Maple, transformed the way that the department targeted and fought crime.The data-driven program relied on the tracking, reporting and computer analysis of crime statistics to inform the NYPD's crime strategies. But it was also blamed for pressuring officers to make more arrests and manipulate the data. 
It's the data reporting and analysis aspect of CompStat that Adams has focused on in pitching the idea of a citywide version of that approach to management.He has characterized the idea as a single data platform to track how all city agencies are performing – a program that he's said would facilitate more proactive management of agencies. "Eric believes that many of the problems created by the city's dysfunctional agencies can be addressed through better use of data and technology," Adams' spokesperson Evan Thies told Gotham Gazette earlier this fall. 
Still, Adams' pitch for this data platform has run into some criticism from those who warn that not everything that a city does or every problem it manages can be captured by data points. 
One-stop shopping for city services and benefits
Another idea that Adams campaigned on is creating a single digital portal for New Yorkers to access city services and benefits, dubbed "MyCity." Accessing SNAP benefits, paying parking tickets, applying for a business license and more would all be done by logging on to one portal. The idea has received some positive feedback, but it all depends on execution. Questions about how the portal would be built abound. Would it be outsourced entirely to large technology companies with little oversight or designed with rigorous user testing and in collaboration with the city? Plus, ensuring that a mobile app performed just as well as any website would be crucial to include New Yorkers who rely on mobile internet access. Servicing those who lack internet access altogether is another issue.
Mandatory Inclusionary Internet
The COVID-19 pandemic illustrated just how crucial reliable internet access is, and broadband is increasingly discussed as an essential utility. But 18% of New York City residents still lack both mobile and home broadband. The city's public-facing digital services – even if they are improved – won't do much good to those who lack a connection. New York City Mayor Bill de Blasio introduced the Internet Master Plan, a so-called roadmap to achieve universal broadband access, which aims to create publicly owned infrastructure providing affordable internet access to 1.6 million New Yorkers over the next three years. Adams has a few additional ideas up his sleeve, including Mandatory Inclusionary Internet. Like Mandatory Inclusionary Housing, Mandatory Inclusionary Internet would use rezonings to require new developments to provide affordable internet options. That proposal is light on details, however.
Experts' ideas
Reorganizing the city's IT roles
Technologists argue that implementing any of the above ideas would require structural changes. One such recommendation put forward by Cornell Tech's Urban Tech Hub is to reorganize the city's top tech and IT roles, including breaking up the city's Department of Information Technology and Telecommunications and redistributing some of the department's wide-ranging responsibilities – like oversight of telecommunications franchises or management of 311 – to separate entities. DoITT could then focus primarily on core IT services for city agencies, "ensuring city departments have the appropriate hardware and software for accomplishing their day-to-day responsibilities," as the Urban Tech Hub's report puts it.
 
That report also suggests appointing a deputy mayor of technology to oversee all of the city's IT-related agencies, including the Mayor's Office for Data Analytics and New York City Cyber Command.Currently, the city's IT agencies report to different deputy mayors. "One of the problems that we identified in our research is that the city has divided up authority, so that literally the only person who has authority over all of the city's technology policies is the mayor himself," Aggarwala told City & State. While New York City currently has a chief technology officer, it's not a position that comes with the authority to implement changes across city agencies. 
A deputy mayor for technology is an idea that's been endorsed by leaders in the tech and IT industries, including Julie Samuels, who co-chairs the tech subcommittee working on recommendations to the mayor-elect's transition team. But the jury is still out on whether Adams will bite on this idea.The tech subcommittee is expected to make recommendations on how to fill top IT positions including DoITT commissioner and CTO as they exist now, whether that's new appointments or de Blasio appointees staying on.
Create a digital service corps
Creating an efficient leadership structure for tech and IT doesn't mean much unless there are talented people there to execute their vision. Recruiting talented technologists remains a huge problem for governments, as those workers are often lured by private sector jobs with better pay and benefits. The Urban Tech Hub has suggested that the Adams administration – possibly with the assistance of City Council legislation – confront this problem by creating a New York City Digital Service. Inspired by federal programs like 18F and the United States Digital Service, this is a group that would hire technologists on contracts of a couple years to help develop and design technology services and projects, as well as serve as advisers, across all city agencies. This program would aim to appeal to those who are interested in public service but aren't willing to commit to a career in government – or willing to sit through a civil service exam – but its success would hinge on a large enough group of people who fitting that description.
Powered By
NEXT STORY: Hundreds of NYC correction workers have not been vaccinated