New York City
Will Biden's new border policy stop asylum-seekers from coming to NYC? City officials aren't sure
The flow of asylum-seekers into the city slowed in recent days, but officials say that's unlikely to be related to the new border policy.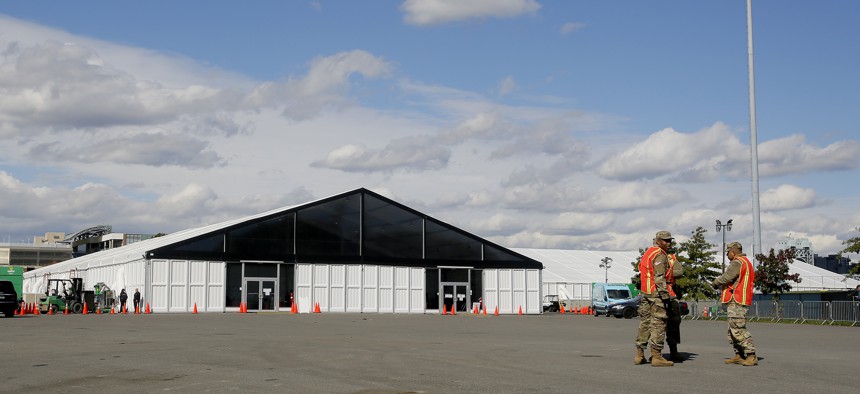 A little over a week after President Joe Biden's administration quietly announced a set of new policies intended to manage the swell of Venezuelan migrants entering the country – including the extension of a Trump-era pandemic rule to send back people who cross the border without authorization – New York leaders expressed hope that the change will translate into fewer asylum-seekers arriving in the state. Still, elected officials say only time will tell.
"We can't use hope as a strategy. We are happy to see that the buses seem to be slowing down, and we're very appreciative of the Biden administration for that, but it's only been a couple of days," Deputy Mayor for Health and Human Services Anne Williams-Isom told reporters Tuesday.
The federal shift comes after the arrival of around 20,000 asylum-seekers to New York City since spring – an ongoing migration that has severely strained the city's homeless shelter system and sent leaders scrambling for solutions. These new arrivals are largely Venezuelan and have arrived by the thousands, mainly bussed in by Texas Republican Gov. Greg Abbott as part of a political ploy. 
The Biden Administration's new plan clears a slim legal path for up to 24,000 Venezuelans to enter the U.S. while also imposing tighter limitations. Before, most Venezuelans who crossed the border were allowed to live in the country while awaiting a hearing in immigration court rather than being expelled under the public health rule Title 42. This is no longer the case – Venezuelan asylum-seekers will need to secure a U.S. sponsor, pass national security and public safety screenings and complete unspecified vaccination requirements to enter the country. Individuals who cross without authorization will be sent back to Mexico, according to the Department of Homeland Security.
"There's a whole program that I believe is going to change the dynamic very quickly," Gov. Kathy Hochul said in reference to the plan during an unrelated press conference last week. 
The number of buses arriving at Port Authority slowed this week, and the city's new sprawling tent center for adult men opened on Randall's Island Wednesday to a trickle of new arrivals. That isn't necessarily a result of the recently enacted policy – it'll likely take around two weeks to determine whether the slowdown is a result of the policy change or if it's a fluke, according to city officials. 
Emergency Management Commissioner Zach Iscol, whose agency heads the tent center project, emphasized the ongoing unpredictability earlier in the week during a media walk-through of the facility. There, he told reporters that while two buses of asylum-seekers arrived on Tuesday and four did on Monday, the week before brought eight to nine buses nearly every day.
"Part of the nature of emergency management is you can't predict the future, you just have to prepare for it. We have no control over what's going to happen tomorrow," Iscol said. "I have no idea what's going to happen in the next 48 hours or 72 hours. But we will be prepared for whatever happens."
New York City Mayor Eric Adams was a bit more optimistic, describing this week's slow down as a "substantial" decrease, attributing it to the new border policy. At an unrelated press conference Thursday, he said the Biden administration put the strategy in place after the city communicated with them.
"It's clear that we navigated through this storm," Adams said. "We don't believe we're there yet, but we need to really look at how this administration dealt with a real crisis. (If) we would've continued getting ten buses a day, nine buses a day, that would have had a major impact on the future of our economy."
However, the dip in new arrivals this week could also be attributed to rainy weather at the border, according to Camille Mackler, executive director of the Immigrant Advocates Response Collaborative. "Just because there's a slowdown doesn't necessarily mean it's a long-term slowdown," she told reporters Thursday morning during a media briefing hosted by the New York Immigration Coalition.
Nicole Catá, the coalition's director of immigrant rights policy, later told City & State that the implementation of the Title 42 policy will indeed likely have a delayed effect, but nobody should ultimately expect the plan to end the influx entirely. 
"We unfortunately don't know what we can predict at this moment because the Biden administration's new border policy is just now being rolled out," Catá said in a statement. "While the Biden administration certainly hopes that their expansion of Title 42 will slow down the number of asylum seekers entering the United States, we believe people will still come to New York regardless of how they get here, whether via bus or otherwise." 
The coalition of immigrant advocates released a swift condemnation of the Department of Homeland Security's plans over a week ago, criticizing the Biden administration for "bending to the whims of Republican governors in Texas, Arizona and Florida" and taking "multiple steps backwards in time to the cruel immigration policies of Donald Trump" as the country prepares for midterm elections.
The situation has tested a city that's long asserted itself as a refuge for immigrants, and challenged its right-to-shelter law, which dictates that anyone in need will be given a bed through the shelter system. With that system's population rising to record levels, New York City Mayor Eric Adams and his administration declared a state of emergency on Oct. 7, urging the state and federal government to help by lifting legal barriers so asylum-seekers can work sooner, providing emergency financial relief, and moving some new arrivals to other cities. These requests come during a particularly politically volatile moment as Democrats fight to hold their slim House majority and Hochul faces her own gubernatorial challenge. No deals for financial support have been announced yet, and the governor has so far largely diverted Adams' requests for aid, deploying the National Guard, but pointing to Congress as the responsible party instead. 
"Although our compassion is limitless, our resources are not," Adams said early this month, also calling for a "realistic decompression strategy at the border that will slow the outflow of asylum-seekers."
Heath Brown, an associate professor at CUNY's John Jay College of Criminal Justice, isn't convinced that the new policy will change the number of asylum-seekers arriving in the city.
"I think as long as there are governors who continue to politicize the lives of asylum-seekers, more people will arrive in New York City by bus," he said. 
While Brown said the November election and federal involvement could potentially change that, he ultimately believes that the best solution would be the country broadly embracing one of New York City's core values: compassion.
"That would be the best solution to make sure that the lives of all of these people, especially the children asylum-seekers, are treated with the dignity they deserve," Brown said.
This story has been updated to include comments from New York City Mayor Eric Adams on Thursday.
Powered By
NEXT STORY: New York City Council staff won't give up hybrid work without a fight