New York City
Randall's Island tent city is ready to welcome asylum-seekers
The emergency shelter will open with room for up to 500 adult men for short-term stays.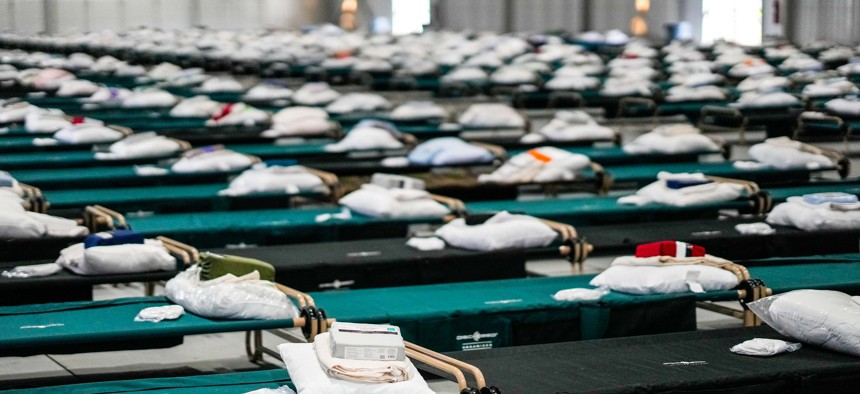 Starting Wednesday, the sweeping tent complex in a Randall's Island parking lot will begin temporarily sheltering newly arrived asylum-seekers as they get their bearings in a new city while receiving services like food, medical care, legal help and chart their next steps.
Unfurling the first of the city's Humanitarian Emergency Response and Relief Centers has been a long and costly process: the site – currently set up to shelter 500 adult men but that number could rise to 1,000 in the future – was originally planned for a coastal parking lot at Orchard Beach in the Bronx, however, those plans shifted after a rainstorm underscored the parking lot's flood-prone conditions. During a Tuesday walkthrough of the new location just outside of Icahn Stadium, city leaders said moving and setting up the new center cost around $650,000. The rest of the cost of the city's ongoing response to the influx of asylum-seekers, according to New York City Emergency Management Commissioner Zach Iscol, is still being analyzed. It's likely to be high however – earlier this month New York City Mayor Eric Adams said the city was on track to spend at least $1 billion by the end of the fiscal year.
At the 6.4-acre site, asylum-seekers will find a cluster of large, sturdy tents. There's a sleeping hall holding rows of shoulder-to-shoulder green cots, each with its own set of fresh bedding, and a dining hall where asylum-seekers will receive three meals a day as well as snacks, coffee and tea. There's also an intake center, a laundry unit, various places to shower and use the restroom, and a recreational room filled with couches, televisions, video games, board games and 12 phones. There will also be a 10 p.m. curfew and 24-hour security. City leaders said they were working with the state to arrange bus service to and from the center every hour.
"The big issue is that they arrive without homes so how they connect with their families is here. At this humanitarian center, we will be able to provide that communication and that comprehensive case management that will allow people that have family and friends here to connect with them," Mayor's Office of Immigrant Affairs Commissioner Manuel Castro told reporters Tuesday afternoon.
Around 20,000 asylum-seekers have come to the city since the spring – the vast majority of whom were sent from Texas. This stream of new arrivals has severely strained the city's homeless shelter system, breaking records and sending leaders scrambling to find alternative solutions. About a week and a half ago, Adams declared a state of emergency after the city's shelter system reached nearly 100% capacity with over 61,000 people. Should the current rate of arrivals continue, he said, that number could exceed 100,000 next year.
The city's decision to send adult asylum-seekers into congregate settings was criticized by advocates and some elected officials who questioned why the city couldn't place all new arrivals in hotels or the shelter system.
"There is no perfect place to be doing these types of operations – there isn't," Iscol said. "When you look at the facilities and the footprint that this has, there's not a lot of places that you can put this type of infrastructure and do this type of work caring for this many people. This is also temporary. People are not going to be living here." Families will continue to be housed at the Row NYC hotel.
Since work on the structure neared completion this week, city leaders have opened the center's doors to a stream of elected officials and members of the media in an effort to increase transparency amid concerns about the prospect of housing single adults in a congregate, tent setting.
After walking through Tuesday morning, New York City Council Member Diana Ayala – who represents Randall's Island – told City & State she left the center feeling a bit better about the conditions. She said her questions about flooding at the site had been answered. 
"Seemed pretty organized and as welcoming as a tent could be," Ayala said. "Ultimately, it's not the worst situation for a very temporary stay."
Powered By
NEXT STORY: Amazon Labor Union loses election at Albany warehouse