Policy
Bill looks to improve housing assignments for transgender, gender non-conforming, non-binary, and intersex people in New York City jails
The legislation sponsored by City Council Member Keith Powers is aimed at giving some of the most vulnerable people in custody more say in securing housing that aligns with their gender identity.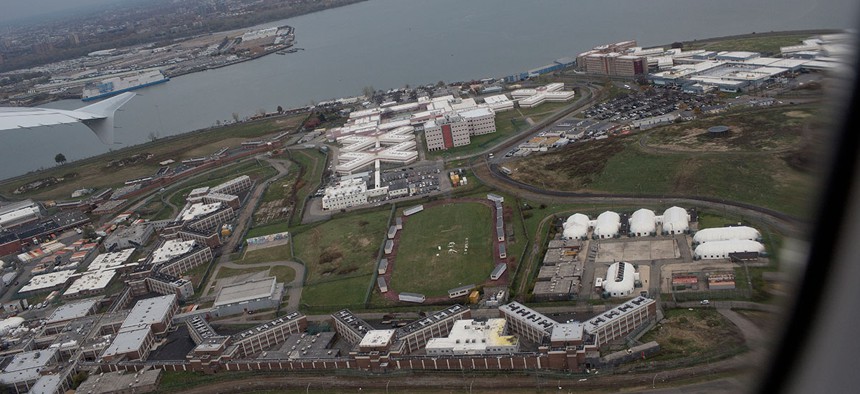 Several months after a task force released a report that found the New York City jail system often fails to protect, identify and care for transgender, gender non-conforming, nonbinary, and or intersex people in custody, city lawmakers have introduced legislation aimed at bettering how housing assignments are made.
The bill, which is sponsored by New York City Council Member Keith Powers, would require the Department of Correction to review the sexual victimization risk of every person who is incarcerated during the intake or transfer proccess, including whether they have a disability, their age and physical build, whether they've previously been a victim of sexual assault, if they've been previously incarcerated or have prior convictions for sex offenses, and their gender identity and sexual orientation. The legislation would also create a clear process for TGNCNBI people to appeal their housing assignments to an outside review board. The Board of Correction, having been wrapped into the review process under the bill, would need to provide an opinion to reviewers within 24 hours of the appeal, according to Powers.
The legislation comes on the heels of a landmark report from a task force assembled by the board in 2019 that found the New York City jail system has continually failed to protect TGNCNBI people, having long routed them through housing mis-aligned with their gender identity. According to the report's authors – leaders of LGBTQ advocacy and defense organizations – the lack of clarity on how TGNCNBI people should be brought into the DOC "in the most affirming manner possible" has led to "an ongoing crisis for any TGNCNBI person arrested and charged."
Parts of the report underscore the heightened dangers that transgender women and feminine non-binary individuals face when they are housed in men's facilities – something authors say routinely occurs. One transgender woman, identified as LAS Individual #6, reportedly spent over two years in these conditions where she was subject to physical assaults, verbal and physical harassment, and rape despite her requests for the DOC to transfer her into gender-aligned housing. The dangers that transgender people face in jail are well documented in national studies.  The report also details incidents in which incarcerated transgender individuals were allegedly threatened by guards that they'd be switched into housing not aligned with their gender if they didn't follow the rules.
Powers, the former chair of the Criminal Justice Committee, said the legislation was born from the concerns advocates have raised about the housing assignment process. After sponsoring another iteration of the bill that didn't pass last session, he felt compelled to bring it back in light of the report's findings and the ongoing issues wracking Rikers Island. Powers said he's hopeful the legislation will get a hearing early next year. Advocates, impacted individuals and the DOC would be able to share personal experiences and weigh in on how to strengthen the bill then. He also acknowledged that its passage would only mark a step in reforming the embattled system.
"We are a jails system that's completely in crisis," Powers said. "We see a whole range of issues right now when it comes to our correctional system – everything from making sure the individuals who work there are getting the right training to how people are housed and what sort of resources they get. This is one bill, but I see it fitting into a larger conversation about the correctional system right now."
A spokesperson for the DOC said the agency would review Power's legislation.
The DOC currently has a Special Considerations Unit in a female facility where people who identify as TGNCNBI can apply to stay in. According to a department spokesperson, housing decisions are made on a "case-by-case basis in a manner that accounts for an individual's health and safety while addressing any management or security concerns." People who identify as TGNCNBI can request to be transferred to the unit or another form of gender-aligned housing when they enter custody or at any other time during their incarceration. Data from the department's most recent report said 17 of the 69 people who submitted an application for the unit from December 2021 to May 2022 were denied. Seven people later submitted a reconsideration, three of whom were approved.
The DOC attests that its a national leader in housing transgender, intersex and gender non-binary people and that officials are committed to housing individuals by gender identity. Former leaders at the city's jail system opened a first of its kind housing unit specifically for transgender women and gay men on Rikers Island in 1979, The City recently reported. The unit was later closed in 2005.
Advocates say the department has made some strides since in recent years following the death of 27-year-old Layleen Polanco, a transgender woman who died from an epileptic seizure inside a solitary cell in June 2019. Her death galvanized a lot of people – the Council passed Local Law 145 a few weeks later, which required the Board of Correction to convene the task force to look into the treatment of  TGNCNBI people in custody. Still, advocates say, gaps remain within the housing assignment process.
The problem is two pronged: frequent leadership changes within the DOC has muddled what officials should base their decisions on when approving or denying requests and because policy can only go so far if there is a lack of understanding, sensitivity and compassion for incarcerated TGNCNBI people, according to Mik Kinkead, one of the task force report's authors and a staff attorney in the Legal Aid Society's LGBTQ+ Law & Policy Unit. 
Kinkead said the DOC has gone through many different variations in how they make those decisions. Over the years, Legal Aid Society lawyers have sometimes seen their clients denied based on things like hair growth, size and charges in other states from decades ago.
"We cannot really figure out why some people get granted gender-aligned housing and why some people don't," Kinkead said. "Since 2019, so many people have gone in and out of the department that we do not have a consistent sense of what's happening. Every time someone new is appointed as our point person, there's a lot of catch up that has to be played."
He described Power's bill as a good start, pointing to the fact that it would clarify and narrow what can be done, while also standardizing the process even when leadership changes. It would also give lawyers something to give their clients to better affirm their rights. Still, long-term, he and other advocates want transgender and nonbinary people to lead the charge in saying what accommodation aligns with their gender. 
"We want to encourage the (DOC) to not think that they have to individually evaluate every (TGNCNBI) person, that they can just trust the self-determination and then if there is a prevailing security concern they can add that to the puzzle," Kinkead said. "We start with affirming gender though." 
Kinkead said he and other advocates will continue to work with Power's staff to refine the legislation. 
A number of steps lie ahead – both for Powers and the task force. The report and the DOC response will likely be heard during a Council hearing in January, according to Kinkead.  In the meantime, advocates hope to once again galvanize community support for TGNCNBI people in custody. 
"We're going to spend from now until whenever we have that hearing in January, trying to make more of a public stir about this," Kinkead said.