Policy
Brock Pierce wants to educate New York lawmakers about crypto
The crypto entrepreneur and billionaire said he's steeped in New York politics and legislation – including a proposed moratorium on Bitcoin mining.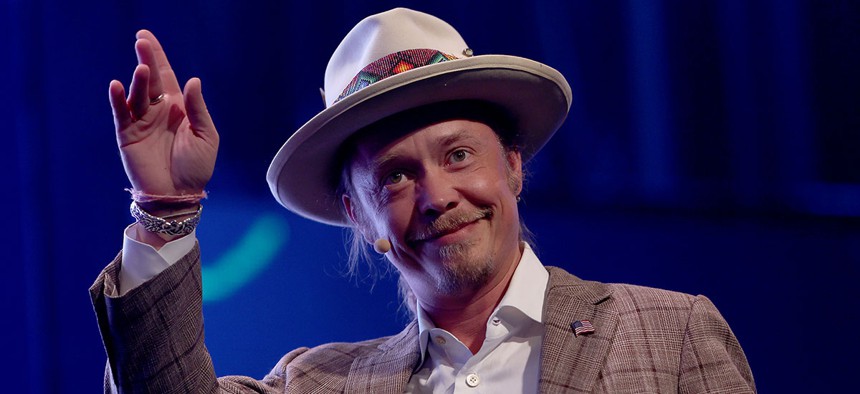 New York lawmakers, there's a new teacher in town: Bitcoin billionaire and entrepreneur Brock Pierce.
Pierce, who joined New York's most powerful politicos at the Somos conference outside San Juan, Puerto Rico last weekend, told City & State that he's concerned about New York missing out on the "future of finance," thanks to policies like the state's BitLicense, which crypto proponents call overly stringent. That, plus legislation placing a moratorium on proof-of-work cryptocurrency mining that is waiting for Gov. Kathy Hochul's approval, are doing New York no favors in attracting cryptocurrency companies to the Empire State, Pierce said. "It's taking a difficult situation and making it a more difficult situation," he said, when asked whether those policies will make it tough for New York City Mayor – and crypto enthusiast Eric Adams – to attract business to the city.
In order to put New York on the right track to the financial future (one built on a blockchain), Pierce is diving into New York politics – and that doesn't just mean letting New York City's mayor hitch a ride on his private jet. Pierce said that he has "lots" of interaction with New York politics and legislation, though he demurred when asked if he's actively lobbying on any particular bills or subjects. "I don't think 'lobby' per se. I generally go in and educate," Pierce said. "I've done a lot of roundtable conversations with different people throughout the state." Pierce is part of a so-called group of "crypto colonizers" who have moved to Puerto Rico with plans to turn the investor-friendly island into a crypto-utopia. That vision, and the influx of well-heeled Web3ers, has not gone over universally well among Puerto Ricans. Some activists protested Pierce at the Somos conference, yelling that "Puerto Rico is not for sale," and chasing him out of an event.
The entrepreneur didn't say much about who he's met with, either in New York or during the Somos Conference. (Though he was spotted sitting down next to Attorney General Letitia James, whose office reached a settlement last year directing a cryptocurrency Pierce co-founded to cease trading in New York.) Pierce did say that he's discussed cryptocurrency with Assembly Member Anna Kelles. Kelles is one of the sponsors of the legislation that would place a two-year moratorium on new or renewed permits for fossil fuel burning plants using behind-the-meter power to fuel proof-of-work mining – a particularly energy-intensive form of cryptocurrency mining. The cryptocurrency industry and its allies have fought against the bill, arguing that it will harm a growing industry and send a signal that crypto business isn't welcome in New York. "We had a great conversation," Pierce said of his conversation with Kelles. "Within five minutes we got along wonderfully. I get where she's coming from and what her objectives are. She's not coming from a bad place. It's just a matter of knowing more."
Kelles confirmed that she spoke with Pierce over the summer, after Pierce reached out to her asking to talk about cryptocurrency and blockchain. Kelles said she won't be swayed from her support for pausing new operations of this particular kind of mining, or for conducting an environmental review of proof-of-work crypto mining, which the bill would also do. And, for the record, Kelles did not need educating on the subject. "I think he started, like, 'I'm going to teach her like I have to teach all politicians about my stance and about cryptocurrency,'" Kelles recalled of her conversation with Pierce. "And what he said to me is, 'Your understanding is way more nuanced, and I appreciate that you actually understand the different types of crypto, the different types of validation, what blockchain technology is.'"
It's not clear whether Pierce has had such a discussion with Hochul or her aides – a spokesperson for the governor said they were not aware of any meetings with Hochul or her staff – but Pierce suggested that Hochul has encouraged lawmakers to talk to him. "She said, 'I'm not doing anything until one of you talk to Brock Pierce,'" he told a small gathering at the Somos conference, ever the self-promoter.
Kelles quickly shot down that suggestion, calling it outlandish and noting that it was Pierce who reached out to her. A spokesperson for the governor did not comment directly on Pierce's suggestion that she has encouraged lawmakers to speak to him. State Sen. Kevin Parker, the other prime sponsor of the crypto mining moratorium bill, did not respond to a request for comment.
Since the passage of the mining moratorium at the end of the legislative session in June, Hochul has faced steady pressure to sign the bill from environmental advocates. She has yet to indicate whether she will sign it or not, continuously noting over the past five months that she's reviewing the legislation. Earlier this year, Hochul received a $40,000 donation from the chief executive of Coinmint, which runs a large crypto mining operation in Massena, as well as a $5,000 donation from the director of the lobbying group, Blockchain Association. A federal super PAC called Protect Our Future and funded by Sam Bankman-Fried – the disgraced founder of the recently collapsed crypto exchange FTX – also directed money to support Hochul's running mate, Lt. Gov. Antonio Delgado, earlier this year. A spokesperson for the independent expenditure group that spent on behalf of Delgado told The Times Union that they supported Delgado because of his pandemic response.
Some proponents of the mining legislation have suggested that Hochul's continued delay in signing the bill is a politically motivated decision, in order to not alienate champions of the crypto industry ahead of the Democratic primary in June, and then ahead of the unexpectedly competitive general election earlier this month.  
With the election over and Hochul's seat secured, advocates are renewing calls for her to sign the moratorium bill. "The way that I felt about it is Democrats, during the election, we needed to stay focused on the election. I am absolutely a team player. November 9th, we're back to work," Kelles told City & State at Somos. "(Hochul) knows exactly where I stand, and that hasn't changed at all."
A spokesperson for the governor said that they are still reviewing the legislation. Hochul told City & State earlier that weekend that the crypto mining legislation is just one of many bills passed this session to get through. "We have a couple of weeks," Hochul said. "I will give this one prediction: The law will be known and settled by midnight, December 31."
Additional reporting by Jeff Coltin.