Policy
Future of New York City transit network topic of City & State's 2022 Transportation Summit
Key issues discussed at the event included technology, safety and the push towards electrification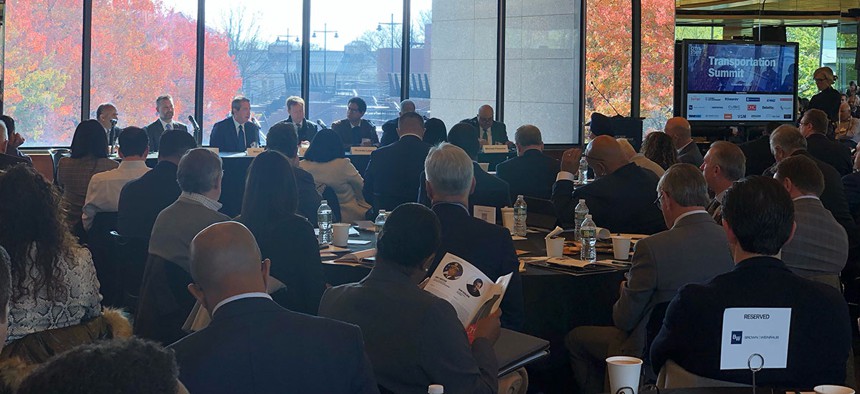 Transportation leaders and industry experts discussed legislative actions, financial solutions and the impact of the pandemic on New York City's transit network Thursday at City & State's 2022 Transportation Summit.  
Keynote speaker Janno Lieber, CEO of the Metropolitan Transportation Authority, noted the impact of the pandemic on the MTA, stating major shifts to remote work as the leading cause of reduced ridership, which now hovers around 60% of pre-pandemic levels. He warned of the system's impending fiscal crisis and called for alternatives to funding the system, outside of the fare box. 
"COVID showed us that the MTA is an essential service like police or fire and sanitation and it should be funded by them. We need a funding plan now that ensures continued strong, frequent, mass transit service without excessive reliance on the farebox," Lieber told attendees at the summit, held at the Museum of Jewish Heritage
Lieber stressed the importance of the transit system to lower-income communities, stressing that "caring for the MTA is a key equity issue" that concerns the majority of New Yorkers. Looking to future investment in the MTA, Lieber said commitments to "higher levels of service" will be necessary towards a sustainable future. 
"We should reach for a higher level. Climate change is here. The MTA is the antidote to climate change. So if we're passionate about making MTA options and mass transit options more attractive, mass transit and density need to go together. Density is great from a climate change standpoint but it needs to be combined with great mass transit," said Lieber. 
Later, during a Q&A with City & State Editor-in-chief Ralph R. Ortega at the summit, Lieber spoke in more detail about transit projects, fare evasion and the push towards electrification.  
On ADA compliance throughout New York City subway stations, Lieber noted "it takes money, time and engineering creativity."
"But what we are not short of anymore is commitment," he added. "When we started, the principal dynamic was there were class action lawsuits by disabled advocates for the MTA's failure to comply with the ADA. Since then, we decided to make the commitment to keep investing and building at a similar level that we are now to get the system fully ADA compliant" 
Lieber also spoke of the lessons learned from the construction of the first leg of the Second Avenue Subway, which is now being extended to 125th St.  
"There are a few basic things that we have changed and continue to change to make the MTA an efficient builder. One is not doing lots of multiple contracts that end up running into each other," he said. "This was the disease that really came close to killing Eastside access.
Lieber described how 50 separate contracts had "overlapping dependencies" creating delays. 
"So using a much more limited, focused approach where you may get two and four contractors for different elements, with one contract for systems and stations, which are the most important and most expensive pieces of this job that have to be integrated," he explained. "We've also centralized how we manage by changing the MTA to one accountability management system."
On fare evasion, Lieber noted that trains and subways are currently losing $500 million a year, based on survey information, and much attributable to the bus system. While subways account for 12 to 15% of all fare evasion, buses are 30%, partly because drivers who attempt to stop fare beaters have risked being attacked. 
On changing New Yorkers' attitudes, including youth, towards fare evasion, Lieber mentioned a blue ribbon panel, which included both social justice professionals and law enforcement professionals was still working on how best to approach the issue.
 "We have to redesign physical elements (of the station) and have a system that takes the opportunity to educate young people who break the rules,"  he said. "On the other hand, if you have somebody who's a chronic fare evader, we need to use the criminal justice system, and we hope the DAs will support us."
Lieber briefly touched on how the MTA was working on its goal of having an all electric bus fleet, noting there was a commitment to be fully electrified and with zero emissions in the next 15 years. 
"That's a big undertaking to go through the procurement cycle. Most of our bus fleet is hybrid and low emissions already," he said. "We're moving towards a zero emissions model reasonably quickly, given the principal challenges of installing the charging infrastructure and making sure that the Con-Edisons and the New York Power authorities are capable of supporting these antiquated depots around the city."
Lieber highlighted that the MTA was moving forward with purchasing 500 electric buses and installing the infrastructure in depots in Southeast Queens and in the Bronx, "in a couple of places with bad air quality issues and in working class communities."
As for innovation, Lieber touted the system's OMNY contactless fare payment system and it's growing potential for broader uses. 
"I don't think we have fully grasped the full potential of OMNY. of having a tap-and-go system to allow us to optimize the appeal of mass transit in different ways," he said. "You can do a lot of things with fares that we couldn't do because of the bulkiness. But when you have a unified ticketing system, based on OMNY, all of a sudden everything seems more seamless."
Richard Davey, president of New York City Transit and Nivardo Lopez, state deputy secretary for transportation, were among panelists discussing the them of "Reimagining New York's Transit Systems," where part of the discussion focused on the utilization of public-private partnerships. 
"I think it's important to recognize that (public-private partnerships) are a tool for government agencies, for infrastructure like at JFK, LaGuardia," Lopez said. "But, we have to be careful not to fall into a 'one size fits all'. Not every project can be delivered through progressive design or through (public-private partnerships). We want to give the government the flexibility to engage with the private sector but we can't put ourselves in a straitjacket." 
The fraught topic of congestion pricing was also raised and endorsed by Davey, who underlined the funding initiative as a necessary means to combat climate change. 
"If you believe climate change is an existential crisis for this city, we have to have congestion pricing and not just in New York. Soon there will be other cities following suit and it will make a difference for greenhouse gas emissions," he told attendees. "Every major transit system in the United States is faced with a fiscal crisis because this fundamental shift [remote work] has happened."
"But unlike all those other cities," he added, "to quote Janno Lieber, I think we (MTA) are like air and water for the city. If the MTA doesn't move, we don't move as a city. So we have to find a way to bridge this fiscal gap and provide the kind of service that you all want and deserve."