New York State
'It's a marathon.' Chris Smalls talks Amazon union gameplan after setbacks
Outside a billionaire studded conference, Smalls called for political support for his union. Eric Adams wasn't there to get the message.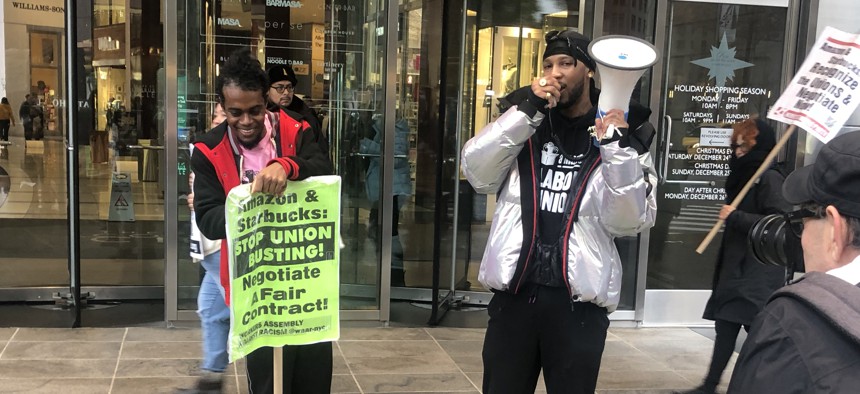 On a rainy Wednesday morning down the street from Billionaire's Row, Amazon Labor Union President Chris Smalls led a small protest of ALU organizers and other activists outside The New York Times DealBook Summit. The purpose: To call on Amazon CEO Andy Jassy to come to the table to negotiate a contract for warehouse workers on Staten Island who won a historic vote to be represented by the Amazon Labor Union earlier this year. Jassy was a featured speaker at the business conference, alongside an eyebrow-raising bunch including disgraced crypto mogul and former billionaire Sam Bankman-Fried, current billionaire Mark Zuckerberg, former Vice President Mike Pence and actor Ben Affleck. New York City Mayor Eric Adams was originally scheduled to attend, but backed out.
After scoring one of the larger labor victories in recent memory at Staten Island's JFK8 warehouse this spring, the independent worker-led Amazon Labor Union has suffered a few losses – failing to win union votes at a second Staten Island warehouse and at a warehouse outside Albany – casting doubt on the union's potential to grow. ALU had also filed for a union election at an Amazon fulfillment center in California, but later withdrew the petition. Smalls has said that they plan to refile. "We had to do the same thing with JFK8," Smalls said on Wednesday. "It's a marathon, not a sprint."
Leading chants of "union busting is disgusting" outside the conference, Smalls said that his focus is on securing a contract at JFK8 even as he looks to expand the union's reach. "Right now we have other buildings that are organizing that we're not ready to go public with," Smalls said. "We're just continuing to grow, and our main focus is JFK8. Making sure that we get Andy Jassy to come to the table, that's why we're here today." On both counts, Smalls and other organizers said that New York's elected officials could have a bigger role to play, including Mayor Eric Adams who was scheduled to speak at the conference but dropped out due to a scheduling change, according to a spokesperson. (Adams is traveling to Greece to attend the Mayors Summit Against Antisemitism.) In missing The New York Times summit, Adams will dodge a potentially sticky PR situation – the event presented a potential interaction with fallen crypto angel Bankman-Fried. Adams has been a major booster of cryptocurrency and converted his first three paychecks as mayor into Bitcoin and Ethereum – an investment he's lost some money on.
"Everybody rode the ALU wave when we won, and that's great. But at the same time, that's not enough," Smalls told City & State. Gov. Kathy Hochul has communicated support for the union, and Adams invited Smalls and another union leader, Derrick Palmer, to his State of the City address earlier this year, calling them out in his speech. 
"It's one thing to say stuff, but to actually put your money where your mouth is is another," Smalls said. "We have to once again continue to tell and remind the politicians that we need more than just photo ops and talking. We need black and white ink, we need bills signed, we need the public support of the union." 
Federal labor law has traditionally given companies like Amazon the upper hand in fending off unions. As some labor experts describe it, the law is stacked in favor of employers. But ALU organizers pointed to actions that local leaders could take to support workers' ability to organize or just improve their experience on the job. A Warehouse Worker Protection Act bill that passed this session is awaiting Hochul's signature and would require employers to be more transparent about quotas that workers have to meet, ensuring that quotas don't interfere with workers' ability to take meal or rest breaks, or use bathrooms. "Governor Hochul encourages good-faith contract negotiations and is reviewing the legislation," spokesperson Justin Henry wrote in an email.
Cassio Mendoza, an ALU member who works as a stower at JFK8, said that he'd like to see local leaders put pressure on the company to come to the bargaining table. "A lot of these politicians should just come to JFK8 and see what it's like at the warehouse," Mendoza said.
Amazon has challenged the election at JFK8 and fought aggressively against union efforts at other warehouses. The company has argued that unions create unnecessary bureaucracy and that the company already pays an average starting wage above minimum wage. "In the U.S. there's been only one of our facilities that has voted for union," Jassy said during his interview at the DealBook summit on Wednesday. "There are a lot of irregularities in that vote which is why there are objections, and it's working its way through the legal process." A National Labor Relations Board official recommended rejecting the company's objections in September. Amazon's union-fighting tactics have more recently resulted in a federal judge's order for Amazon to cease and desist retaliating against workers involved in organizing. Over the next couple days, Amazon will have to post, distribute and read aloud that order to workers at JFK8 over multiple shifts. "The cease-and-desist is huge for us because it forces Amazon to say to all the workers that they will not be retaliated against for joining the union," Mendoza said. "We're hoping to use it as a mass recruiting moment."
Powered By
NEXT STORY: MTA in need of new funding source, DiNapoli says