Heard Around Town
New York City opens new emergency center for asylum-seekers in a Midtown hotel
While the tents at Randall's Island remain far below capacity, the city is opening a new HERRC at the Hotel Wolcott in Manhattan.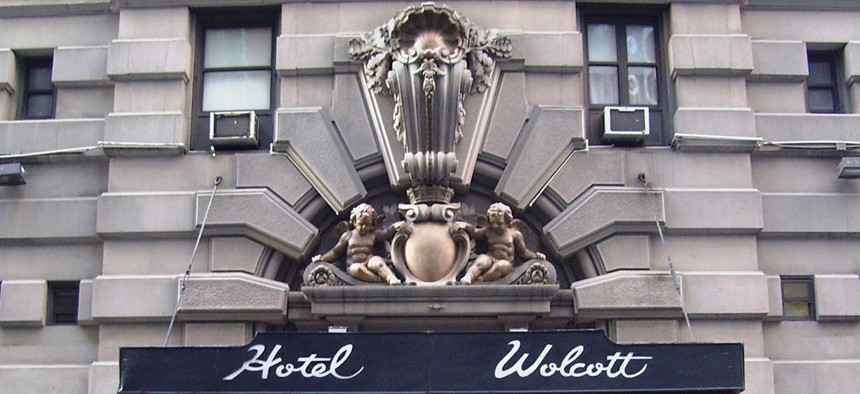 With the number of newly arrived asylum-seekers now stretching past an estimated 22,000 people, a third emergency relief center will soon open at a Midtown hotel – this time for single women and adult families, New York City Mayor Eric Adams announced Thursday morning.
News of the Humanitarian Emergency Response and Relief Center comes after reports from the city that the rate of new arrivals has slowed significantly since President Joe Biden's administration implemented a set of new policies intended to manage the swell of Venezuelan migrants entering the country. But while the tent complex on Randall's Island for single men has remained far below its capacity of 1,000 beds, Adams said in a statement that "a steady stream of single adult women and adult families" have continued to arrive to New York.
Like the other emergency relief centers, the new center will be a first point of contact for asylum-seeking women and adult familes. There, city officials say, they'll receive services like food, medical care, case work and help charting their next steps. The center, which will be located at the Hotel Wolcott, will include 175 rooms. 
Its location comes as a relief to New York City Council Speaker Adrienne Adams and other elected officials who've urged the city to operate the emergency relief centers in hotels rather than mass congregate settings and isolated locations like Randall's Island. 
"We're actually glad to see this approach being taken," she told reporters Thursday afternoon. "We think it's an effective one, a good way to use our hotels." 
As to whether she feels the Randall's Island center is still a prudent use of resources given how few new arrivals have utilized it so far, she said the council is going to look at it and potentially assess whether it's worth it to continue operations. But the speaker – who passes the city budget in conjunction with the mayor – said she wasn't aware of how much the city had spent on that Randall's Island set-up so far.
New York City Council Member Keith Powers, whose Manhattan district includes the Hotel Wolcott, said the city is trying to address something that's rapidly changing in regards to the need for housing. 
"Ultimately we want to find long-term permanent housing for everyone that's coming here, but right now, we need to, most importantly, stabilize them, and make sure they have a place to stay, and resources," he told City & State. 
With reporting from Jeff Coltin