Policy
Post-election, it's veto season for Kathy Hochul
The New York governor has vetoed 39 bills aimed at creating commissions and task forces because of their financial impact.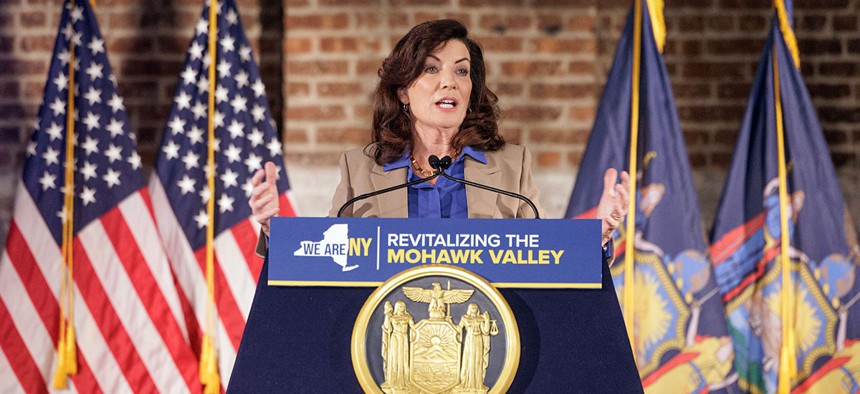 While hundreds of bills passed both the state Senate and Assembly months ago, many are still waiting for their fate to be determined by Gov. Kathy Hochul before the official end of the legislative session at the end of the year. With the stress of the gubernatorial election behind her, the governor has been busy reviewing bills and delivering vetoes left and right. 
Hochul recently vetoed 39 bills that would have created commissions and task forces to address various issues impacting the state – including acts that would establish a gambling advisory council, a fentanyl abuse and overdose prevention task force, a joint commission on affordable housing and a group home families working group. Supporters of some of the popular vetoed bills are not happy with the governor's decision, NY1 reported.
One noteworthy veto was for a bill that would establish a cryptocurrency and blockchain study task force.  Crypto has been a closely watched issue in the state, as New York City Mayor Eric Adams has vowed to make the "city the center of the cryptocurrency industry." Bitcoin mogul Brock Pierce was seen hobnobbing with lawmakers at this year's annual Somos conference in Puerto Rico. Contrastingly, environmentalists and upstate residents have voiced their concerns about converting fossil fuel-burning power plants into digital mining sites. Hochul's veto of the cryptocurrency study task force bill comes after she signed legislation to establish a two-year cryptocurrency mining moratorium. 
In the governor's message to the state Legislature, Hochul cited the hefty financial impact of the bills, which would cost the state approximately $40 million, as the main reason for the vetoes. The implication was that lawmakers will need to include these commissions as part of the state budget if they want Hochul's signature. The governor also highlighted the importance of these measures but pointed to the possibility of "duplication and unnecessary bureaucracy" if these bills were passed. Hochul called on state agencies to continue their work and work to "incorporate the goals" of the vetoed legislation where applicable. Hochul also vetoed bills that would assess asthma risk factors and require the state Department of Health to report how the COVID-19 state of emergency has impacted the price of utilities for consumers. With a month until the official end of the legislative session, the outcome of hundreds of bills is still unknown.