New York City
Eric Adams puts his own spin on universal pre-K
The administration is expanding special education and paying teachers more – and throwing shade at Bill de Blasio in the process.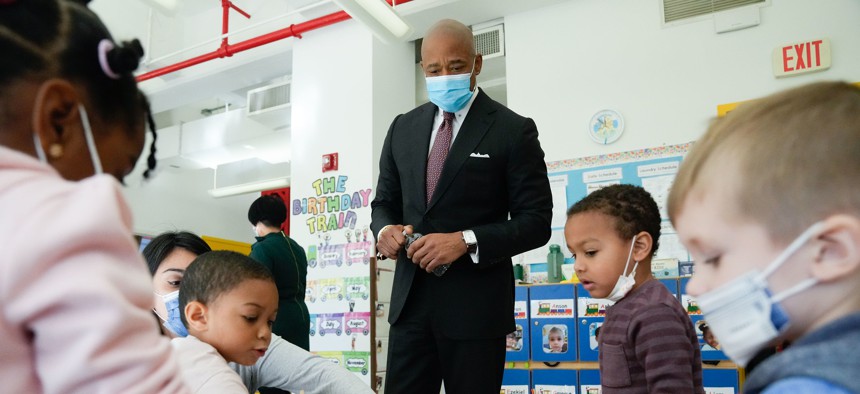 Pointing to his predecessor's lofty promises of free preschool for all, New York City Mayor Eric Adams said Tuesday morning that universal education for young children cannot be achieved while leaving students with disabilities behind. That was the focus as he and education leaders unveiled changes to early childhood special education that they said will increase the number of students served while building long-term stability for the program and reversing historic inequities. 
"The previous ideas of universal 3-K and pre-K did not account for children with disabilities. …  It was unfair and it was wrong and parents knew that," Adams said. "I disagree with the definition of universal that doesn't include all of our children."
In addition to adding 400 new seats by January and another 400 in the spring for preschoolers with special needs, these students' school day will also be extended a little over an hour to bring instruction in line with the six hour and 20 minute general education school day. Special education teachers – who have historically been difficult to retain and in short supply – will also receive a hefty pay boost that will bring them in line with general instructors' salaries.
New York City's free universal prekindergarten program is widely considered to be former Mayor Bill de Blasio's crowning achievement. But while programming has been an important resource for thousands of young children and their families, research has shown that there aren't enough seats to fully accommodate children with disabilities. Adams said the prior administration's promises of universal 3-K and pre-K fell short because many students with disabilities were unable to get a spot in the program. 
Adams' approach to preschool will also likely leave some students behind, however. In recent months, the Adams administration has distanced itself from de Blasio's goal of expanding free preschool to 60,000 3-year-olds by September 2023. Chalkbeat New York reported in November that Adams doesn't plan on meeting this target and will instead use the federal COVID-19 relief money intended for expanding 3-K elsewhere. 
A report released in January by nonprofit Advocates for Children found that about 34% of preschool students identified for needing special education did not receive all their mandated services in the 2019-2020 school year. Students of color as well as children needing bilingual services and those experiencing homelessness were vastly, disproportionately overrepresented in these 10,300 students. And 1,222 students didn't get into a preschool special education program at all, according to the report.
"I'm thrilled that both inside and outside the classroom that we are making this historical leap forward in ensuring that universal means universal, and not with an asterisk that does not include our children with special needs," Adams said. "We're going to continue to move in a direction to deal with those historical inequities that have impacted our children throughout this entire city."
As part of the pay increases promised under Tuesday's announcement at a school in East Harlem, early childhood special education teachers' pay will grow between $50,000-58,0000 to $68,000–$70,000, according to Deputy Chancellor of Early Childhood Education Kara Ahmed. This, she said, will help the education department recruit and retain more instructors – something essential to creating stability for their students. 
"When you hear from families across New York City, especially families who have children with disabilities, they talk often about making sure that they have adults that they can rely on, and that once their children are in these trusting and safe relationships, they don't want to lose them and so we don't want to either," Ahmed said. 
New York City schools Chancellor David Banks and Adams – the latter of whom has been vocal about having dyslexia – have said that improving special education is one of their top priorities. When pressed for answers about how inequities within early childhood special education have persisted for so long, Banks pointed, apparently, to the de Blasio administration.  
"I didn't design the system. We inherited the system, but we are here to fix these inequities we inherited," he said.