New York City
Eric Adams is in Qatar. Council members are in Israel. Who's paying?
Understanding New York City officials' travel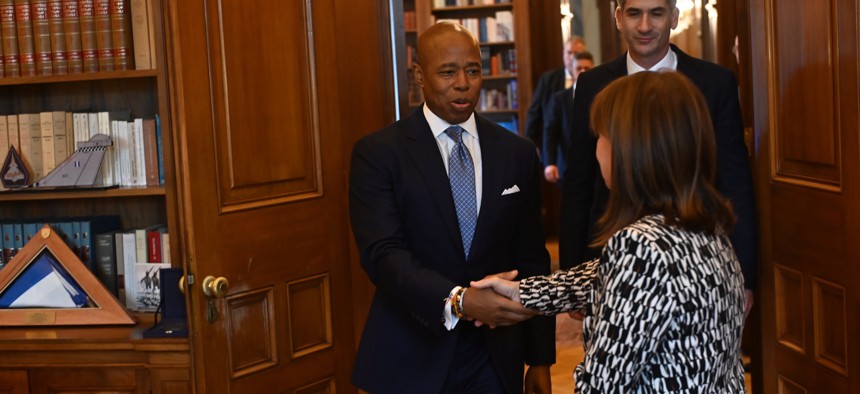 It's a tale as old as time – or at least since Abraham Lincoln visited Paris in 1858. Elected officials have long been drawn to different parts of the world for conferences, educational tours, cultural exchanges and pseudo campaign stops, often at the bequest of special interest groups. Over the years, these trips have ranged from wildly controversial to encouraged.
New York City leaders are certainly no exception – a dozen City Council members recently stood by the Sea of Galilee and met with leaders on a longstanding study tour of Israel with the Jewish Community Relations Council of New York. They're expected to return to the city Dec. 6. If they looked to the skies, they might have seen Eric Adams' plane. The mayor just left Athens where he headlined a summit on antisemitism, and flew to Qatar, for the World Cup.
Like with any other trip politicians have taken, the public's first question seems to be the same: who's paying? Participating officials have also garnered some criticism over the trips' timing, particularly as the council reviews the mayor's  midyear budget modification, and after Adams' announcement that more people battling severe mental illness will be evaluated and possibly involuntarily hospitalized. Public pushback on trips is nothing new – former New York City Mayor Bill de Blasio and Gov. Andrew Cuomo embarked on lots of travel throughout their respective tenures, many of which drew varying degrees of criticism. 
Some government ethics watchdog groups argue that the circumstances of politicians' travel should be more transparent – and that there should be more clarity on what constitutes city business, and legitimate uses of public funds and private donations when it comes to that travel. International trips in particular like the ones Adams and council members are currently embarking on often garner additional concerns given the greater use of resources. The visits to Israel, Greece and Qatar are each being paid for in a different way, but all have sparked similar questions.
How it works
According to the New York City Conflicts of Interest Board, public servants can accept – or even solicit – travel-related expenses from a third party if the trip is for a city purpose and if the quality of travel arrangements are comparable to what the city would cover. Trips shouldn't be longer than necessary to accomplish government business and public servants must receive advance approval from the head of their agency. Elected officials are not required to seek the COIB's advice about such trips. But there is a series of public advisory opinions on COIB's webpage 
In incidents in which the city plans to cover a trip's expenses, COIB also answers questions about whether it's an appropriate use of city resources.
Disregarding COIB's advice can have dire consequences. Having brought around his police detail during his failed presidential run, the city Department of Investigation last year ordered de Blasio to reimburse taxpayers $320,000 for officers' travel costs. According to The City, COIB had explicitly told the former mayor in 2019 that he'd have to pay for all costs associated with personal campaign travel, including airfare, rental cars, meals and accommodations. As of June 30, de Blasio had yet to pay any of it back.
Who's paying
The Jewish Community Relations Council, a nonprofit that advocates for New York's Jews, has paid for members of the City Council to go on the annual trip to Israel for the last three decades. Unlike previous years which have been led by the council speaker, this year's 12-member delegation is being led by the chair of the Jewish Caucus, Eric Dinowitz. Leaders describe the weeklong trip as an opportunity for New York City leaders to deepen their understanding of different Jewish communities and learn different ways of building relationships while meeting with local leaders, and visiting different sites.
Gideon Taylor, JCRC's chief executive, said in a statement that the trips "provide participants with first-hand experience in engaging with the diverse makeup of Israeli society and an understanding of the various narratives held and the challenges faced."
Rachael Fauss, senior policy advisor at government watchdog group Reinvent Albany, raised questions about the ethics of elected officials accepting free travel as a gift, while noting that these sort of trips aren't uncommon either, given the breadth of third party groups looking to influence the city. 
Fauss feels that regardless of whether the city or a third party are the ones footing the bill for a trip, elected officials should ask the COIB for an opinion and then voluntarily share it with the public. She pointed to the JCRC trip as an example of where this could be helpful.
"We think the best practice is to release that opinion to the public so they can see for themselves exactly what the boundaries are and what is expected of the official," she said, adding that doing so would help policymakers and public groups determine how well ethics laws are working.
Adams, who jetted off on his first extended international trip as mayor earlier this week, has continued to release daily public schedules outlining his itinerary in Greece and Qatar. The organizer of the Athens conference, the Combat Antisemitism Movement, paid for mayor and Senior Advisor Joel Eisdorfer's flight and lodging. The police detail that travels with Adams is being paid for by city taxpayers, according to NY1. While earlier in the week Adams said he'd foot the bill for his trip to Qatar – "When I do my dime, I can do my time, and I don't wanna hear anyone whine," he said – the city later clarified that the Combat Antisemitism Movement group would be covering his flight there, as an extended stopover on his flight home to New York. Adams is said to be covering other expenses.
When asked at a media briefing Thursday why he's paying for the trip, Adams said there is a clear difference between his two ventures: While he was invited to Athens for the conference, he chose to go to Qatar to learn more on the ground about hosting the World Cup, given that the New York-New Jersey region is slated to be one of 16 event host sites four years from now.
"I'm inviting myself to Qatar to learn about the game. That's just two different situations," Adams said. "If I think it's best to pick up my tab to go somewhere I don't have a problem doing it. I did it at (the Somos Puerto Rico conference) the first year and last year and so I don't have an issue with paying my fee."
Of course, payments for that trip raised questions as well. While Adams said he paid his own way to the 2021 conference, Politico later reported that he flew on cryptocurrency investor Brock Pierce's private jet and paid for it "through a travel agent." Adams' campaign declined to provide reporters with a receipt. 
Controversy
The semiannual JCRC educational trip has spurred some controversy over the years. During the 2021 City Council elections, the New York City chapter of the Democratic Socialists of America asked candidates who pursued their endorsement to promise not to go to Israel on one of the annual trips if elected, according to the Forward. 
There's been some speculation that there's been an attempt to veil the names of City Council participants on this year's trip. The City Council and JCRC didn't initially provide a list of participants, although  Dinowitz has since shared some photos of the group on Twitter. City & State also later confirmed with JCRC who the dozen Council Members are: Dinowitz, Keith Powers, Kevin Riley, Marjorie Velázquez, Althea Stevens, Sandra Ung, Linda Lee, Nantasha Williams, Selvena Brooks-Powers, Farah Louis, David Carr and Kamillah Hanks.
"I can say on our end there's certainly no sense of secrecy, just respecting the privacy and individual wishes of the council members," Tzipporah Shapiro, JCRC communications director, told City & State. "In past trips we've been very open about it." 
Some on the Jewish left have particular criticism for the Irsaeli government, and feel the longstanding trip should be abandoned entirely.
"This is an ongoing practice of pressuring local lawmakers to travel to Israel on these trips and to use that participation as a proxy for support for the Jewish community," said Audrey Sasson, executive director of Jews for Racial and Economic Justice. "It's not why we elect our council members. And all New Yorkers deserve elected leaders who are going to focus on the challenges right here in our city." 
Sasson said neither Adams nor council members should be leaving the city at this time given the important things going on. She feels that the city's attention and resources should be centered on the diverse, multicultural coalition of Jews already living in New York instead of turning to the state of Israel for questions about Jewish identity. As for Adams' time at the antisemitism conference, Sasson pointed to organizer Combat Antisemitism Movement's ties to dark money and far-right fringe anti-Muslim hate groups. "Yes, antisemitism is a real threat. We need to talk about it, we need to figure it out, but there is a very intense conversation happening right now where conservative factions, including Trump supporters, are trying to define antisemitism on behalf of Jews. That's part of what we are seeing at this conference … We don't see this as Adams taking antisemitism seriously. If he wants to talk about antisemitism he can talk to us right here." 
Still, Sasson stressed she and other advocates don't believe that elected officials should never go on trips. 
"We certainly have other things to learn from other cities," she said. "I think there's a really important distinction of what's the goal. Are they learning something that they are going to take home and improve New Yorkers' lives? Or are they advancing a different agenda?"