Policy
New York City's budget just grew to $104 billion. Here's what you need to know.
Mayor Eric Adams told agencies to find 3% savings across the board and (nearly) all of them did.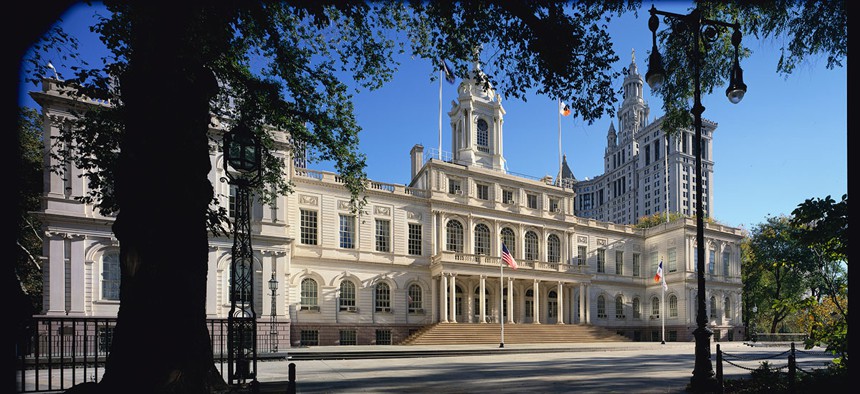 New York City Mayor Adams and his "fiscal discipline"-minded administration released mid-year modifications to the budget on Tuesday, announcing $2.5 billion in savings over the next three and a half years, through fiscal year 2026. The revised plan increases this fiscal year's budget from $101 billion in the adopted budget in July to roughly $104 billion now, but keeps it balanced.
The administration has been under pressure to find savings as it stares down budget gaps of billions of dollars in the coming years. A press release from the mayor's office said that savings reflected in this November Financial Plan reduce the next fiscal year's budget deficit by more than $1 billion, bringing it down to a "manageable" $2.9 billion. The two following years' budget gaps stand at $4.6 billion and $5.9 billion.
"The city faces significant economic headwinds that pose real threats to our fiscal stability, including growing pension contributions, expiring labor contracts, and rising health care expenses – and we are taking decisive actions in the administration's first November Financial Plan to meet those challenges," Adams said in a statement. 
But achieving those cuts without cutting services or laying off already overworked city employees is key. The administration said savings in this plan were achieved without resorting to either, though there are some savings found through eliminating vacant positions. Here's what you need to know about the city's latest budget update.
The fiscal year 2023 budget has actually grown slightly
The adopted fiscal year 2023 expense budget finalized in July stood at roughly $101 billion dollars, but some new or expanded spending included in the November modification gets this fiscal year's budget up to $104 billion. The administration attributed that growth to federal grant funds, including $1 billion to cover costs associated with the migrant crisis. But the city still has to formally request that $1 billion from the federal government, and it's not yet guaranteed the city will receive that amount. There is also $865.7 million for COVID-19 response and recovery, and $591 million for unspecific non-COVID-19 expenses, some of which is achieved by rolling unspent funds over from the last fiscal year.
In a briefing call with reporters on Tuesday, an administration official also highlighted a number of recently announced initiatives receiving relatively small amounts in new funding, including $19 million to support the taxi drivers' medallion loan relief program and $14.5 million for a "Get Stuff Clean" initiative that funds increased litter basket service and other sanitation measures in neglected neighborhoods. 
Almost all agencies met the savings mandate – with three exceptions
Adams asked all city agencies to reduce city-funded spending by 3% this fiscal year – and by 4.75% in the next three fiscal years – without resorting to layoffs or cutting services unless they're shown to be underutilized. The administration reported that all agencies achieved this year's target, with the exception of the New York City Police Department, The Fire Department, and the Department of Sanitation.
The NYPD submitted a savings plan that hit 41% of the target, the Department of Sanitation hit 39% of the target, and the FDNY hit 98%. An administration official said that they are working with those agencies to achieve more savings, but have to tread carefully to ensure public safety and goals for a cleaner city aren't negatively impacted by spending changes. It's unclear whether those agencies were granted permission to miss the 3% savings mandate, or if the administration was aware they would be submitting plans that are over budget. The official said that those agencies would not be subject to hiring freezes for missing those savings targets.
Fewer vacancy reductions than in the last savings plan
Compared to the savings plan that Adams required agencies to submit in February, this November budget modification includes fewer vacancy reductions – the practice of finding savings by eliminating salaries for unfilled positions in agency budgets. New York City is in the midst of a widespread staffing shortage, and some lawmakers have criticized vacancy reductions as eliminating necessary positions.
While fewer this time around, there are still some agencies in the latest financial plan that include vacancy reductions, including 93 positions at the Law Department, 22 positions at the Civilian Complaint Review Board and 200 positions at the Department of Parks and Recreation. And many agencies also reflect savings in this latest financial plan from "less than anticipated spending" on personal services – budget shorthand for salaries and compensation paid to city employees.
$1 billion bill for migrant crisis, but still no specifics on Randall's Island
Despite a recent slowdown in arrivals of new asylum-seekers, the administration is budgeting $1 billion to pay for the costs of the migrant crisis that hit New York City earlier this year. An administration official said that they are pushing hard for the federal government to reimburse those costs, and are drafting a formal request for federal grant funds to do so. But administration officials did not provide details when asked how much the costs of putting up and taking down the temporary tent facilities to shelter migrants in Orchard Beach and on Randall's Island specifically.
Savings found in lower 3-K enrollment
Thanks to lower than expected enrollment in preschool for three-year-olds, or 3-K, with 36,000 kids currently enrolled, the financial plan does away with a planned expansion to 61,000 seats in the coming years, paring available seats down to 55,000. That will save the Department of Education roughly $284 million dollars in fiscal years 2025 and 2026.