Policy
New York City is down about 21,000 government workers
A new report from the state comptroller's office found that New York City municipal attrition continues to outpace hiring.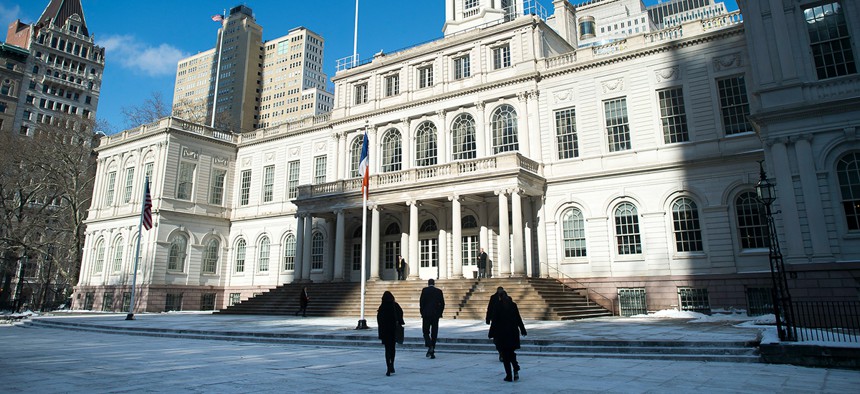 New York City has lost more than 19,000 full-time employees over the past two years – a high level of municipal staffing decline not seen in more than a decade, according to a new report from state Comptroller Tom DiNapoli's office.
Attrition and problems hiring in the city's full-time workforce are well documented – agency heads warn of the impact on service delivery, City Council members question the causes, municipal employees talk of burnout, and Mayor Eric Adams looks to some out-of-the-box solutions to temporarily bolster personnel numbers.
But DiNapoli's report puts a finer point on exactly what the city's staffing shortage looked like as of this August. Here are five things you should know.
New York City is estimated to have 21,000 unfilled posts
New York City had an estimated 21,063 vacancies as of this August, or a 7% vacancy rate, according to the comptroller's report. The average citywide vacancy rate at major agencies from 2012 to 2020 stood at 1.7%. 
The report attributes two main causes to the high rate of unfilled posts – the temporary reduction in hiring in Fiscal Year 2021, and a steep climb in attrition since then. Hiring and attrition are issues for government workforces beyond just New York City, but that hasn't stopped some lawmakers from ringing alarm bells about how a continued shortage of workers will impact service delivery, or from advocating for changes in city policies, including the full-time in-office work mandate. 
New York City Comptroller Brad Lander, who said he allows staff to work on a hybrid schedule, recently told City & State that a range of issues are likely contributing to the city's hiring and attrition problems, including the in-office work policy, prolonged hiring processes, and hiring at the bottom of a position's salary band.
Uniformed and social services agencies saw high staffing declines 
The city's workforce declined by over 19,000 full-time positions between June 2020 and August 2022, the state comptroller's office reported, but those declines have hit some agencies harder than others. Out of the 37 agencies with 250 or more full-time employees, the Department of Correction (where some reduction was planned), the Department of Investigation, and the Taxi and Limousine Commission saw the highest declines and more than three times the citywide average, at 23.6%, 22.2%, and 20.5%, respectively.
Some social services agencies have also seen declines more than double the citywide average. Staffing at the Department of Homeless Services has declined by 15.4% since June 2020, while the Department of Social Services has declined by 13.7%.
Correction officers, lawyers, fire inspectors among those in short supply
DiNapoli's report drills down on what kinds of positions have been leaving city service, with executive assistants, correction officers and groundskeepers/gardeners topping the list of the steepest declines over the past two years. Also high on the list are lawyers (19.3% decline), fire inspection and prevention occupations (16.7% decline), and accountants and auditors (16.2% decline).
The report also focuses in on how certain divisions within agencies are experiencing pronounced vacancies. The unit of appropriation known as child support services within the Department of Social Services, for example, was budgeted for 775 full-time employees as of this August, but employed only 422 – a 45.5% vacancy rate. "Many of these divisions with high vacancy rates are located within the Department of Education and at the social services agencies, including areas that the City has identified as a priority or experiencing increased demand in recent years," the report said.
Hiring is up by a lot, but exits are up even more
The report also suggests that the city is having more of a problem with losing employees than with adding them. In Fiscal Year 2022, New York City hired more than 40,000 new employees – significantly more than average additions over the last decade. But departures from the city workforce are still outpacing the city's hiring.
Vacancy reductions create savings, but at what cost?
Facing a turbulent economic future and projected budget gaps in the billions in coming years, City Hall has directed city agencies to reduce city-funded spending this fiscal year by 3%, and by 4.75% in coming years. The city has committed to not implementing any layoffs to achieve those savings, however, and agencies have already submitted plans for how to achieve those savings without negatively impacting key services, but those plans are not yet public.
While the comptroller's report notes that it's not unusual to achieve some savings by reducing existing vacancies from the budget, it also offers a light warning that the city tread carefully to ensure that sorely needed positions aren't eliminated from any agency's budget. "Understanding the impact of the uneven decline in staffing on the City's service performance since June 2020 should inform the City's decisions over which vacancies may be able to be taken for savings and which should be filled to improve or expand municipal services," the report read.