Policy
Could tech workers do Peace Corps-like stints working for New York City too?
Announcing a new legal fellows program to help address a shortage of city lawyers, Mayor Eric Adams said he wants other industries to loan employees to government work.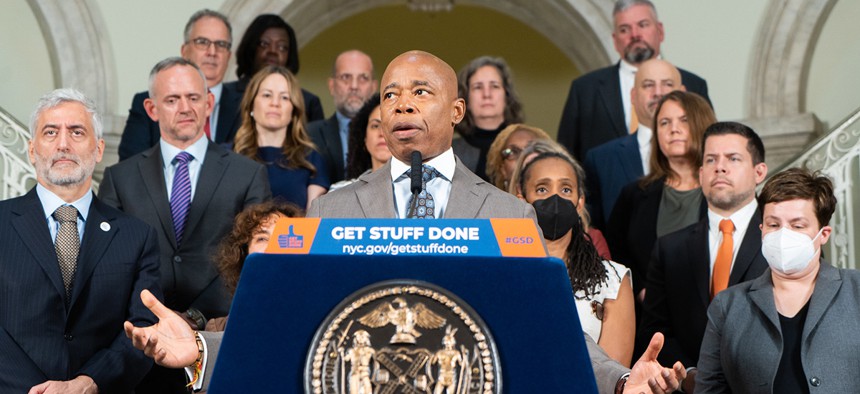 New York City is bringing in associates at law firms to serve short Peace Corps-like stints in city government in a bid to address the city's attorney shortage. The young lawyers will continue to be paid their – often six-figure – private sector salaries by their law firms, but for all other intents and purposes be treated as full-time New York City employees for a one-year appointment through the private-public partnership.
But the new Legal Fellows program, which was previously reported by The City, may be just the beginning of New York City's reach into the private sector to address the municipal workforce shortage. Announcing the new program, Mayor Eric Adams said on Wednesday that he wants to see this temporary service model attracting more than just lawyers to work for the city. "I'm excited about this, not only for the lawyers, but for the other firms," Adams said. "We're asking every corporation to allow their employees, their younger employees in general, to cycle through government work."
Earlier at Wednesday's press conference, Adams referenced targeting both the technology and health care industries to share their skilled employees with the city. "We're bringing in tech experts, and asking our tech industries to loan us some of their people to solve some of the problems that we're facing, bringing in people in health care professions," he said. "We are looking towards the private sector and we're asking them, 'Do your part, be a partner with us.'"
For now, those might just be off-the-cuff comments. The mayor's office did not immediately respond when asked whether there have already been conversations with technology companies or other representatives of the tech industry to facilitate a program like this aimed at attracting their workers.
Asked about the mayor's comments on Wednesday morning, a spokesperson said that the mayor is open to expanding this program to any sectors that would be willing to participate, after starting with and evaluating the success of the Legal Fellows program. "This pilot program is one of the ways to show that if you have that itch, that desire to do something good for your community and help on a citywide, if not national level, this is a way to get some experience working for the government, learning how it works, bringing in fresh, new ideas, outside-the-box thinkers, and bringing in talent that we didn't have access to before," press secretary Fabien Levy told City & State. "If we can do that with another industry, we'd love to look at that after we do this pilot."
New York City's municipal workforce shortage has been attributed to longstanding delays in the city's hiring process, as well to lower pay in the public sector. City Hall has said that the hiring challenges are not unique to New York City. But some current and former city employees have pointed to Adams' rigid stance against remote or hybrid work as another factor that's making it difficult to both hire and retain employees.
Some agencies – including the Department of Buildings, the Department of Health and Mental Hygiene, and the Department of Social Services – are experiencing particularly high shortages, with vacancy rates between 17% and 24% as of June 2022, according to data from the City Council Finance Division and Mayor's Office of Management and Budget.
But for some professions – including attorneys and highly skilled technology workers – the lure of the private sector is especially strong. The city is competing with high-paying law firms and technology companies for talent, some of which offer more flexible hybrid work arrangements than the city. At a September City Council hearing addressing these questions about the municipal workforce, City Council Member Gale Brewer mentioned "attorneys and accountants and tech people" as those who "really can go elsewhere."
In conversations with several current and former city employees who work in technology and IT-related positions, low pay and a lack of flexible work arrangements were identified as roadblocks in hiring and as some of the top reasons for why they've seen colleagues depart. Hiring skilled technologists to public sector work has been a challenge since before the COVID-19 pandemic, but some employees expressed frustration with the Adams administration for not allowing more flexible hybrid work arrangements, which they said would go a long way to making New York City a more attractive place to work. The Adams administration has maintained that New York City employees are leading by example by going back to the office in-person full-time.
The city's Law Department – which is not the only agency that employs attorneys – had vacancy rate of over 15% as of this June. Overall vacancy across city agencies at this time was over five times higher than pre-pandemic, The New York Times reported. Adams said on Wednesday that the new Legal Fellows program is just one aspect of how the administration is attempting to address the shortage of attorneys, but did not elaborate on the broader strategy. "We have a long-term plan (for) how do we really recruit in city government," Adams said. "City government for far too long rested on its own success, and everyone came to them. Those days are over. We have to now be competitive and recruit the talent that we want."