New York State
Hochul nominates LaSalle to be chief judge, angering NY Senate progressives
Several state senators have come out publicly opposing the judge saying he is too conservative.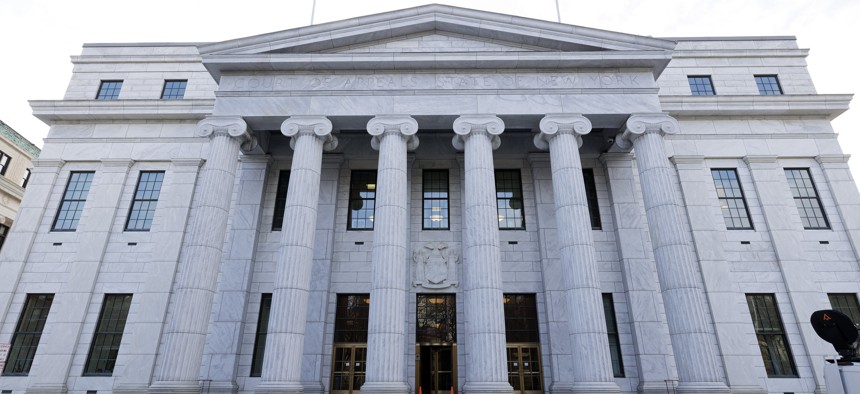 Gov. Kathy Hochul announced the nomination of Hector LaSalle to be the next chief judge of the Court of Appeals, the state's highest court on Thursday. LaSalle currently serves as the presiding justice over the appellate division's Second Department, which hears appeals from Brooklyn, Queens and some of the city's suburbs. 
If LaSalle's nomination is confirmed by the state Senate, he will be the first Latino chief judge in the state's history.
But LaSalle's conservative judicial record has prompted opposition from a number of progressive groups – including the Working Families Party, Communication Workers of America District 1 and the influential criminal justice reform group the Center for Community Alternatives.
As City & State previously reported, these groups are all members of The Court New York Deserves, a coalition of nearly 150 left-leaning organizations that have pushed for Hochul to select a progressive chief judge.
These groups are now asking state senators to reject LaSalle's nomination.
"We call upon the Senate to reject Justice LaSalle's nomination and to demand a Chief Judge nominee that will protect the rights of workers, tenants, women, those facing criminal prosecutions, and all New Yorkers," WFP executive director Sochie Nnaemeka said in a statement.
Four state senators have already pledged to oppose LaSalle's nomination.
"Today @GovKathyHochul had the opportunity to nominate a Chief Judge that prioritizes the needs of vulnerable New Yorkers," incoming state Sen. Kristen Gonzalez of Queens tweeted in response to the governor's announcement. "Instead she chose one of the most conservative justices on the appellate bench. I hope my colleagues join me in voting NO on Hector Lasalle."
"Deeply disappointed in the Governor's nomination of someone with a clear anti-union, fundamentally conservative record on the bench to be Chief Judge of the New York State Court of Appeals," tweeted state Sen. Julia Salazar of Brooklyn. "I'm a hard no on Justice LaSalle's nomination."
"It's indefensible to ask for Black votes and then work to incarcerate us," tweeted state Sen. Jabari Brisport of Brooklyn. "No on LaSalle."
"I recognize that this may be a proud moment for our Latino communities to see one of us nominated to lead our State's highest court, but a candidate's ethnicity cannot be the only qualification by which we measure his capability or commitment to guaranteeing justice for all
New Yorkers," state Sen. Gustavo Rivera if the Bronx said in a statement. "While I remain open to dialogue with Senators, stakeholders, and New Yorkers, I cannot support this nominee at this moment."
State Sen. Samra Brouk also announced her opposition, encouraging her colleagues in a statement to vote no.
In August, 20 state senators (including Salazar, Brisport, and Rivera) signed on to a letter co-authored by Senate Deputy Majority Leader Michael Gianaris calling for the selection of a progressive chief judge. (Gianaris could not immediately be reached for comment.)
Hochul's decision to nominate LaSalle despite progressive opposition could set up a fight in the state Senate.
LaSalle needs 32 votes in the 63-seat state Senate in order to be confirmed as chief judge, and there will be 42 Democrats in the state Senate at the time of the confirmation vote next month. Assuming all the Republican members vote against LaSalle, it would take 11 Democrats voting against him to derail the nomination.
While some progressives expressed opposition to Hochul's selection of LaSalle, others praised the governor for nominating a Latino judge to the chief judge position.
"Today marks an historic moment for the State of New York. Justice Lasalle has committed his life to upholding the utmost values and principles of State law and the Constitution," Rep. Nydia Velazquez tweeted.
"I congratulate Judge Hector LaSalle on his nomination to Chief Judge of the Court of Appeals. An incredibly qualified candidate with decades of experience. I also congratulate @GovKathyHochul for recognizing the record and effort of Latinos represented this time by Judge LaSalle," state Sen. Luis Sepulveda tweeted.
If confirmed, LaSalle will succeed Janet DiFiore, the former chief judge who unexpectedly announced her resignation in July amid an ethics probe. As chief judge, DiFiore led a "conservative bloc" of four judges who dominated the seven-member Court of Appeals.
After DiFiore stepped down, she was replaced on an interim basis by Anthony Cannataro, a member of the Court's conservative majority.
After receiving more than 40 applications for the chief judge position, the Commission on Judicial Nomination released a shortlist of seven finalists for Hochul to choose from on Nov. 23. Cannataro made it on the shortlist, though three of his more liberal colleagues who also reportedly applied for the position – Associate Judges Shirley Troutman, Rowan Wilson and Jenny Rivera – were not on the shortlist.
Other members of the shortlist included LaSalle, appellate judge Jeffrey Oing, deputy chief administrative judge for justice initiatives Edwina Richardson-Mendelson, Yale Law School professor Abbe Gluck, Legal Aid Society attorney Corey Stoughton, and Albany Law School dean Alicia Ouellette.
The Court New York Deserves endorsed Richardson-Mendelson, Gluck and Stoughton, while warning Hochul that LaSalle, Cannataro and Oing would be "unacceptable" picks due to their conservative judicial records.
But the New York State Bar Association rated LaSalle as "well-qualified" and the
New York State Trial Lawyers Association rated LaSalle as "highly qualified and highly recommended."
A group of Latino bar associations also released a letter defending LaSalle's judicial record against progressive attacks. On Dec. 12, the executive board of the Long Island Hispanic Bar Association, the Puerto Rican Bar Association, the Latino Lawyers Association of Queens County, the Dominican Bar Association and the Hudson Valley Hispanic Bar Association wrote a joint letter to the governor rebutting The Court New York Deserves' analysis of LaSalle's court decisions.
"LaSalle's opponents' analysis of his judicial record is a misinterpretation of the cases they rely upon and instead, reflect Judge LaSalle's judicial independence and understanding of the judicial role," the five bar associations wrote in the joint letter.
This post has been updated to reflect an additional senator who announced opposition to LaSalle.
Powered By
NEXT STORY: As NY lawmakers boost their pay by $32K, how many of their staffers make $32K total?