New York State
As NY lawmakers boost their pay by $32K, how many of their staffers make $32K total?
State Senate staffers working to unionize are calling attention to their low pay while their bosses boost their salaries.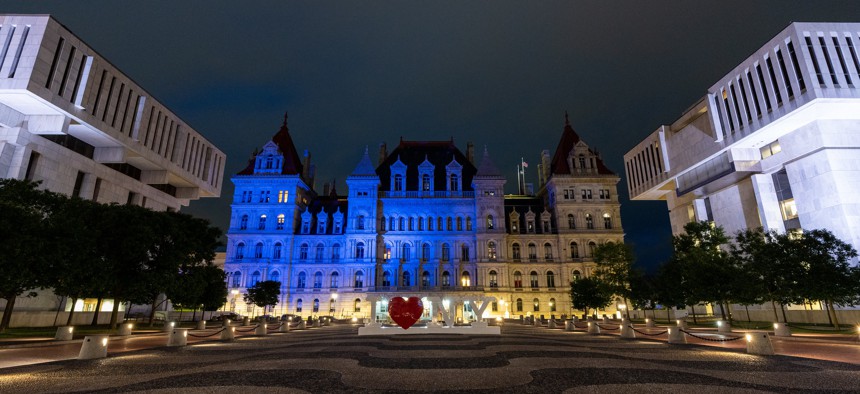 State lawmakers returned to Albany on Thursday to give themselves a little holiday present: a $32,000 raise to bump their yearly pay up to $142,000. It would make them the highest paid state legislators in the country, and by a lot. 
But as lawmakers approve the hefty pay increase, legislative staffers aren't so lucky. While some top staffers take home six-figure incomes, the vast majority don't.. In fact, there are many – about 180 people – who make about the same amount as the proposed raise.
According to public data available through the site See Through New York, approximately 180 full- and part-time employees of the state Senate and Assembly made $1,300 biweekly or less in 2021. Yearly, that comes out to $33,800, just slightly more than the pay raise lawmakers – who also work part-time – are giving themselves. Job titles that fall within that pay range include office coordinator, community liaison, legislative liaison, district office manager and media coordinator.
New York State Legislative Workers United, the union representing state Senate staffers that plans to seek voluntary recognition, has brought attention to the low pay that legislative staff receive for the amount of work they do. In a statement about the proposed pay raise, the union did not begrudge a cost-of-living increase for lawmakers, but emphasized the importance of such an increase for legislative workers as well. "Just as the Senate and Assembly are not insulated from the squeeze of inflation, neither are their staff," the group said. "The difference being staff are not issued travel stipends or per diems, and many are paid below a living wage." An accompanying tweet added that "there are staffers among us who make $32k/year serving the people of New York." Astrid Aune, one of the union organizers, confirmed that two people, both part-time, who signed union cards make less than $1,300 biweekly, and that many do not make what would be considered a living wage.
Spokespeople for state Senate Majority Leader Andrea Stewart-Cousins and Assembly Speaker Carl Heastie did not immediately return a request for comment about whether staff pay was part of closed-door discussions about their own pay raise. Speaking to reporters on Thursday, however, Stewart-Cousins for the first time expressed support for the unionization efforts of Senate staffers, while adding the caveat that she has not seen any specific proposals yet. A pay floor for all Senate employees is one of the demands that union organizers have spoken about.
Powered By
NEXT STORY: City Council finally gets its sexual harassment audit