New York City
MTA spending $1 million a month for private security guards amid crackdown on fare evasion in subway system
Stopping turnstile jumpers while addressing safety is slowly paying off, New York City Transit and police leaders testified before a joint hearing of the City Council transportation and public safety committees Monday.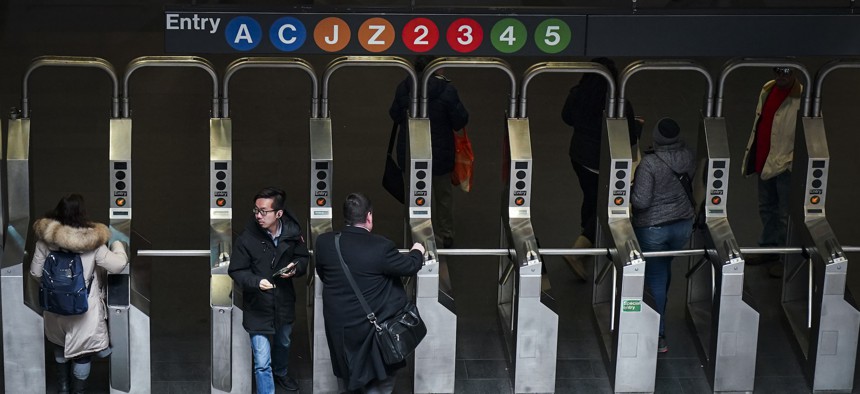 Five hundred million dollars – that's how much the Metropolitan Transportation Authority system is currently losing each year because of fare evasion, transit leaders recently said. As the embattled system has struggled to return to pre-pandemic ridership levels amid public safety concerns and a looming multi-billion budget deficit, New York City police and transit leaders have set their sights on reining in fare evasion.
Some of those efforts have occurred alongside multipronged plans that have bolstered police presence overall – more police in subways has meant more people caught and cited for attempting to dodge payment. Other methods have been more unconventional. Transit authorities revealed Monday that the MTA is currently paying $1 million a month for private security guards, which have been deployed to key stations across the city to watch for fare evaders as part of a pilot program. Leaders are also even considering redesigning subway turnstiles to deter people from vaulting over them.
While testifying at a joint hearing of the City Council transportation and public safety committees Monday morning about their efforts to improve safety on the subway system, transit and police leaders said that these practices –  while still in their early days – have already led to improvements. Leaders said subway crime was down 13% this November compared to last year. Customer surveys from the MTA show that public safety is riders' biggest concern about the subway system. 
While fare evasion itself is often harmless when stacked against the rare major violent crimes that have captured headlines and shaken public trust in the system, stopping fare evasion is still an important component to the city's plan to reduce subway crime, according to Michael Kemper, acting chief of the New York City Police Department's transit bureau. 
"There can't be signs of lawlessness the second someone walks into a subway system," he told council members. "Think about the perception that gives the average citizen that's paying their fare walking in, when their first minute into their journey is observing an atmosphere that is a free for all, it's lawlessness … That perception travels with them throughout the entire journey and it goes home with them."
Both transit and police leaders stressed that the purpose of enforcing fare evasion isn't to arrest or summon people – it's to discourage a behavior that's worsened in recent years. Of the 82,000 police contacts for fare evasion this year, about 97% of people who are stopped "walk away minutes later with a civil summons," Kemper said. The other 3% are arrested and inspected, although in the vast majority of instances those individuals already have active warrants or police discover that they are carrying a firearm.
Transit officials have said that it's important to deter people from hopping over turnstiles or going through the emergency gate at the onset so they can avoid costly fees – particularly when the individual is attempting to avoid paying for financial reasons. The private security guards, who are unarmed and unable to arrest or issue fines, were largely hired for this purpose. When positioned near the large, metal emergency gates, these reinforcements have been a largely successful deterrent in the stations since the pilot program began in May, according to Richard Davey, president of the New York City Transit Authority. There are currently over 200 of these unarmed guards stationed in 14 stations. 
"The MTA spends a lot of money collecting fares as a general matter, so we see this as an important investment," Davey said." One of the things I've heard from customers is if they see someone smoking, if they see someone drinking, if they see someone evading a fare that begins to erode their confidence in the system … If we are not doing our best to begin to enforce our rules – subtly in this case – up front as you come into a station, that's when people begin to feel unsafe."
Powered By
NEXT STORY: A guide to the most powerful state Legislative committees