Policy
At 57 New York hospitals, safe staffing law falls apart
Before thousands of New York City nurses prepared to strike, a new staffing law produced disagreements in about 1 in 4 New York hospitals – exacerbating a morale crisis that began during the COVID-19 pandemic.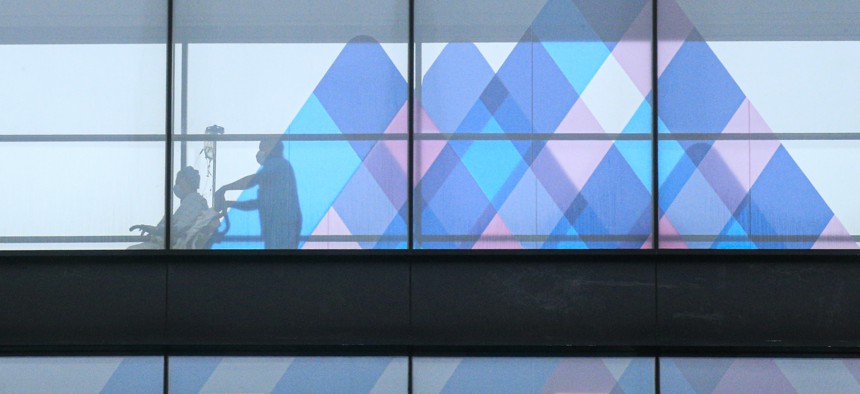 This article was published in partnership with New York Focus. Sign up for their newsletter here. 
Update: January 9, 2023 —\On Monday, more than 7,000 nurses at Montefiore Hospital and Mount Sinai Hospital's main campus went on strike. Nurses at New York-Presbyterian, Mount Sinai West, and Mount Sinai Morningside reached agreements over the weekend.
Days before the new year, private sector nurses in New York City initiated a countdown to what could be one of the largest nursing strikes in U.S. history. Over 10,000 nurses across five hospitals are set to strike if they cannot reach a contract agreement by Jan. 9.
The strike alert in the city marks the latest development in a year-long fight that has swept dozens of hospitals statewide, where nurses have been stymied in their attempts to improve staffing ratios, one of the profession's most urgent labor and safety issues. While five New York City hospitals count down to a work stoppage, more than 11 times as many institutions across New York state remain mired in disagreement over best staffing practices.
For over 20 years, New York nurses and sympathetic state legislators have called for higher ratios of nurses to patients, which have been shown to reduce patient deaths and alleviate worker burnout. In 2021, spurred by hospital conditions during the COVID-19 pandemic, the Legislature rallied at last to pass a law that requires the state Department of Health to enforce nurse staffing levels. 
Though several prominent nursing unions initially pushed for a staffing law that mandated the same rules at every hospital and required a basic staffing standard throughout the state, the final bill was quite different. The Legislature's ultimate version instead allowed every hospital to form a "staffing committee" — half made up of nurses, half hospital administrators — to deliberate over its staff-to-patient ratios. When hospitals submitted their plans in July, committees at 57 out of the state's 212 hospitals had not reached a consensus on the nurses' demands. 
Absent consensus, management at those hospitals adopted staffing plans that unionized nurses say flew in the face of their demands. At the NYSNA hospitals that are set to strike, unresolved staffing disagreements from the committee process have now hit a boiling point during collective bargaining.
At four hospitals throughout the state, unionized committee members told New York Focus and City & State that a process theoretically intended to give nurses a say became dysfunctional. A year into the committee process, workers report that hospital management's resistance is leaving them more demoralized than before it began.
"[Management] would never go as far as canceling meetings, but they would throughout the meeting just stop us and interrupt us and say, 'No, we're not going to be discussing this. We already have a staffing plan for this. We're going to be submitting the staffing plan,'" said Matt Allen, a nurse at Mount Sinai's Morningside Heights campus and the New York State Nurses Association's director at large. Mount Sinai, which is one of the hospital systems heading toward a strike, did not return a request for comment about the committee process.
The committee members described problems ranging from administrators' refusal to negotiate to alleged violations of the process laid out by the law. Each of the committee members interviewed reported filing formal violations with the state. (The health department would not disclose the number of complaints, citing active investigations.) 
"I don't think [the Department of Health] anticipated the amount of conflict that would come out of this, and they're dealing with a vast number of hospitals throughout the state that are having issues," said Tom Grieco, a business agent with CWA, which represents workers at 10 New York hospitals.
The process has unfolded as fiscal woes continue to stress New York's health care system. A report released by the industry group Healthcare Association of New York State in December found that 4 out of every 5 hospitals in the state report negative or unsustainable operating margins, with 100 percent reporting nursing shortages they cannot fill. The hospital group maintains that hospitals need more federal and state funding for hiring. 
The state's largest nursing unions, meanwhile, argue that hospital staffing is the key first step to improving worker job conditions, which will then lead to improved retention and recruitment.
"Their biggest concern was finance," said Renee Carson, a medical-surgical unit nurse at St. Joseph's hospital in Yonkers, "not patients, not the retention, not the nurses or the morale."
The staffing committees' 'big flaw'
Nurses say the core problem they had in negotiating stems from a fundamental part of the committee law. When the staff and management sides of the committees cannot agree on a set of ratios, management has the power to override the nurse recommendations and provide its own to be enshrined in law.
"At the end of the day, the big flaw in this law was that it allowed the hospitals to have a unilateral say in whatever they were going to be submitting to the Department of Health," said Allen of Mount Sinai.
At St. Luke's, a 370-bed nonprofit hospital in Utica, a CWA organizer representing nursing staff characterized management as "pretending" to negotiate without offering staffing improvements. Management and nursing staff could not come to consensus on a single unit, according to a committee member. 
"If you look at any department, you're going to find unhappy nurses," said Michele Mandia, a nurse in the hospital's nursery unit. 
A spokesperson for St. Luke's pushed back on the idea that the committee's meetings were contentious, but said that it would continue to meet under a new chief nursing officer "who is transparent and inclusive."
In Yonkers, at the small nonprofit hospital St. Joseph's, staff reported that the staffing committee only came to an agreement on one area: an operating room unit, which was already subject to staffing regulations. 
Carson, the St. Joseph's medical surgical unit nurse, said the hospital's financial officer dictated the conversation in the committee meetings, rather than other administrators with more experience in direct care. She said the financial officer opposed all nurse recommendations.
Allen said that the mood at Mount Sinai's Morningside Heights campus was similarly tense. Just like at the smaller institutions, management at the 1,100-bed teaching hospital would shut down conversations in areas where they were not open to negotiating.
Procedural breakdown
Beyond the inability to find common ground through the framing of the law, nurses allege that hospitals have also violated the process in a myriad of ways.
At St. Joseph's, management used the committee process to issue a lower staffing ratio in their psych unit than the one existing in their collective bargaining contract — an action explicitly prohibited by the law. The union filed a complaint to the Department of Health.
In a statement about the process, St. Joseph's maintained that it has always "ensured safe staffing levels for the safety of its staff and the patients." 
At Mount Sinai, administrators unilaterally imposed an interpretation of the law that excluded certain specialized units. The law's language pertains to all "patient care units," resulting in disagreement over how to define direct patient care. According to a complaint that the union submitted to the Department of Health, Mount Sinai Morningside refused to create a staffing plan for six procedural areas of the hospital.
At Montefiore Nyack, hospital representatives came to what appeared to be a tentative agreement with staff only to send a completely different plan to the DOH. Grieco, a CWA organizer who sat on the staff side of the committee, said the hospital administration objected to creating staff guidelines for around 150 "tech" positions — medical workers who provide specialized services like respiratory therapy, MRIs and X-rays. After initially debating about whether these workers fit the law's description of providing "direct patient care," administration seemed to give in and negotiate an arrangement with the workers during the committee meetings. 
It wasn't until after the administrators submitted a plan that the workers found out that the hospital staff decided against their agreement at the last minute.
"They didn't even tell us. We just saw their final staffing plan and all these titles were magically excluded," said Grieco. The union contested the hospital's decision in a complaint to DOH. 
In a statement to New York Focus and City & State, the hospital maintained that its plan is "fully compliant with the requirements" put forth by the DOH.
The law relies on the department to investigate and crack down on staffing code violations, which can result in civil penalties — but only after a protracted investigation. First, the DOH has to find a pattern of noncompliance; then, hospitals get another 45-day redemptory attempt to follow a corrective plan before they are fined.
The state health department was supposed to begin enforcement of the committee-submitted staffing ratios at the beginning of the new year, but it already has a backlog of complaints that it has not responded to. The department, which itself is short-staffed by hundreds of employees, has not indicated when it will be able to provide a ruling on the complaints.
Whether the agency will take a punitive approach remains unclear  — as does the question of whether that would be effective at increasing hospital staff. With or without consensus, neither hospitals nor unions seem to have an immediate answer as to how to boost hiring amid the nursing shortage. 
Debbie Hayes, CWA's upstate director, was involved in last year's strike at Mercy Hospital in Buffalo that resulted in strong staffing ratios in their collective bargaining contract. Despite having an enforceable ratio in place, the hospital, as of several months ago, had not been able to hire enough to meet the mark, she said.
"They are struggling to get people in the door," Hayes said. The hospital did not respond to a request about its latest staffing numbers.
In fact, none of the staff committee members interviewed by New York Focus and City & State believed their institutions were ready to actually adhere to the version of the staffing plans they had proposed. 
At a press conference over the looming NYSNA strike on Wednesday, the union's president Nancy Hagans suggested that the lack of DOH staffing committee enforcement has increased the stakes of the bargaining process.
"There's no enforcement, and that is a problem," she said. "And that's why we continue to fight."