Policy
'That era is over.' Hochul touts support for law enforcement
Riding the high of recent positive polling, the governor wants more money for police and more discretion for judges deciding whether to set bail.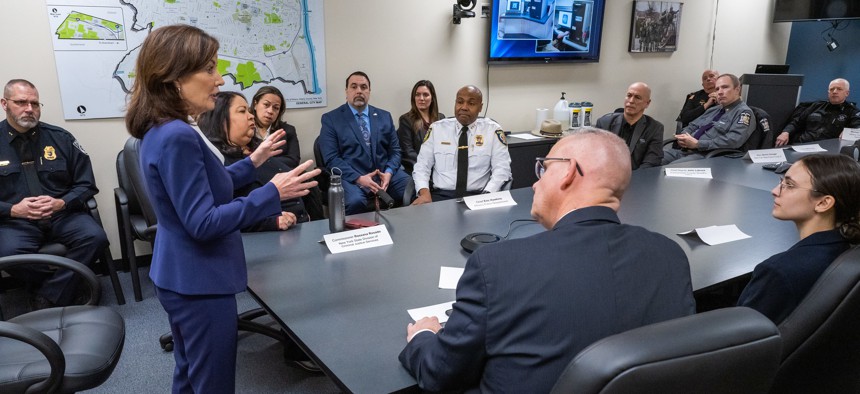 New York state is funding the police, and Gov. Kathy Hochul wants to make sure that you know it. 
Hochul spent the morning touring the Capital Region Crime Analysis Center, a regional command base to consolidate local police information to better address crime. The state provided funding for the center last year that helped pay for a $500,000 upgrade. "This is where we invest our money, in the people who are solving crime and preventing crime," Hochul said.
Hochul reiterated pledges she made during her State of the State address to bulk up the state police presence in cities looking for more law enforcement and increase money going to local prosecutors. She said specifically that she would propose boosting state funding for district attorneys' offices from $18 million to $52 million in her executive budget to help criminal cases move more swiftly. "We're not defunding police," Hochul said. "We are really ramping up funding in police, so all that era is over."
The monetary proposals go hand-in-hand with another major aspect of Hochul's public safety plan laid out in her State of the State: giving judges more discretion to set bail for the most serious crimes. "All I'm trying to do now is remedy that inconsistency that exists in the law," Hochul told reporters. "And by focusing on serious offenses, I believe we can garner enough support." According to a new Siena College poll, the majority of New Yorkers, including the majority of Democrats, support the prospect of expanding judicial discretion when setting bail.
Hochul has repeatedly expressed her opposition to the "defund the police" movement that arose in the summer of 2020 amid protests over the killing of George Floyd and police brutality. Republicans have successfully campaigned on spikes in crime and anti-police sentiment in both 2021 and 2022 at the local and federal levels in New York, and Hochul herself sought to affirm her commitment to both supporting law enforcement and addressing public fears surrounding crime during her own close election last year. Speaking to reporters, that also translated to support for qualified immunity, the controversial law that protects police officers from personal liability for alleged bad behavior on the job. "I'm going to say this: I don't support the repeal of that," Hochul said, adding that she still wants to see bad actors face appropriate consequences. 
The governor will need the Legislature's support both to include the proposed funding in this year's budget, as well as to approve changes to the bail reform law. On the latter, both legislative leaders have expressed an unwillingness to rehash the 2019 reforms for a third year in a row, setting up another potentially contentious fight between the governor and the Legislature during budget negotiations.