Policy
Lawmakers welcome Hochul's $1 billion to address mental health
Hochul released some details of her plan ahead of her State of the State address Tuesday.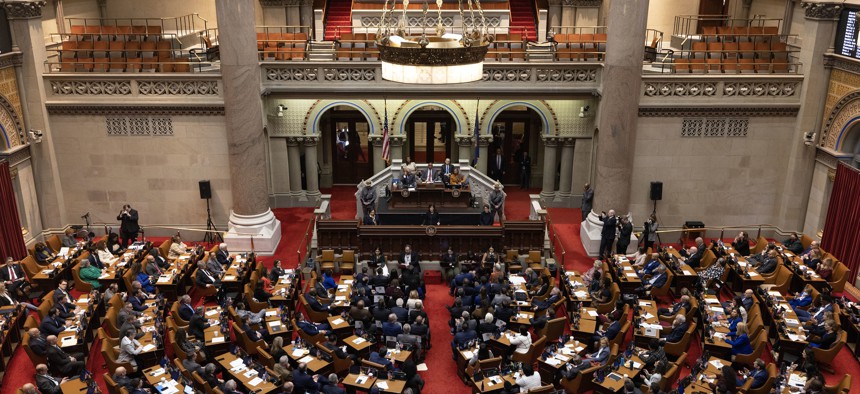 Hours ahead of her highly anticipated State of the State address on Tuesday, Gov. Kathy Hochul unveiled a $1 billion plan to address mental health. The governor's plan will add 1,000 beds for psychiatric treatment and 3,500 housing units for New Yorkers with mental illness. The administration also plans to prioritize outpatient services and insurance coverage to improve the process for admissions and discharging of patients. 
"We have underinvested in mental health care for so long, and allowed the situation to become so dire, that it has become a public safety crisis, as well," Hochul said of the plan while addressing lawmakers and elected officials in the Assembly chamber. The governor pointed to New Yorkers feeling "anxious on the subway" when they encounter people who struggle with mental illness and need help.
After three years of pandemic-related isolation, illness and reduction in services, mental health seems to be front of mind for several New York officials. The governor's plan follows an announcement from New York City Mayor Eric Adams that people on city streets deemed unable to care for themselves will be involuntarily hospitalized. Adams is in full support of Hochul's plan, sharing a statement following the address, calling it a "partnership in government." "Make no mistake about it, our collective efforts will make New York safer and improve the lives of thousands of those struggling with severe mental illness," Adams wrote.
And Manhattan District Attorney Alvin Bragg recently earmarked $9 million of his office's funds to go toward mental health initiatives in vulnerable neighborhoods and in court.
While state lawmakers are widely in support of Hochul's plan, they acknowledged the complexity of the multifaceted crisis. Among them is state Sen. Samra Brouk, chair of the Senate Committee on Mental Health, who sent out a statement directly after the governor's address. The chair affirmed her support of the governor's plan but noted that the workers providing mental health, residential and medical care also should be considered. 
"No changes are possible without a well-trained, well-compensated workforce," Brouk wrote. "Over the past two years, we have provided this workforce with long-overdue cost of living adjustments, but we need to codify this process so that workers know they will receive the compensation they deserve."
Newly-elected state Sen. Nathalia Fernandez, a member of the Senate Committee on Mental Health, also underscored her support of the plan in a statement to City & State referring to it as the "largest investment" she's seen in her career. "It shows how serious Governor Hochul is taking this issue as well as her commitment to saving lives," Fernandez wrote. 
However, Fernandez also highlighted another important aspect that should be considered in the governor's plan to address mental health: addiction. "I sincerely hope this mental health funding package is prepared to address substance abuse because we know all too well how both issues are inseparable. Mental illness exacerbates drug and alcohol addiction and vice versa, creating a feedback loop with tragic results," Fernandez wrote.
Fernandez is not alone in questioning how the administration plans will address the prevalent correlation between substance abuse and mental health. Assembly Member Phil Steck, chair of the Assembly Alcoholism and Drug Abuse Committee, also pointed to the need for Hochul to address drug abuse when thinking about mental health in a statement.
"I applaud the Governor's $1 billion plan to overhaul our mental health system. I look forward to working with her on this and my proposal to infuse the 12 Addiction Treatment Centers operated by the state with mental health services to make them centers for the treatment of co-occurring disorders," Steck wrote.
To be fair, Hochul does in fact include outreach and services by safe option support teams for homeless people battling mental illness and substance abuse disorders in her proposed mental health plan. The administration is proposing 26 certified community behavioral health clinics to provide treatment for those individuals. While political pundits and lawmakers are still processing the State of the State address, the governor's executive budget proposal will offer a clearer picture on the details of many of her proposals. The budget proposal is expected to be finalized later this month.