Immigration
NYC migrant crisis is not the first immigration issue to flummox Hochul
Experts and lawmakers argue Hochul didn't do enough to tackle immigration in her State of the State address.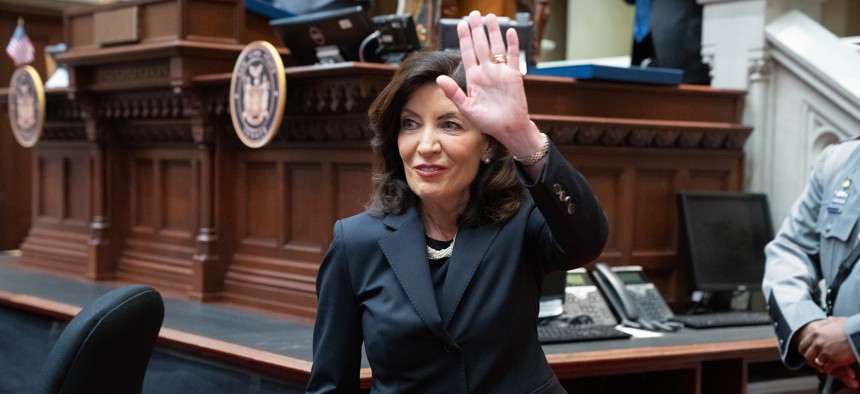 In her first State of the State address since getting elected for a full term as governor, Gov. Kathy Hochul presented a plan mainly centered around housing and public safety – but neglected to address a major migrant crisis in New York City.
Though Hochul did not mention the crisis in her speech, an accompanying vision document outlined an intent to increase funding an unspecified amount for legal services, provide unspecified funding for refugee resettlement agencies around the state and fund programs to retrain immigrants who previously worked as skilled professionals. The administration also plans to connect migrants with agricultural and food industry jobs.
The governor's plans come as New York City faces an influx of tens of thousands of migrants and New York City Mayor Eric Adams is calling on the state and federal government to do more. Ahead of Hochul's address, several state lawmakers and advocates held a rally at the state Capitol calling for the governor's support for a slew of legislation to address the needs of immigrant New Yorkers, including the Access to Representation Act, which establishes the legal right to counsel for immigration cases; the New York for All act, which would prohibit the disclosure of one's immigration status, and the Coverage for All Act, which aims to provide health care coverage for immigrants.
This is not the first time the governor has stumbled on immigration. While serving in Congress, Hochul joined Republicans in voting to repeal the Diversity Immigration visa program – which allows 50,000 people from underrepresented countries to immigrate to the United States through a lottery system. 
But the most infamous example concerns driver's licenses. In 2007, then-Gov. Eliot Spitzer issued an executive order allowing immigrants living in New York illegally to apply for driver's licenses. As Erie County clerk, Hochul made threats to arrest undocumented immigrants who applied for driver's licenses, going against the governor, who eventually reversed course and withdrew the plan. Since then, she has walked back that stance. "I had taken a position that has now evolved," Hochul said shortly after becoming governor. "And that evolution coincides with the evolution of many people in the State of New York."
Eli Valentin, political adviser and professor at the Hispanic Theological Initiative, said that given the governor's past controversial political stance on key immigration issues, Hochul not committing more to address the migrant crisis is alarming and made him pause. "I naturally take a posture of hermeneutics of suspicion when it comes to the governor's position on this issue because of this past," Valentin said. "I think there's more the state can do."
Hochul has taken steps to protect immigrants in recent years and in her capacity as governor, including supporting the state's DREAM Act to give state grants to immigrant young people for higher education and signing legislation making it illegal to threaten to report a person's immigration status. The governor, along with then-New York City Mayor Bill de Blasio, also provided $27 million in relief funds to undocumented survivors of the damage caused by Hurricane Ida. To address New York City's migrant crisis, Hochul's administration launched legal service grants, deployed the national guard to help relocate shelter for asylum-seekers and called on the federal government to provide additional aid, among other efforts.
Lawmakers, including Assembly Member Catalina Cruz, have given credit to the governor for her work, but are calling for her to do more. Cruz said she was surprised Hochul's address did not explicitly mention the influx of migrants in New York City or the needs of immigrants already residing across the state. "I was very disappointed. They're the kind of proposals that unless you're seeing a clear number or goal of people you're going to serve, it means nothing. It's just an idea," Cruz said.
Murad Awawdeh, executive director of the New York Immigration Coalition, admits the governor has "come a long way in (her) evolution on immigration," pointing to Hochul's work during the last legislative session on expansion for Medicaid to include immigrant seniors. However, Awawdeh said Hochul's work is far from over and referred to the migrant plan unveiled in the State of the State as "not enough." "(Hochul) is making strides, but we need her to make bolder strides in this moment," Awawdeh said. 
When asked by City & State about Adams' recent request for emergency mutual aid from the state, a spokesperson for the governor confirmed plans by the administration to provide help while calling on the federal government to also provide aid. 
"Governor Hochul will continue working collaboratively with Mayor Adams to assist the City with asylum-seekers, and we are reviewing the City's recent requests. But it is not sustainable for local or state governments to shoulder this burden; the federal government must do more to both fund localities and to deal with the crisis holistically," the spokesperson wrote.