Housing
NYC's basement apartment pilot draws only 5 participants
A program to bring some illegal basement apartments up to code has demonstrated the financial and regulatory hurdles to conversions – a setback for the mayor and governor's housing agendas.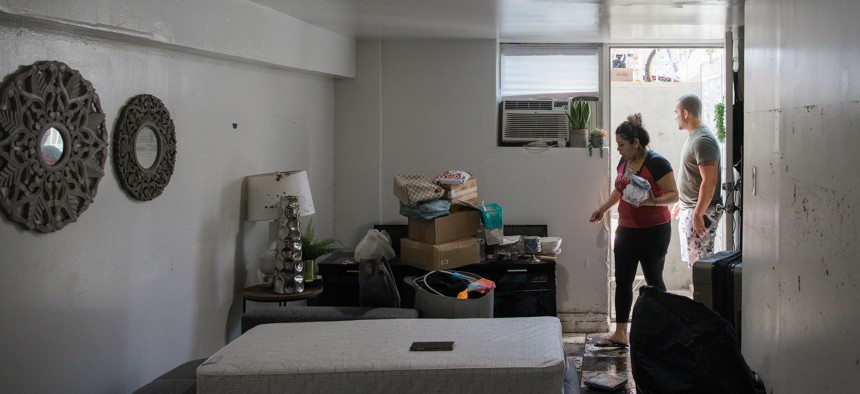 A pilot program to convert illegal basement apartments in parts of Brooklyn into legal and safe units has just five active participants out of roughly 8,000 homeowners initially contacted, city officials said at a hearing on Tuesday. The initial goal was to convert 40 apartments.
The Basement Apartment Conversion Pilot Program, passed in 2019, was intended to make a start at addressing the estimated hundreds of thousands illegal basement apartments in the city, which often house low-income tenants, immigrants and people of color, and facilitate legal conversions amid a dearth of affordable housing stock. Left unregulated, those basement apartments carry serious safety risks. When the remnants of Hurricane Ida caused flooding across New York City in 2021, 11 New Yorkers who lived in basement apartments died. 
The basement apartment conversion pilot was limited to East New York and Cypress Hills in Brooklyn, with one, two, and three-unit homes occupied as an owner's primary residence eligible to participate. Eligible homeowners would receive a maximum loan of $120,000 to help finance the conversion. In some cases, loans could be forgivable or no-interest.
Basement apartment conversions are a key part of Gov. Kathy Hochul's stated goal to build 800,000 housing units in the coming decade. She specified that 38,000 of those units could come from basement apartment legalization.
At a City Council oversight hearing on accessory dwelling units and legalizing basement apartments – also a stated priority of New York City Mayor Eric Adams – city officials said that there are just five active participants in the pilot conversion program. That's due in part to a narrow set of criteria and the restrictive zoning, regulations and financial burdens that make conversions difficult. The pilot program's progress was slowed by the COVID-19 pandemic, and its budget has been slashed over the past few years and didn't receive new funding in last year's budget.  
In Brooklyn Community District 5, where this pilot was launched, about 8,000 homeowners were identified by the city as potentially eligible in the area and contacted about the program. Roughly 2,000 of those engaged in conversation with the city or community partners, and about 800 expressed initial interest in participating, according to Kim Darga, deputy commissioner for development at the Department of Housing Preservation and Development. From the outset, the pilot intentionally excluded properties in the coastal flood zone.
The 800 homeowners who expressed initial interest were further screened for eligibility and potential barriers for conversions, and the city completed "detailed home assessments" for just over 100 properties, Darga said. In the end, eight homeowners met a mid-2021 deadline to participate, three of whom were later found ineligible because of zoning and ceiling height restrictions.
Today, one conversion is in construction, and the four other active participants are "working toward plan approval," Darga said. She added that in conversion projects where someone is already living in an illegal basement apartment, a community partner would be called on to help the resident relocate during the construction process. The goal of the program is not to punish those found to be living in illegal units.
Despite the very low number of actual conversions that this pilot seems likely to produce, the Housing and Preservation Department officials at Tuesday's hearing said that the program has created a better understanding about the current barriers to conversions. 
Darga identified two of those barriers as a state-imposed limit on the department's loan authority – capped at providing homeowners $60,000 per unit – and the state's Multiple Dwelling Law, whose requirements kick in for a two-family home being converted to a three-family home. While zoning, location and other technical limitations kept some homeowners from participating in the pilot, others were effectively excluded because the conversions were financially infeasible. Darga said that the department has found that the building and safety requirements in the Multiple Dwelling Law double the cost of a conversion. 
The four homes still in the pilot that have not yet reached plan approval are restricted by the Multiple Dwelling Law and are seeing estimated costs between $500,000 and $1 million to complete conversions. "If we don't address the (Multiple Dwelling Law) requirements, the costs will be out of reach for almost everybody in New York City," Darga said. 
At Tuesday's hearing, Council Member Shahana Hanif, who sponsors a resolution calling on the state to pass legislation creating a pathway for legalizing basement apartments, called for new and expanded funding for the pilot program. "With the skyrocketing price of housing in our city we know that basement apartments are not going to disappear," Hanif said. 
Council Member Pierina Sanchez, who chairs the Committee on Housing and Buildings, added that the state and city need to provide both financial and regulatory relief. "The administration and Albany need to not only negotiate and swiftly pass this legislation to unlock these opportunities for safe housing, but also commit necessary financial resources to aid working class and low-income homeowners to undergo the expensive conversion process," Sanchez said in a statement after the hearing.
Powered By
NEXT STORY: 'That era is over.' Hochul touts support for law enforcement