New York City
As some asylum-seekers resolve to stay at Manhattan hotel, others catch the bus to Brooklyn
"We want a good place to live like humans," one 22-year-old from Venezuela said of being told to leave a Manhattan hotel for a barracks-style shelter in Red Hook.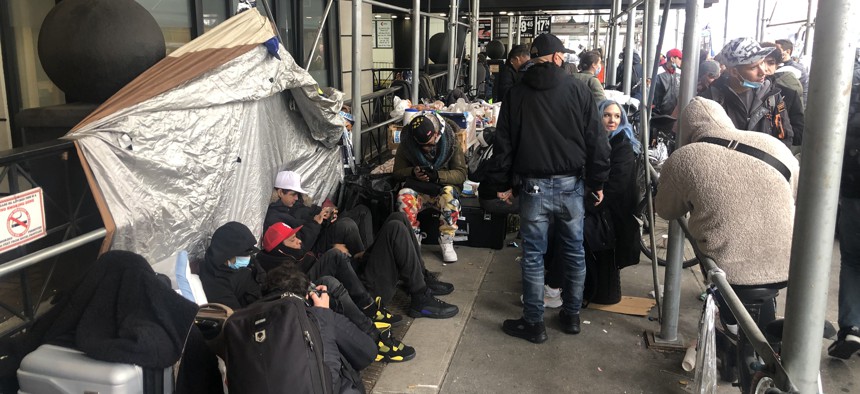 Thin green cots lined up head-to-toe, no privacy barriers, concerns about cold and drafty temperatures. The setup of a 1,000-bed temporary shelter for asylum-seekers inside Red Hook's Brooklyn Cruise Terminal is ringing some familiar alarms, especially for migrants being told to leave the midtown hotel where they have been staying.
As New York City began the process of moving the single, adult male migrants put up in The Watson Hotel to the new Brooklyn Cruise Terminal emergency shelter this weekend – making way for migrant families to move into the hotel as the massive influx of asylum-seekers into the city continues – some of those men refused to go. Citing concerns about heating inside the cruise terminal, apparently cramped quarters and a lack of privacy, some migrants returned to the Watson from the cruise terminal and slept outside after being refused reentry to the hotel.
On Monday afternoon, several dozen of those men remained outside the hotel, surrounded by media, New York City Police Department officers watching from a short distance, and an MTA bus waiting to take more of them to the Brooklyn Cruise Terminal.
Those who had returned from the cruise terminal shelter shared videos and photos of what they'd seen there with migrants who hadn't been yet. "We want a good place to live like humans, not like prisoners," said a 22-year-old migrant from Venezuela who gave the name Labrador, adding that he didn't want to go to the Brooklyn Cruise Terminal after seeing videos of the tight quarters. He said that he instead slept outside the Watson for a couple hours on Sunday night.
New York City Council Member Alexa Avilés, who represents Red Hook, said that she was scheduled to get a tour of the cruise terminal shelter on Monday morning, but that she was told by the mayor's office on Sunday evening that the tour would be postponed, without being given an explanation. A spokesperson for Mayor Eric Adams did not immediately respond to a request for comment on Avilés' statement. Part of what's driving the challenge of providing shelter to the more than 42,000 migrants who have arrived from the southern border since last spring is the limits of the city's shelter system and the backlogs of finding permanent housing for those already in shelters, Avilés said. "The fact that that system remains full and we have not figured out how to move people into permanent safe housing is really at the crux of this issue," she said.
Despite circulating reports from asylum-seekers who have been to the cruise terminal of cold temperatures inside the facility, a lack of storage space for personal belongings and long lines for the showers, the mayor's office has stressed that the Brooklyn shelter will provide for asylum-seekers' needs. "This weekend, we began the process of moving single adult men from the Watson Hotel to Brooklyn Cruise Terminal, as we transition the hotel to meet the large number of asylum-seeking families with children," spokesperson Fabien Levy said in an emailed statement. "The facilities at Brooklyn Cruise Terminal will provide the same services as every other humanitarian relief center in the city, and the scheduled relocations to Brooklyn Cruise Terminal this weekend took place as planned. We remain in serious need of support from both our state and federal governments."
The city has said that the terminal is heated, that there are assigned storage spaces for each person and that there are 85 to 90 toilets at the facility for use. The city has also suggested that the protest outside the Watson was not organized by the asylum-seekers themselves but by local organizations, though they named no organizations.
Even as some asylum-seekers resolved to stay at the Watson on Monday, others appeared to be resigned to leave for the Brooklyn Cruise Terminal. A handful of people filtered out of the Watson on Monday afternoon and went directly to the MTA bus headed for Red Hook. "I'm going to go, what other choice do I have," said Luis Fernandez, a 33-year-old migrant from Venezuela, in Spanish.
Ralph R. Ortega contributed reporting.
Powered By
NEXT STORY: Symposium discusses solutions to homelessness and mental illness in New York