Kathy Hochul
Hochul touts JFK progress, organized labor
Governors love their airports. Hochul is no different.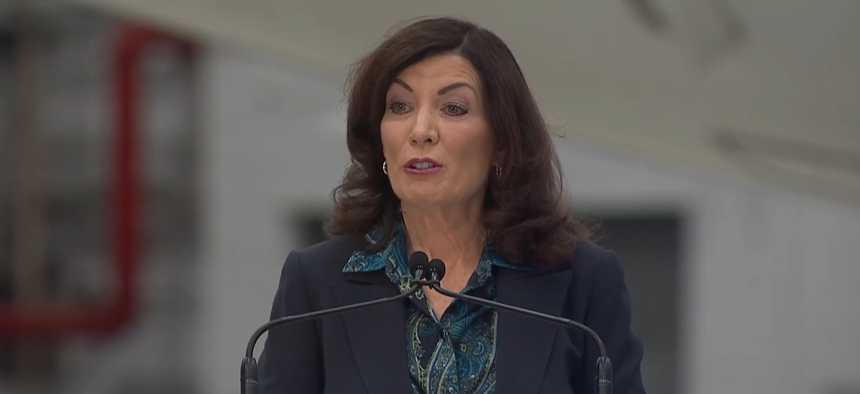 Gov. Kathy Hochul was in Queens on Thursday for the groundbreaking of a new Terminal 6 at John F. Kennedy International Airport, the latest step forward in the yearslong and multibillion renovation of the airport. Although the JFK redevelopment predates her time as governor, Hochul has become the face of the tenure-defining project, much as former Gov. Andrew Cuomo owned the LaGuardia redevelopment. And on Thursday, she made sure to also give a shoutout to labor for their role in the massive project at a time when her relationship with unions is somewhat tenuous. 
Addressing gathered stakeholders at JFK, Hochul highlighted the advancements in the redevelopment that have occurred since she took office: groundbreaking for a Terminal 4 expansion in December 2021 and a new Terminal 1 in September with project costs totalling $11 billion. The first of the new facilities, Terminal 8, is set to open later this year. Thursday's groundbreaking represented another $4.2 billion in projected costs. And as she thanked partners in the private sector – who are footing the bill – Hochul also made sure to give a nod to unions. "Organized labor is the linchpin to getting this done," Hochul said, specifically addressing Gary LaBarbera, president of the Building and Construction Trades Council. LaBarbera did not join a chorus of unions who recently criticized the governor for her nominee for the state's chief judge. Hector LaSalle had been painted as anti-labor for a past decision allowing a corporation to sue union members for defamation. "This is also part of your legacy; over 4,000 jobs, 1,800 good-paying union jobs." The comments were met with applause. 
The acknowledgment of labor in a major development project comes as Hochul has received criticism from some in the construction trades for her exclusion of labor standards as part of her plan to build 800,000 new units of housing. In particular, the New York City District Council of Carpenters called the governor out for her decision not to include those standards as part of such a far-reaching housing agenda. Speaking to reporters after her budget presentation earlier this month, Hochul said that only affordable housing projects would have labor standards imposed, but that she expected the private sector "to step up." But the affordable housing provisions are lacking as Hochul has yet to introduce a replacement for a controversial developer tax break meant to incentivize building lower-income apartments in her budget proposal this year. Last year, she offered one such developer incentive that included labor protections. That proposal did not make it into the final budget.