Policy
Rent protections stand out in state Legislative session
Tenant advocates are confident that "good cause" eviction protections will get approved as part of a broad housing package.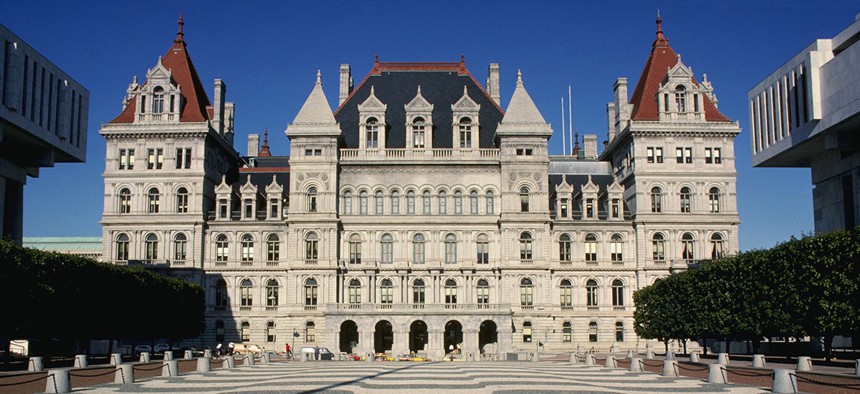 It's budget season in Albany, and this year is all about housing. Gov. Kathy Hochul made it the centerpiece of her State of the State address, with a plan to build 800,000 units of housing over the next decade. With so much attention on the issue, tenant advocates are expressing newfound confidence that "good cause" eviction protections will get approved as part of a broad housing package, likely paired with a replacement for a controversial developer tax break that's critical to the implementation of Hochul's plan. 
For years, housing activists have pushed for new tenant protections that would aid renters in apartments that aren't rent-stabilized. The proposal, dubbed good cause eviction, would enumerate the specific instances that a landlord would be justified in evicting a tenant with the intent of protecting them from losing their housing arbitrarily or unjustly. The cornerstone of the bill, however, was also the most controversial. It would make it illegal for a landlord to kick out a renter for refusing to pay an "unconscionable" rent increase, effectively placing a cap on how much property owners can raise rents on market-rate units. The legislation has faced resistance from the politically powerful real estate industry.
Still, tenant advocates said the pieces were all in place this year for good cause to get approved despite its failures in the past. "There is a shared recognition of the housing crisis we're in this legislative session that has not previously existed," Rebecca Garrard, legislative director at Citizen Action of New York, told City & State. "It is on everyone's mind, including the governor's." She said that she expects a comprehensive housing package to get passed as part of the budget and fully expects that new tenant protections – or at least some version of them – will be a part of that.
Despite the level of public support among left-wing legislators, the bill on its own has failed to make it out of committee in either chamber. It has remained a highly polarizing issue as standalone legislation. Even last year, when activists expressed similar confidence about its success, lawmakers suggested that it could get paired with a replacement for the 421-a tax break, which expired last year and incentivizes developers to include affordable housing in their market-rate projects. Hochul included a proposal for a new program as part of her budget last year, one that lawmakers staunchly opposed. But Hochul and lawmakers never came to an agreement during the post-budget legislative session on either a version of that tax break or good cause eviction, leaving both to stall in the end.
Although Garrard said that by her count, the votes were there to approve good cause eviction outright, its inclusion in a larger omnibus that includes housing priorities like a 421-a replacement makes it an easier pill to swallow for lawmakers who may be on the fence about the protections, or even for those who oppose it. "Everyone has investment in a piece of this housing package," Garrard said. "Everyone recognizes that electeds need to be able to go home to their constituencies and say 'I won something for everyone,' instead of the best message you can give being 'I blocked this policy for you.'"
Hochul has a new incentive to come to the table as well. Despite refraining from proposing a 421-a replacement like she did last year, implementing a new program is crucial to her housing plan. Roughly half of the 800,000 housing units that Hochul wants to build in the next 10 years rely on having some version of the developer tax break. She has repeatedly said she wants to work with lawmakers on crafting a proposal.
Even some local losses in recent months could spell good news for tenant organizers. After successful campaigns to get good cause laws approved in a number of Hudson Valley communities, including Kingston, Albany and Poughkeepsie, state courts have struck down several of them, ruling for the most part that such protections need to be passed at the state level. "The courts are saying this is preempted, this is the state Legislature's responsibility to regulate," Brahvan Ranga, political director with the tenant rights group For the Many, told City & State. "This puts an additional level of pressure on the Legislature because municipalities tried to address this issue, and they weren't able to." He added that the state Legislature has shown its willingness to "flex its muscles" against the governor – the state Senate rejected Hochul's chief judge nominee not once, but twice – and he expected to see that again for good cause in budget negotiations. 
Ranga said advocates feel good about the level of support in the state Senate and have been building it up in the Assembly. "It's going to come down to us organizing really hard the next couple of months and making sure that it's clear that any housing proposal without good cause is unacceptable to tenant advocates," he said. But its inclusion in the budget is still far from a sure thing. Asked about the prospect of the legislation being approved alongside other housing priorities, state Senate Majority Leader Andrea Stewart-Cousins wouldn't commit to any specifics. "It depends," she said, while acknowledging the importance of housing issues this year. "I think any comprehensive package talks about not only creating new housing, but keeping people in the housing they already have." Asked in a follow-up if that meant she expects tenant protections to be included, she said, "Tenant protections I do like," without offering an opinion specifically on good cause.
The proposal also still faces staunch opposition from the real estate industry, including the Real Estate Board of New York, which has a strong lobbying arm, and a coalition of landlord groups called Homeowners for an Affordable New York. "We're confident that common sense will prevail as lawmakers realize that Good Cause Eviction is an ideologically-driven pursuit by far-left socialists that does nothing to address the housing supply shortage and would, in fact, make finding an apartment more difficult and impossibly expensive for new renters," Homeowners for an Affordable New York spokesperson Greg Drilling said in a statement.
And where tenant advocates say they have found support among an increasing number of lawmakers, landlord groups say that those they've spoken to have listened with open minds about the problems the legislation would cause for small property owners. "I feel better after I speak to some lawmakers, because I feel like they are listening and want to do what's best for the state, to make good, practical solutions to help," Ann Korchak, president of the group Small Property Owners of New York, told City & State. Korchak, who owns two small buildings in Manhattan with a mix of market-rate and rent-stabilized units, said the proposed tenant protections in good cause would not only create an untenable situation for landlords like herself, but would ultimately harm renters' ability to find housing. "I don't think I want to be part of some socialist experiment," Korchak said. "This would fundamentally change property rights. … They can't just overnight change everything to socialist housing."