Policy
Repealing the public sector vaccine requirement, New York City leaves COVID-19 mandates behind
The end of the city's public sector vaccine mandate comes as the federal government prepares a major pandemic policy shift of its own.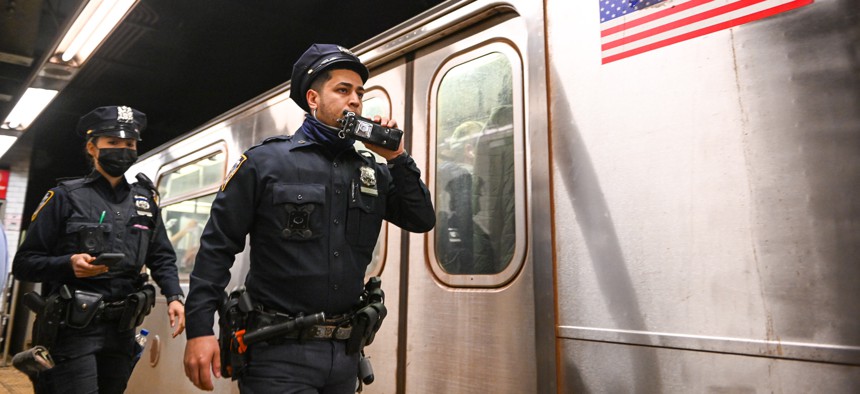 Since they were put in place through the fall and winter of 2021, New York City's web of COVID-19 vaccine mandates has been credited with helping to boost the city's vaccination rate to admirable highs. As of Monday, roughly 81% of New Yorkers had completed their primary vaccine series, while roughly 90% had received at least one vaccine dose. That's well above the national average of 68% of people fully vaccinated. But later this week, the city will leave its last mandates behind in a past era of the pandemic.
New York City Mayor Eric Adams announced in a statement on Monday that the city would lift its COVID-19 vaccine mandate for public sector workers – a rule that helped push the vaccination rate for city workers to over 96%. The move follows the official lifting of a private sector vaccine mandate last fall and the earlier axing of a requirement to show proof of vaccine before entering indoor venues like bars and theaters. Those measures were put in place by Adams' predecessor, former Mayor Bill de Blasio. 
City health officials and some lawmakers said on Monday that it's the right time to adjust some of those legacy measures. "It's clear these mandates saved lives and were absolutely necessary to meet the moment," New York City Health Commissioner Ashwin Vasan said in the mayor's press release. "We're grateful that we can now, as we leave the emergency phase of the pandemic, modify more of the rules that have gotten us to this point." Deputy Mayor for Health and Human Services Anne Williams-Isom added in the press release that the city still strongly encourages New Yorkers to get fully vaccinated, including receiving booster shots, along with taking other protective measures like testing and masking.
An average of more than 400 people are still dying from COVID-19 every day across the country, and the threat of more transmissible variants remains. But increased immunity from vaccinations and prior infections has helped to provide better protection. And while experts feared that a winter surge would overwhelm hospitals – due in part to holiday gatherings and a convergence of flu and RSV – that surge has not yet proven as overwhelming as past winters.
New York City Council Member Lynn Schulman, who chairs the council's Committee on Health, said that it's the right time to lift the mandate. "I think it's a good step to take at this time, especially given the high rate (of vaccination)," Schulman told City & State, adding that she had consulted medical professionals about the city's decision earlier in the day. 
But Schulman also said that she wants to see the city redouble its efforts to encourage New Yorkers to get booster shots, stressing the importance for older adults in particular. As of October, just 40% of eligible New Yorkers had received a booster shot, far below the number who have gotten the primary series. New York state wasn't faring much better, at 41%.
Schulman suggested an expanded and "intensive" public service campaign, as well as returning to another tactic deployed earlier in the pandemic. "I also want to see if there's a way we can get incentives," Schulman said. While she's unsure what they would look like today, Schulman said that direct rewards for getting vaccinated – at one point that included a $100 reward from the city for getting a first dose or booster – was an effective method of encouragement.
A joint statement between Schulman and Council Speaker Adrienne Adams released later on Monday didn't offer clear approval or disapproval of the city's move to lift the public sector vaccine mandate. "As the mayoral administration announced the end of the vaccine mandate for municipal employees, we must be clear that vaccines are safe, effective, and save lives," the statement read. It stressed the deficit between the number of people who had completed a primary vaccine series and those who have received additional doses, noting that "we have more work to do as a city to increase awareness and access to updated vaccine shots."
At least one health expert shared criticism of the administration's move, however. Dr. Jay Varma, a former health adviser to de Blasio, told Gothamist that lifting the mandate was a mistake and could result in private employers ending self-imposed mandates.
Since it was enacted in Oct. 2021, the public sector vaccine mandate produced fervent pushback from city workers who refused to get the shot or provide proof of vaccination – roughly 1,780 of whom were fired over it, according to City Hall. The end of the mandate is expected to be ratified at a Board of Health meeting and go into effect for current and prospective employees on Feb. 10. It won't automatically reinstate the fired workers, but City Hall noted that they can now apply for city jobs again. The city will also lift the vaccine requirement for private school, early child care and day care staff, as well as the rule requiring all visitors to city school buildings to be vaccinated.
For some, the end of the vaccine mandate came far too late. The announcement drew immediate praise from Republican and conservative members of the City Council, who were among the loudest critics of the city's vaccine mandates. "This news will come as an incredible relief to thousands of city workers and their families, and the parents and guardians who have been barred from attending their children's public school events," read a statement from the council's Common Sense Caucus, which counts as members the council's six Republicans, along with Democrats Bob Holden and Kalman Yeger. "There is more to be done for those workers who were unjustly fired for making personal medical choices, but this is a tremendous step toward righting the wrongs of the previous administration's misguided pandemic policies," the statement added.
The change in the city's pandemic policy comes as the federal government prepares its own major shift. The Biden administration will allow the COVID-19 public health emergency to expire in May – a move that will mark a symbolic end to one stage of the pandemic, three years in, as well as end access to some government services, like free at-home COVID-19 tests.