Heard Around Town
'We just have to do better.' NYC Council speaker criticizes mayor on migrant 'standoff'
Adrienne Adams said that while the mayor's calls for more funding are important, he needs to make policy changes too.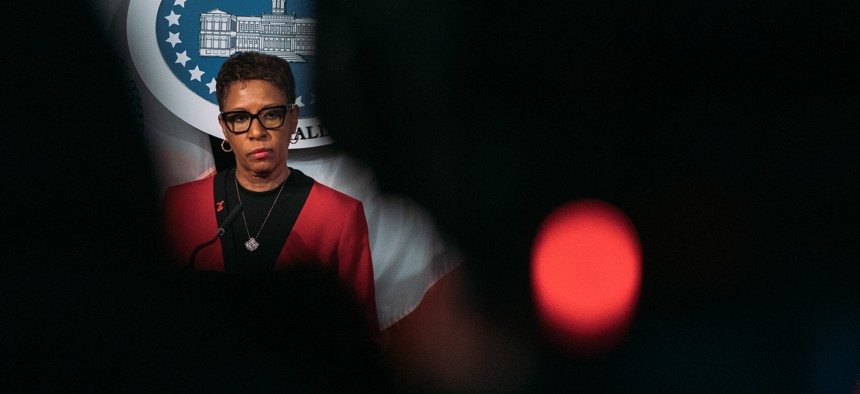 New York City Council Speaker Adrienne Adams criticized how Mayor Eric Adams' administration handled the migrant "standoff" outside the Watson Hotel, which ended Wednesday night when police and city agencies swept the asylum-seekers off of West 57th Street ahead of a night with freezing temperatures. 
"Rather than utilizing law enforcement to target asylum-seekers who may have been uncertain and fearful, I would have preferred to see the administration engage credible voices outside of their own officials to play a constructive role," Speaker Adams said at a regularly scheduled press conference Thursday. "We just have to do better." She asked for more collaboration and earlier engagement with the council "rather than an indifference of partnership," and called migrants "collateral damage" in the battle. 
Some City Council members were allowed to tour the emergency shelter in Red Hook, Brooklyn, on Wednesday, after asking City Hall. The speaker herself didn't attend.
Adams also suggested the mayor was focusing too much on appealing for aid from the federal and state governments, saying that, while "extremely critical, that cannot be to the exclusion of city-led policy changes" such as eliminating the "90-day rule" to get people from shelter into housing faster and working to fix staffing shortages in city jobs that have led to delays getting people food stamps. 
The mayor's press secretary, Fabien Levy, responded with a lengthy statement saying in part that "there was no standoff," and defending the sweep as a way to get migrants to safer places. He noted that no arrests were made. 
The relationship between the speaker and the mayor has continued to be rather tense, and will likely remain that way as the council looks to push significant funding shifts from the mayor's preliminary budget released last month. But the disagreements are not based in electoral politics, at least when it comes to the speaker. Unlike previous speakers, Adrienne Adams has shown no interest in positioning herself for higher office, such as running for mayor. She reiterated that Thursday, when asked about a recent poll that showed her having a significantly higher approval rating among city voters than the mayor. "I'm going to keep my day job for now," she said with a smile, "but thank you so much for that question."