Budget
This year's budget dance begins, amid tensions between mayor and City Council
The initial spending proposal for fiscal year 2024 will take thousands of vacant city jobs off the books.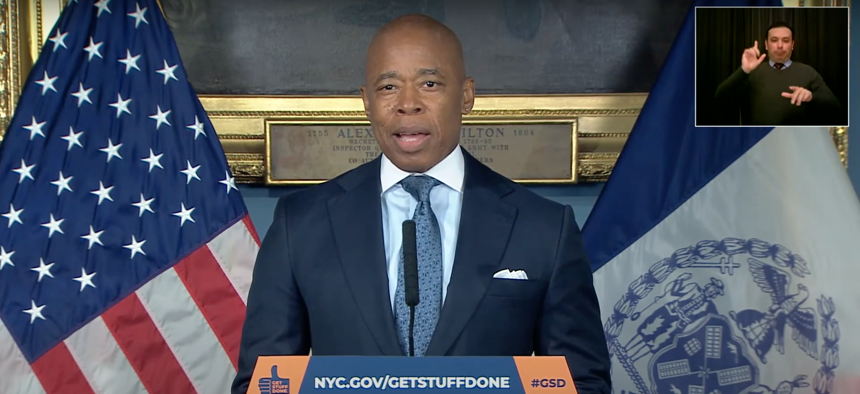 New York City Mayor Eric Adams released a $102.7 billion preliminary budget proposal for fiscal year 2024 on Thursday, kicking off the months-long budget cycle. But if the still ongoing conflict about the current year's budget between the administration and City Council is any indication, this upcoming budget will see more resistance from an emboldened council to the mayor's vision for how to usher the city through some rocky fiscal terrain.
The release of Adams' preliminary budget is just the first step in a process that will see a formal response from Speaker Adrienne Adams' Council, weeks of budget hearings, an amended executive budget from the administration, and more negotiations between the council and administration before the final budget is adopted. Those months will also coincide with council members running for reelection – and likely being held to account for their positioning on the budget. The next fiscal year begins on July 1, which is when the new budget will take effect. 
Though all details about the preliminary budget were not immediately released on Thursday afternoon, Adams characterized the spending plan as one of fiscal discipline. "Although the economy has been strong, it is slowing," Adams said in a streamed address. "We will still need to support the core services that New Yorkers rely on every day, but with fewer resources."
A major source of savings comes from eliminating thousands of currently vacant positions in city agencies, a move that the administration previewed late last year. In total, it targets 4,319 vacant positions for elimination in the current fiscal year and 4,309 in the upcoming fiscal year. In an attempt to preempt criticism that cutting vacant positions will result in the elimination of necessary – if still unfilled – roles, Adams said Thursday that roughly 23,000 open positions still remain across the city.  
Still, that claim didn't seem to satisfy city Comptroller Brad Lander, who came out with a speedy statement after Adams' address. "The Mayor appropriately asked agencies to find savings opportunities, yet sweeping cuts to vacant positions may come at the cost of hiring in mission-critical functions," Lander said. "Responsible budgeting for NYC's future does not mean cutting services that New Yorkers rely on."
Some fiscal watchdogs, however, have said that reducing the many vacancies on the books is a responsible way to realize savings without resorting to layoffs. "To be clear, the vacancy reduction still leaves the City with over 23,000 vacancies, plenty to hire for critical positions to provide services," Andrew Rein, president of the Citizens Budget Commission, said in a statement. "Staffing challenges are managerial (allocation among and within agencies and faulty hiring systems) and due to a tough labor market, and not budgetary."
Last year, which marked both Adamses' first city budgets, saw disagreements between the council and administration about sanitation, capital housing funding and more. But the mayor and speaker nonetheless reached a handshake deal on an adopted budget weeks ahead of deadline in June. It wasn't until after the budget was adopted that more council members began to loudly object to cuts to schools funding that were included. 
Already, it looks like negotiations could be rockier this year. The release of the mayor's preliminary budget for the next fiscal year comes amid pushback from City Council leadership to a November modification to the current year's budget. 
The mayor has consistently said that the administration will achieve savings without cuts to services or layoffs. Savings in the November modification and the preliminary budget are often noted as vacancy reductions or cost reestimates. But some Council members have raised doubts that those reduced spending won't actually result in diminished services.
Earlier on Thursday, Politico reported that the council will refuse to vote on the November budget modification. The move is mostly symbolic, however, as the plan will still go into effect. Speaker Adams and Council Member and Finance Committee Chair Justin Brannan in a joint statement cited cuts to "CUNY, libraries, social services, early childhood education, and other essential services," as part of their reasoning. 
Speaker Adams and other council members had already voiced concerns about the vacancy reductions that were announced in November. "We've been ringing the alarm on the vacancy rates at our city agencies, and we are concerned, and I remain concerned, about the delivery of critical services from our agencies for our communities," Council Member Carmen De La Rosa, who chairs the Committee on Civil Service and Labor, told City & State.
Last year, Speaker Adams and Brannan released an overwhelmingly positive initial statement in response to the mayor's preliminary budget proposal, calling it "a promising start to the budget process." 
In a joint statement late Thursday afternoon, Speaker Adams and Brannan weren't quite as glowing, but didn't offer outright criticism. "As our city continues to recover from the pandemic, we must prioritize smart investments that maintain essential services to keep all New Yorkers healthy and safe," the statement read, adding that "many of our concerns with the Mayor's November Plan remain with the Fiscal Year 2024 Preliminary Budget." 
Asked about their move to not vote on the November budget modification, the mayor played down tension with the council, calling Speaker Adams a "co-pilot." "There are checks and balances, and she must speak on behalf of her membership," the mayor said. "In 2022, it was unfortunate that the dialogue got in the way of our success. That is not going to be 2023."