Policy
The 3 New York Democrats who voted to weaken Dodd-Frank
Progressives blame a 2018 rollback for unsettling bank failures, but not all experts agree.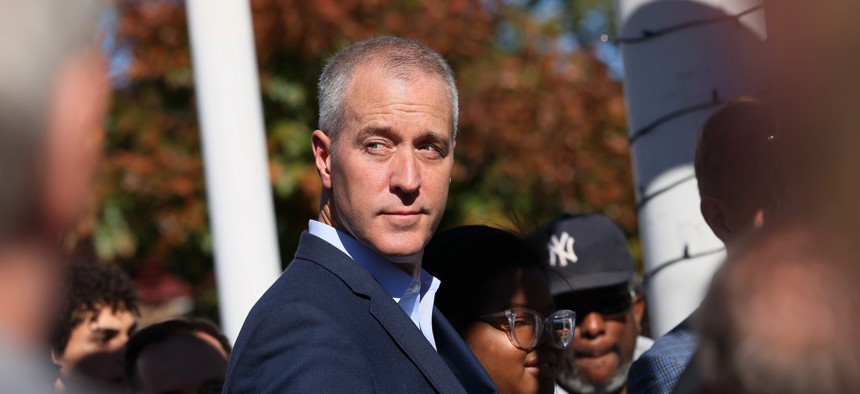 Politicians were quick to point fingers in the wake of the market-shaking collapse of both Silicon Valley Bank and Signature Bank, with progressive Democrats quickly attributing the outcome to a 2018 bipartisan bill scaling back oversight for small- to medium-size banks. 
"These bank failures were entirely avoidable if Congress and the Fed had done their jobs and kept strong banking regulations in place since 2018. S.V.B. and Signature are gone," U.S. Sen. Elizabeth Warren wrote in The New York Times, "and now Washington must act quickly to prevent the next crisis."
At the time, the rollbacks were a rare bipartisan win for the Trump administration, with 33 Democrats joining Republicans on the vote. Three of those congressional Democrats – Sean Patrick Maloney, Tom Suozzi and Kathleen Rice – hailed from New York. City & State repeatedly attempted to reach the three Democrats, all relative moderates who represented suburban districts and have since been replaced by Republicans, to discuss their votes. None of the three responded. 
Back in 2018, Maloney stated that his vote to alter bank regulations was "mostly" about loosening restrictions on smaller financial institutions, the Times reported at the time. (The New York Post reported last week that Maloney was among a number of lawmakers who received campaign contributions from Silicon Valley Bank while in office, although other recipients voted against the law.)
The 2018 measure – officially the Economic Growth, Regulatory Relief, and Consumer Protection Act – weakened portions of the Dodd-Frank Act, which was a direct response to the Great Recession of 2008-2009. In the rollback, banks which had less than $250 billion in assets were no longer subjected to the same oversight as larger banks. Prior to the 2018 legislation, the benchmark was set at $50 billion. SVB had around $212 billion in assets when it collapsed, while Signature had just above $110 billion.
There has been some debate among financial experts as to how much the 2018 legislative change played a role in the recent bank failures.
Linda Allen, a chaired professor at CUNY Baruch College's Zicklin School of Business, rejected the notion of any relationship between the 2018 rollback and the collapse of SVB and Signature. 
"It's all political. It has nothing to do with economics," Allen said. "There's no economist I know, on any side of the spectrum, who argues that. Never heard anybody argue it. You want to look for a boogeyman? Well, you have one, but it has nothing to do with reality."
John Coffee, Columbia University's Adolf A. Berle Professor of Law, however, called the 2018 change a typical step following an emergency as seismic as the Great Recession. The industry, in this case banking, gradually chips away at sweeping reforms enacted in the wake of a crisis. SVB's own CEO Greg Becker lobbied the government to relax Dodd-Frank regulations in 2015, three years before Congress would eventually pass them. 
"The real impact of exempting all these banks was that it told depositors that they were particularly at risk, and it accentuated, aggravated the possibility of a bank run," Coffee said. The fact that over 90% of SVB's deposits were uninsured "is pathological," he added. "It tells you that there's a tremendous incentive for all the people who are depositors there to run … at the first hint of trouble."
Coffee also said that greater transparency about unrealized losses, of which SVB had $16 billion, could help prevent collapses of this size from happening again. If losses were reported quarterly, the market might be able to adjust more smoothly and avoid similar panic-driven bank runs.
As academics debate the connection between Dodd-Frank's rollback and Signature and SVB's failure, Warren, along with a cohort of Democratic lawmakers, have introduced the Securable Viable Banking, or SVB, Act. The act would effectively reverse the rollback, reinstating the $50 billion threshold.
"In 2018, I rang the alarm bell about what would happen if Congress rolled back critical Dodd-Frank protections: banks would load up on risk to boost their profits and collapse, threatening our entire economy – and that is precisely what happened," Warren wrote in a statement announcing the bill. 
Three New York Democrats – Reps. Jamaal Bowman, Jerry Nadler and Alexandria Ocasio-Cortez – have signed on to the bill so far. Bowman claimed in a statement to City & State that the 2018 deregulation "directly" led to the collapse of SVB and Signature. 
"And frankly, I expect SVB's former executives and every venture capitalist, investor, or member of Congress who pushed for deregulation and this recent bailout to join us now in supporting (the) repeal, so that this scenario does not happen again," Bowman wrote. 
Bowman added that the repeal would only be the first step, writing that additional solutions such as community banking need to be "on the table."
While Ocasio-Cortez and Nadler did not respond to requests for comment, U.S. Senate Majority Leader Chuck Schumer of New York did address the proposed legislation on March 15, saying the country needs strong regulation of the banking industry. However, Schumer, who along with U.S. Sen. Kirsten Gillibrand voted against the 2018 rollback, declined to comment on if he would support the SVB Act.