Politics
Hochul refuses to budge on bail in closed-door talks
The governor's insistence on coming to an agreement on bail reform rollbacks before discussing the rest of the budget briefly derailed negotiations over the weekend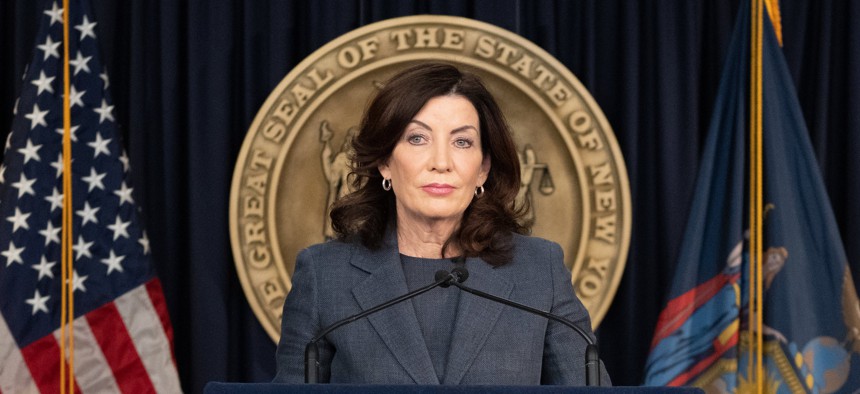 The contentious debate over bail reform momentarily stalled three-way budget talks on Saturday when staff for Assembly Speaker Carl Heastie temporarily walked out on negotiations with staff for Gov. Kathy Hochul, multiple sources told City & State. 
The sources said that Gov. Hochul's staff insisted on coming to an agreement regarding her proposal to make it easier for judges to set bail for violent felonies before discussing other parts of the budget, which is due April 1. Although staff for Heastie and state Senate Majority Leader Andrea Stewart-Cousins  had not taken discussion of bail off the table, Heastie's staff became frustrated at team Hochul's unwillingness to talk about anything else in the $227 billion proposed fiscal plan and briefly stopped participating in the three-way negotiations. A spokesperson for Heastie did not immediately return a request for comment.
The halt in negotiations didn't last long. Before the weekend was out, staffers resumed their talks, the sources said. Although the parties did not come to any final agreements, the three-way discussions did continue with tweaks to bail as the focus. A spokesperson for the governor did not immediately return a request for comment and a spokesperson for Stewart-Cousins would not comment on the record about ongoing negotiations. 
The governor successfully employed a similar strategy last year, when she held the entire budget hostage for nine days until the Legislature backed her proposals to weaken the state's 2019 bail reform law. 
Although tense talks are par for the course during budget season, the weekend's temporary negotiating pause represents an apparent line in the sand for Hochul. And while she has not been shy about her willingness to pass a late budget if it includes her priorities, it indicates that the governor wants to secure an early victory over lawmakers in the form of a bail rollback before moving on to other policy and fiscal items. The Legislature, which still maintains a Democratic supermajority in both chambers, axed many of her major proposals from housing to transit when they offered their rebuttals to her budget.
As lawmakers returned to Albany for the last week of the current fiscal year, many prepared for a late budget and for a stay that may stretch past the April 1 deadline. "I'm packing extra clothes and telling my husband and kids not to expect me home," freshman Assembly Member Grace Lee told City & State last week. Lawmakers have an unofficial deadline of April 3, the last day to either approve a budget or an extender to ensure that checks for state workers can go out on April 6. But with the start of Passover the night of April 5 and Easter on April 9, it remains unclear whether legislators will work through the holidays if they fail to pass a full budget by then.