Policy
MyCity portal launches with focus on child care benefits
New York City Mayor Adams and Chief Technology Officer Matt Fraser promised "more to come" for the new city services portal.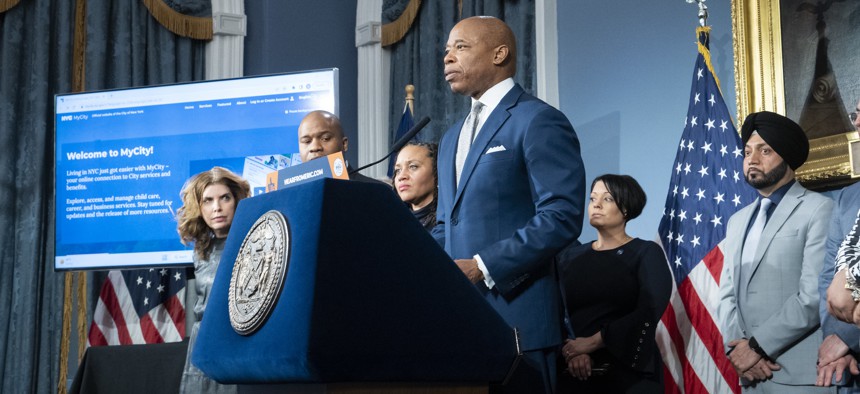 New York City Mayor Eric Adams broke ground on a major campaign promise on Wednesday, announcing the launch of MyCity, a new portal to access city services and benefits. 
But in launching the first phase of MyCity – which offers an eligibility screening tool and a streamlined application for child care assistance, such as vouchers for low-income New Yorkers – Adams and New York City Chief Technology Officer Matt Fraser seemed to anticipate that the new product would court criticism that it doesn't yet live up to the "one-stop shop" for all kinds of city services and benefits that Adams promised on the campaign trail. "Child care is just the first phase of it. We're going to continue to look across our portfolio of services that we offer and look at what else we can bring into the MyCity portfolio," Fraser said. "But we are big believers in not letting perfect be the enemy of the good. We want to make sure that we get access to people as quickly as possible."
The city has said since last year that MyCity would roll out in phases, with child care assistance as the first release. "What we're giving parents the opportunity to do now is to apply online in one place and get tracking information in real time so that they can know when they're eligible for a program or not, and get them child care as quickly as possible," Fraser said. 
The launch of MyCity also arrived later than the city projected; OTI said last summer that the product would launch by late 2022. "Every layer is going to have their tires kicked by the users," said Adams, noting that it took time to test the tool with users. "This is a legacy project. And when you're doing a legacy project, you cannot be worried about, 'Did I beat the clock?' No, we're going get this right.'"
Several council members received previews of the MyCity portal prior to its launch on Wednesday, including Speaker Adrienne Adams, Committee on Technology Chair Jennifer Gutiérrez and Council Member Julie Menin. Menin sponsored several child care-related bills that were passed last year, including one requiring the creation of an online portal providing information about child care subsidies, which she said the MyCity portal satisfies. "I had heard from so many parents who said, 'I can't find accessible, affordable childcare. I can't figure out this maze of subsidies, dozens of pages that you have to fill out.' And it wasn't even clear which subsidies parents could qualify for," Menin said. "That's why I think this portal is so important."
Gutiérrez said that she was excited about MyCity's launch and hoped that its rollout would be seamless. "The need to modernize the delivery of city benefits and resources is long overdue, and the promise of the MyCity portal could be transformative for millions of New Yorkers," she said in a statement. 
The MyCity child care assistance portal does not mention a new child care program available to undocumented New Yorkers called Promise NYC because that program launched after the initial phase of MyCity was already in development. 
Fraser said that user testing of the new portal included people who had just gone through applying for child care assistance. Asked by City & State whether he was confident that the rollout would be free of technical bugs and glitches – as other websites launched by the city and state have experienced – Fraser said that they had taken every effort to ensure that the system is safe and reliable. "With any system that goes live, you always have to factor for the unknown," he said.
The launch of the child care assistance function on MyCity was met with some positive reviews, including from social services organizations like Grand Street Settlement. "Thank you @NYCMayor for launching the MyCity portal to help streamline the process of getting children enrolled in child care," the organization said in a tweet. "This process will help us support families faster rather than spending time doing paperwork!"
But others have offered criticism, including that the tool currently uses Google Translate to provide access in 11 languages, and that the project relied on outside technology vendors rather than internal talent. "MyCity is yet again another shiny front door, built by external consultants, with no promise of actually changing how NYC's #govtech is developed, procured, & maintained," Noel Hidalgo, executive director of the civic technology organization BetaNYC, said in a tweet. The Office of Technology and Innovation's internal applications team worked with Salesforce as well as several M/WBE firms to help build the first phase of the portal. OTI is also conducting manual language translations that it expects to complete before the end of April. 
"We built phase one of MyCity in close consultation with parents, community-based organizations and childcare experts," a spokesperson for OTI said in a statement. "We've incorporated their valuable feedback throughout the platform's development, and have received positive reactions about vast improvement this application will bring to the current paper-based process. We value New Yorkers' opinions and look forward to continuing to build on this strong foundation for future phases of MyCity."