Policy
Where could there be a new casino in NYC?
Proposals have popped up in every borough – and outside the city.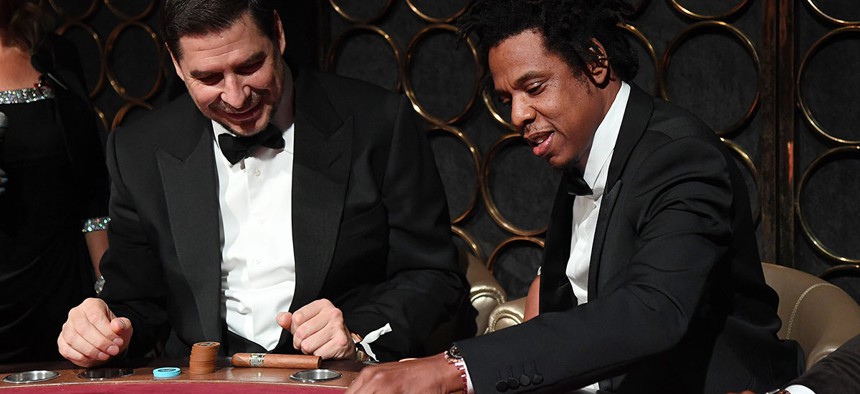 It may still be a while before New Yorkers can double down on an 11 in blackjack or hit their lucky number at the roulette table, but the big casino and real estate players are getting their chips lined up to go all-in on the state's three downstate casino licenses. Industry experts who spoke to City & State believe two of the licenses will likely go to the existing casinos at nearby racetracks. That would leave one golden ticket up for grabs – and it could be in any of the five boroughs. Midtown Manhattan has five proposals that have been floated in the press, while developers in the outer boroughs have their own ideas. Here are the 12 casino proposals that have been discussed so far.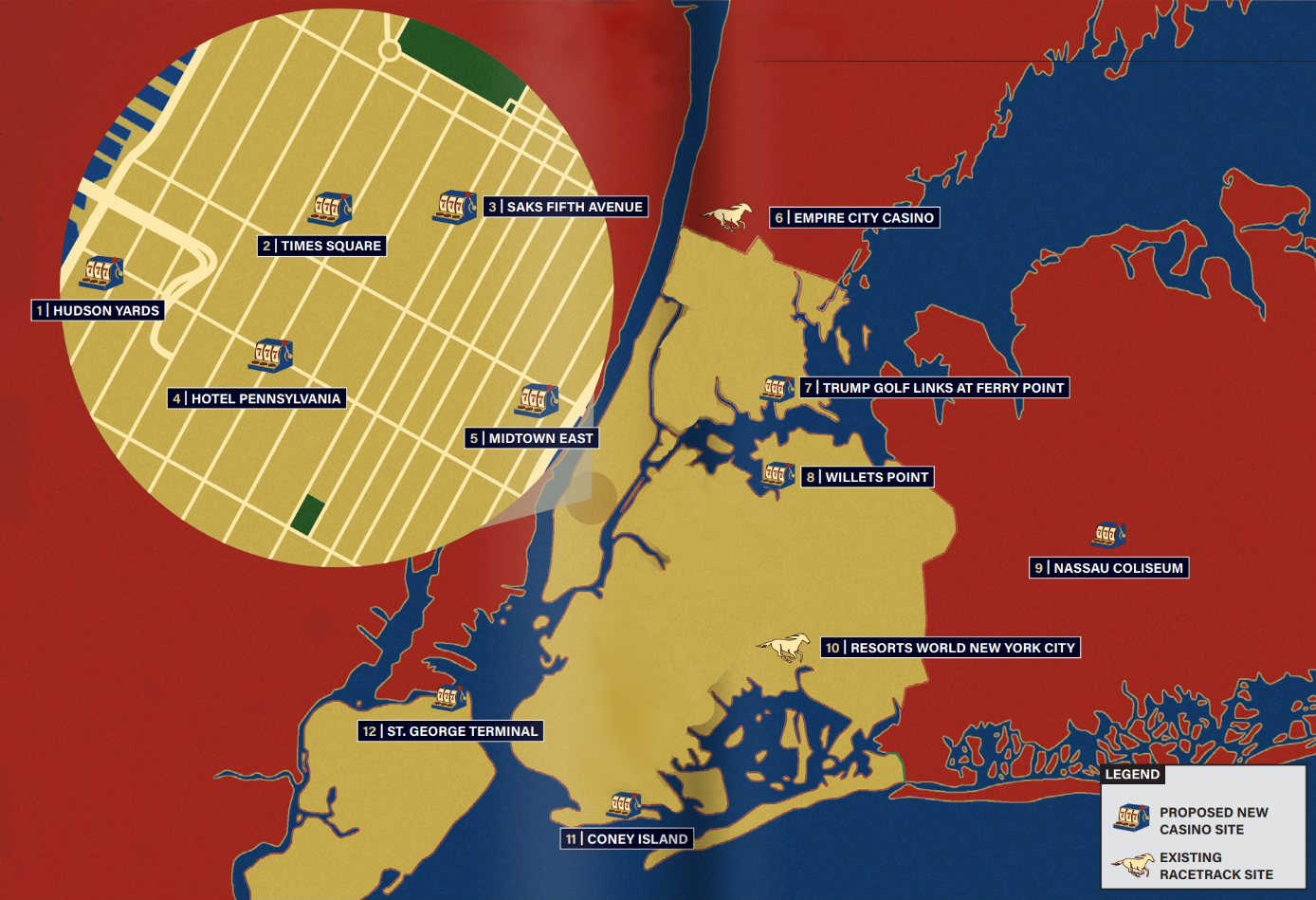 1. Hudson Yards
Location: Between West 30th and West 33rd Streets along 11th Avenue
Who's involved? Related Companies and Wynn Resorts
What are they proposing? Giving a fresh meaning to the idea of mixed-use development, the team that brought New York the ultra-luxury development Hudson Yards is hoping to build a resort and casino on the western side of the rail yard, which still sits undeveloped. Along with Vegas casino giant Wynn Resorts, Related Companies is pitching a high-end casino resort, along with the creation of a school, some below-market-rate housing and public space – all of which were originally planned for this site.
What's the latest? The plans for a luxury development and casino at Hudson Yards aren't getting much love at the community board level either. Manhattan Community Board 4 also announced its opposition to a casino at the site in March, saying the bid would complicate the pre-existing plans for affordable housing in the area.
2. Times Square
Location: 1515 Broadway
Who's involved? SL Green Realty Corp. (Frank Carone), Caesars Entertainment, Greenberg Traurig and Roc Nation (Jay-Z)
What are they proposing? Broadway shows are getting so expensive these days, you might just need to win a jackpot to afford a ticket. If this team gets their way, you'll have a shot at doing just that at a sleek new casino, hotel and restaurant complex inside a Times Square skyscraper. Though the casino complex would include dining options and 950 hotel rooms, developers said they would only be able to accommodate 10% of diners and a third of anticipated demand for hotel rooms. They promise to send the rest of that business to other hotels and restaurants in the area.
What's the latest? The bid for a Times Square casino has prompted some early pushback. The Broadway League, a theater trade association, has said they don't want a casino in the neighborhood. And in late 2022, Manhattan Community Board 5 approved a resolution opposing a casino in the area by a vote of 25 to 3. But the team pushing the bid has grown to include more influential members – including former chief of staff to Mayor Eric Adams Frank Carone – and touts a coalition of some business and labor support.
3. Saks Fifth Avenue
Location: 611 Fifth Ave.
Who's involved? Hudson's Bay Co.
What are they proposing? Department stores may be struggling, but the owners of Saks Fifth Avenue might have some luck in attracting more business if they succeed in their bid to convert the top three floors of their Manhattan flagship into a casino. Owner Hudson's Bay Co. said its proposal, which would involve a somewhat straightforward renovation of the existing top floors, could be completed in less than a year.
What's the latest? It's not just the Times Square bid that Manhattan Community Board 5 is against. The board's resolution opposing a casino covers the would-be luxury Saks casino too.
4. Hotel Pennsylvania
Location: 401 Seventh Ave.
Who's involved? Vornado Realty Trust
What are they proposing? Vornado Realty Trust is exploring the possibility of a casino at the former Hotel Pennsylvania across from Penn Station. As of mid-February, Crain's New York Business reported that the developer had not made a final decision on whether it will apply for a casino license.
What's the latest? Though Vornado's plans for a casino at the old Hotel Pennsylvania aren't moving as quickly as some of their would-be competitors, the developers would also face a resistant Community Board 5 if they move forward with a bid.
5. Midtown East
Location: Between East 38th and East 41st Streets along First Avenue
Who's involved? Soloviev Group and Mohegan
What are they proposing? A nearly 7-acre plot near the United Nations Headquarters could see the creation of a largely below ground casino and a hotel, residential buildings and sprawling green space complete with a Ferris wheel, according to The New York Times. But it won't be all fun and games if this development gets built. The neighborhood's diplomat class could get some intellectual stimulation at a museum dedicated to democracy. 
What's the latest? By a vote of 33 to 4, Manhattan Community Board 6 approved a resolution in March opposing the construction of a casino on this Midtown East site, noting that the space could be used for affordable housing, and citing concerns including public safety, noise, congestion and the proximity to schools.
6. Empire City Casino
Location: Yonkers Raceway, Yonkers
Who's involved? MGM Resorts
What are they proposing? MGM Resorts purchased Empire City Casino and Yonkers Raceway in 2019 for $865 million, and now the company is looking to expand its offerings to live table games with a full casino license. It currently offers more than 4,600 slot machines as well as video poker, electronic blackjack and horse racing.
7. Trump Golf Links at Ferry Point
Location: Around the golf course's current parking lot
Who's involved? Trump Organization and Bally's
What are they proposing? Bally's may be looking to take over the 300-acre Trump Golf Links at Ferry Point from The Trump Organization. In February, Bally's proposed using 17 acres to build a casino. The New York Post reported that Bronx Democratic Party insider Stanley Schlein registered as a lobbyist for Bally's.
8. Willets Point
Location: Near Citi Field
Who's involved? New York Mets owner Steve Cohen
What are they proposing? After starting the process of cleaning up Willets Point of the many auto body shops that occupied the area, New York City announced plans in November to add a 25,000-seat soccer stadium for New York City Football Club across the street from Citi Field. New York Mets owner Steve Cohen and a group called Queens Future are talking to residents about also adding a casino to the redevelopment efforts. The City reported in January that Cohen was thought to be targeting Chinese gamblers, with Flushing's Chinatown nearby.
What's the latest? While Cohen's Queens Future group is still somewhat coy about plans to submit an application for one of the downstate licenses, Politico reported in March that Cohen has seven different firms lobbying, spending at least $685,390 on the issue so far.
9. Nassau Coliseum
Location: On the site of current stadium parking lots
Who's involved? Las Vegas Sands and RXR Realty
What are they proposing? In January, Las Vegas Sands announced it would be undertaking a massive redevelopment project around the Nassau Coliseum with RXR Realty. Dubbed Nassau Hub, this miniature city on 70 acres would feature offices, housing, an entertainment venue and, yes, a casino. Former Gov. David Paterson, a senior vice president at Las Vegas Sands, has been advocating for a casino on the Nassau Coliseum site.
10. Resorts World New York City
Location: Aqueduct Race Track, Queens
Who's involved? Genting Group
What are they proposing? Currently, Resorts World New York City has over 6,500 slot machines and 1,300 video table games. There's also horse racing at Aqueduct Race Track most weekends. A full casino license would allow Genting Group to add live table games, including craps, poker and blackjack.
What's the latest? As of mid-March, Politico reported that Genting Group had spent more than any other competitor on lobbying for the expansion of its existing racino – at least $2.7 million so far. Those figures don't include what bidders have shelled out for other costs, however, like consultants and public relations. 
11. Coney Island
Location: Between Maimonides Park and Deno's Wonder Wheel Amusement Park
Who's involved? Thor Equities Group, Chickasaw Nation, Saratoga Casino Holdings and Legends Global Planning
What are they proposing? A lot of big players are backing a casino along the Coney Island boardwalk. It's ultimately the vision of Thor Equities Group Chair Joseph Sitt, who has been buying land in the area since 2005 and wants to make the shoreside destination a year-round entertainment district. He's also got support from several other partners as well as former New York City Council Member Robert Cornegy, who is lobbying for the plan, and John Catsimatidis, who owns apartment buildings in Coney Island.
What's the latest? The team behind the self-described longshot casino bid in Coney Island released slick and colorful renderings of what it's dubbed "The Coney" in early March. But days later, at meetings hosted by Brooklyn Borough President Antonio Reynoso, some residents spoke out against the potential casino, citing fears including increased crime and traffic.
12. St. George Terminal
Location: Former New York Wheel site
What are they proposing? Staten Island Borough President Vita Fossella held a press conference in September proposing the former New York Wheel site on the North Shore as a good place to put a casino. He said at the time that he had not spoken with the New York City Economic Development Corp., which owns the land, but wanted to get those conversations started.