Policy
On Broadway, New York City's slow march toward pedestrian-focused streets
Can Mayor Eric Adams match the cityscape legacy of former Mayor Mike Bloomberg?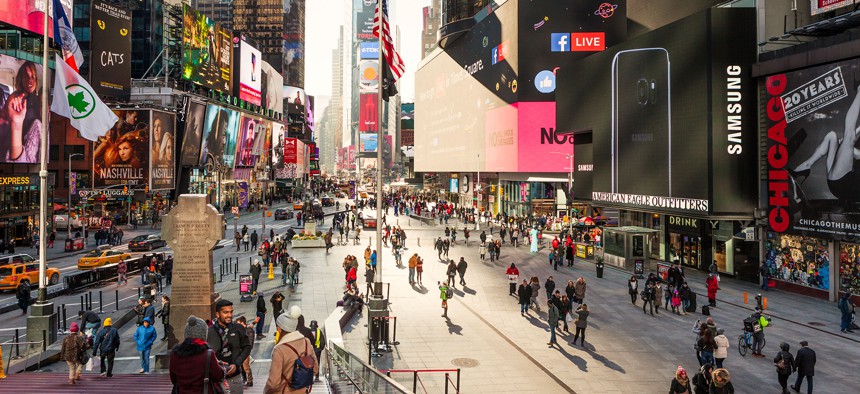 Nearly 15 years ago, under then-Mayor Mike Bloomberg, New York City embarked on a quest to pedestrianize Broadway – a diagonal thoroughfare that stretched through some of the most congested parts of the city. Led by intrepid Department of Transportation Commissioner Janette Sadik-Khan, the city closed two stretches of Broadway to cars and opened pedestrian plazas – in addition to creating other seating areas around the city and hundreds of miles of bike lanes.
More than that, they were remaking the city at a Robert Moses-like pace. Sam Schwartz, known as "Gridlock Sam," told Esquire in 2010 that Sadik-Khan had done more in her first few years as commissioner than anyone had done in the past 50 years. "She's preparing us for a future that will have fewer cars," he said at the time.
Two mayoral administrations later, those pedestrian plazas around Times Square and Herald Square remain the most dramatic steps the city has taken to veer away from car use on Broadway. Smaller steps to pedestrianize swaths of Broadway have progressed since then, but not at the speed or scale of the Bloomberg years.
Now, some transit advocates and the business improvement districts that also pushed for these projects have expressed hope that Mayor Eric Adams' administration will make new headway on the vision of a Broadway that puts pedestrians first.
Last month, Adams and Department of Transportation Commissioner Ydanis Rodriguez broke ground on the latest phase of "Broadway Vision" – a plan to prioritize pedestrians along Broadway from Union Square to Columbus Circle. A stretch of the thoroughfare between 25th and 32nd Streets west of Madison Square Park will include two pedestrian plazas free of cars, a two-way bike lane and slower car traffic – all set to be completed this summer.
Even the mayor's rhetoric is winning over critics of car culture. "There's a culture shift that must take place in this city," Adams said when announcing the latest phase of Broadway Vision. "Those who must use the vehicle, we're going to always be a city or a country where vehicles are going to be used, but we need to minimize them. In this city, our transportation system can take you wherever you want to go and we're doing it in a safe way."
In some ways, the city is still fighting the same battles as it was 15 years ago – proposed bike lanes can receive intense community backlash. But with congestion pricing on the way and the popularity of outdoor dining and the Open Streets program during the pandemic, there seems to be a greater acceptance that cars will continue to take up less space in the city. And with no real organized opposition to Broadway Vision, the idea of handing over more space to pedestrians doesn't seem like the "clash of values" that it was in 2009.
Getting stuff done
Adams has taken several steps this year to make progress on prioritizing pedestrians. He announced the city would commit $375 million toward new public spaces and open streets. That included the Broadway Vision projects and pedestrianization projects in other parts of the city that were mentioned in a report by the "New" New York Panel, convened by Adams and Gov. Kathy Hochul.
Advocates for pedestrianization also pointed to Adams' appointment of Ya-Ting Liu, a top lieutenant to Deputy Mayor for Operations Meera Joshi who has a background in transportation advocacy, as the city's first chief public realm officer as proof of the administration's interest in transforming the city's streets. "She is kind of the quarterback, or as the mayor said, the LeBron James of public space," said James Mettham, executive director of the Flatiron NoMad Partnership, a business improvement district that has led pedestrian pilot projects around the area. "She's tasked with being kind of the cat herder of multiple agencies as well as business improvement districts like ourselves and other local development corporations in seeing these things through."
"The fact that they're putting out press releases and plans for how to achieve some of these is really important and showing they're putting their support behind these projects," Kate Slevin, executive vice president of the Regional Plan Association, said of the Adams administration.
Following the implementation of car-free plazas in Times Square and Herald Square, progress on improving the rest of Broadway has struck some advocates as frustratingly slow. (In 2015, former Mayor Bill de Blasio even suggested opening those blocks of Times Square up to cars again.)
Several years later, though, toward the end of his eight years in office, de Blasio's administration announced a plan for making Broadway from Union Square to Columbus Circle more pedestrian friendly, with a mix of plazas and shared streets. In the last year of his tenure, the Department of Transportation implemented shared streets and pedestrian plazas in a few blocks of Flatiron, the Garment District and Times Square.
And other parts of the city piloted an Open Streets program during the COVID-19 pandemic. But some of those pedestrian corridors have been scaled down or entirely opened back up to cars. "We've seen some geographic equity, but I think we haven't seen a full completion, really, of any of these projects yet," said Jackson Chabot, director of advocacy and organizing at Open Plans, mentioning a few of the lasting Open Streets, like 34th Avenue in Queens and Vanderbilt Avenue in Brooklyn. The possibility of seeing plans to pedestrianize Broadway completed – or something close to it – makes the Broadway Vision plan alluring, Chabot said.
But that doesn't mean that all of the work that lies ahead is easy. The work that the administration is set to complete around Flatiron this summer, for example, involves mostly surface-level improvements like milling and paving streets, and putting up street furniture and signage. The more complicated – and expensive – work to permanently redesign the streets will follow, though a specific timeline has not been made public.
Mettham said that this current phase of work will make the stretch of Broadway from Flatiron to Herald Square look and feel like a new public space to 99% of people. "But for us, in the practitioner world of urban management, the real stuff – beyond just painting and graveling and throwing up planters and granite blocks – is ripping up the street, reconstructing, doing all the infrastructure work underneath it, and then building out permanent public spaces over the next five-plus years," he said.
While leaders of other business improvement districts and advocates for pedestrianization said that there hasn't been a huge amount of community pushback to recent pedestrian projects along Broadway – perhaps in part because they've slowly rolled out over the past 15 years – it's rarely a simple proposition to take away traffic lanes and parking spaces in New York City.
"Almost every block has a logistical problem that has to be solved," said Dan Biederman, president of the 34th Street Partnership, mentioning concerns from residents and retailers about getting deliveries as one example. Biederman is an advocate for pedestrianizing Broadway – and making more stretches of it car-free – but acknowledged that even his BID has some concerns about the way the two-way bike lane between West 25th and West 32nd Streets was being laid out. The New York City Department of Transportation did not provide a response by publication time.
Room to improve
Some proponents of pedestrianization are hopeful that there's some new momentum behind this movement after New York City saw streets transformed for alternative uses out of necessity during the pandemic, including outdoor dining and open streets. "The pandemic really did almost make it impossible to put the toothpaste back in the tube," said Chelsea Dowell, director of communications at Open Plans. "Once you see the way that these streets do enrich communities and help local businesses, and really just lift all boats, it's kind of impossible to not continue the momentum of reprioritizing."
It's unclear how much of the $375 million that the Adams administration pledged to invest in capital improvements to public spaces will go toward the work on Broadway Vision, or whether Adams' latest round of requested budget cuts will slow the progress that has been made. The Transportation Department did not comment on how budget cuts might impact these programs. The department did not meet annual benchmarks last year for creating new protected bus and bike lanes required by the streets master plan that was passed in 2019. At a City Council hearing in February, Rodriguez testified that staffing shortages were an issue, and that the department had 14.3% fewer employees in its Transportation Planning and Management Division than it did in 2019.
Though Broadway Vision sets an agenda for pedestrianizing Broadway from Union Square to Columbus Circle, some people want to see these kinds of projects extended both north and south of those bounds. In 2021, the SoHo Broadway Initiative released a framework that would create more pedestrian and public space by condensing two lanes of car traffic into one lane for buses, emergency vehicles, for-hire vehicles and essential vehicles like sanitation trucks.
New York City Council Member Gale Brewer, the former Manhattan borough president who represents the Upper West Side, said she would be interested in seeing more pedestrianization projects north of Columbus Circle – but only with appropriate planning and community engagement. "You've got to figure out the deliveries, you've got to figure out somebody to manage them," she said. "So there are issues to be worked out. I think the concept is good." Brewer added that the fate of congestion pricing – which would start below 60th Street in Manhattan – could also impact the planning of any car-restricted streets above Columbus Circle.
Some advocates for pedestrianization want to see the current plans go further in limiting space for private cars. "Right now, the Department of Transportation's plan isn't looking at a full pedestrianization of Broadway. They've been like bisections, adding pedestrian plazas, adding bike lanes, kind of cutting the flow for cars all the way from Columbus Circle to Union Square," said Anna Melendez, the Manhattan organizer at Transportation Alternatives. "Little by little, they're making changes. But they don't seem to have a full vision of getting the whole stretch to be pedestrianized, which we would definitely call for."
Council Member Carlina Rivera, who represents the Lower East Side up to Murray Hill, suggested that she also wants to see more fully pedestrianized spaces along Broadway and elsewhere in the city. "As the city continues to experience persistent traffic-related serious injuries and fatalities, initiatives like 'Broadway Vision' are imperative to advancing safety and wellbeing," Rivera said in a statement. "I have long advocated making Broadway fully pedestrian friendly, and I hope the mayor will take a more holistic approach to implementing street safety measures throughout the city."