Policy
More mental health crisis respite centers, in NYC Council plan
Mayor Eric Adams has his own mental health plan, but the council plans to push its priorities in the budget.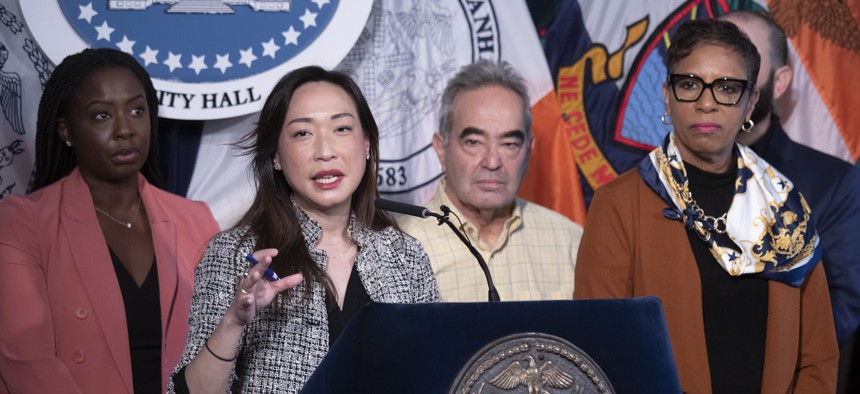 New Yorkers experiencing a mental health crisis could soon have more options for care if the number of crisis respite centers operating in the city grows from four to ten or more. A new bill introduced with City Council Speaker Adrienne Adams' support would require at least two of the voluntary walk-in facilities per borough.
These centers are an alternative to hospitalization, giving people who are experiencing a mental health crisis the choice to go and seek support at any time. People can even stay there for up to a week, coming and going as they please. Still, access is often limited for many who could benefit the most. Only four facilities are currently open for adults citywide – down by half since 2019, according to a 2022 report from New York City Public Advocate Jumaane Williams' office. The legislation would also require that the areas with the highest need be prioritized as the sites for the crisis respite centers, according to the bill's sponsor Council Member Keith Powers.
"One week is obviously not going to be a replacement for people who have a real need to go to a hospital, but for me it's a good intervention for people that need it. It's good to be close to where people live," Powers said. "Two may not be enough, but two is a good start."
The legislation is one component among a raft of measures in the council's "Mental Health Roadmap" that Powers, Adams, and other council members announced from City Hall Monday morning. The plan, which includes various bills and budget proposals, calls for increased preventative services in communities, reversing the mental health workforce shortage, bolstering public awareness about existing programs, and lessening the intersection of the criminal justice system with New Yorkers suffering from a mental illness. Mental health committee chair Council Member Linda Lee – former CEO of Korean Community Services of Metropolitan New York – was a guiding force in the formation of the plan, which Adams described Monday as a "long-term, continuously evolving pathway." 
"Down the road, if we have to make further legislation to ensure that some parts get done where they may need tweaks we will do that as well," Adams said. "As far as other announcements, we haven't seen one like this in the council – I don't think we've ever had a collaboration like this before."
The four-pillar roadmap largely takes a preventative-based approach to mental health – a necessary pivot as the city has "over-relied on emergency and crisis responses," according to Adams. In addition to Power's legislation to grow the city's roster of crisis respite centers, the council is also seeking more information about Mayor Eric Adams' controversial initiative directing city agencies to bring more chronically homeless New Yorkers in for mental health evaluations – even involuntarily. That bill, sponsored by Lee, would require the city to produce an annual report on the frequency and circumstances of involuntary hospitalization that it carries out. The mayor's administration didn't have much data for the City Council at a February oversight hearing on the still-new directive. 
Another measure would require the city to create a pilot program to open community centers for people with severe mental illness in at least five high-need areas. That's very similar to a proposal from Mayor Adams to invest an additional $7 million in "clubhouse" facilities where people with mental illness can participate in activities and receive services in a positive environment designed to stoke community.
The council's roadmap actually aligns with many of the initiatives included in the mayor's sweeping three-pronged mental health agenda, which he unveiled in early March. Both proclaim a community-centered approach, although the council is also fighting for additional funding for mental health initiatives in the fiscal year 2024 budget. The roadmap calls for an additional $28 million for school-based mental health clinics, $12.8 million to help fund 380 units of Justice Involved Supportive Housing, and $45 million for supportive housing.
Speaker Adams said the proposals outlined in the mental health roadmap are one of the council's top priorities during budget negotiations. Asked about potential pushback from the mayor, she said members are prepared to stand firm.
"We are going to continue to trumpet this … it's laid out very specifically, it's laid out very concisely, it's laid out with the people that have been involved in this for a very, very long time. And it's laid out with a substance that I don't think we've seen anywhere," she said, adding "we're going to be as forceful as we are with anything that is as vital and critical an issue to all New Yorkers."
The council is scheduled to hold a hearing on the legislative components of the road map on May 4.