Policy
NYC health chief warns of "shorter, less healthy lives" without action
A recent report found that average life expectancy declined 4.6 years between 2019 and 2020. But Health Commissioner Ashwin Vasan said that COVID-19 wasn't the only driver of those lost years.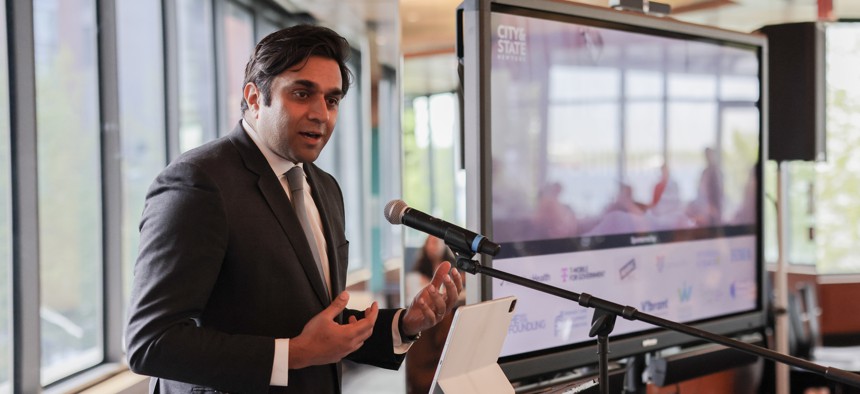 An eye-popping 4.6 year drop in life expectancy in New York City in 2020 – and a 49% jump in the city's premature death rate that year – has an obvious culprit. The COVID-19 pandemic was the main driver of these worrying trends, reported earlier this month in the city Department of Health's Annual Summary of Vital Statistics for 2020.
But New York City Health Commissioner Ashwin Vasan has made clear that COVID-19 isn't the only culprit. "Assuming that the numbers will return all the way back to normal as the threat of the pandemic recedes is wishful thinking," Vasan said on Thursday, in a keynote address at City & State's Healthy NY Summit. "The risk from COVID itself may have decreased, but the risks from preexisting epidemics that COVID worsened – from mental illness to diabetes – have not." 
The data also showed Black and Latino New Yorkers experienced a greater decline in life expectancy than white New Yorkers from 2019 to 2020.
Vasan said that these outcomes were already moving in the wrong direction or stalling before the pandemic. "For one thing, we know that premature deaths in New York had already started to increase prior to COVID and that life expectancy had experienced a relative flattening over the last decade prior to COVID, after nearly 15 years of steady growth," he said. 
Without urgent intervention, Vasan suggested, those years of life lost might not be regained. "Shorter, less healthy lives could come to define this era of public health," he said. The good news, he added, is that those trends can be reversed. He pointed to the city's recently released mental health agenda, whose goals include expanding overdose prevention centers and earlier mental health care interventions for young people. 
More broadly, public health requires sustainable funding from both the state and federal governments, Vasan said. He called directly on the state to increase aid to the city for public health.