Policy
Will dyslexia screening be Eric Adams' signature issue?
It's a top goal, and a personal one. But parts of his agenda, like a screening program at Rikers, are nowhere to be seen.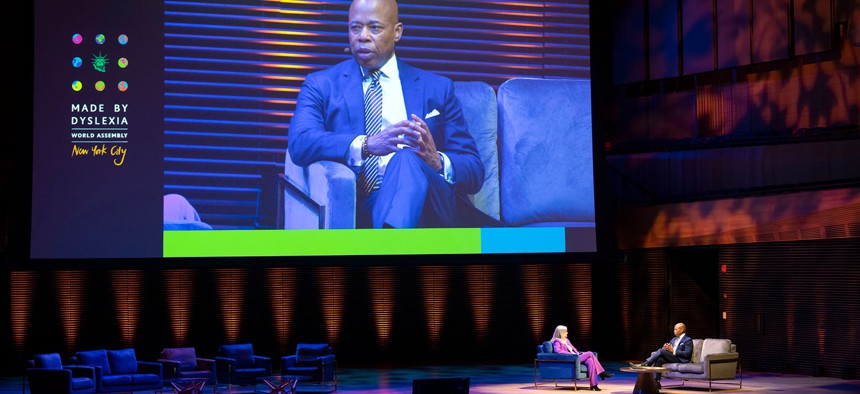 One of Eric Adams' top goals as New York City mayor is to build a school system better equipped to help children with dyslexia.
The mission is a personal one – one he took to Lincoln Center's sweeping David Geffen Hall stage on April 3, where a national dyslexia convention was being held. Hundreds looked on as a solemn Adams recalled walking into class years ago and seeing a paper left at his desk calling him dumb. His time as a Queens public school student was marked by many other painful moments, he said.
The audience listened as the mayor detailed an experience not unlike some of their own. Adams' mother didn't know what was wrong with him. Teachers thought he was lazy. He felt a surge of fear whenever his alarm clock marked the start of another day of classes. It wasn't until college that he understood his academic challenges. After overhearing another student playing a documentary about learning disabilities, Adams realized he had dyslexia.
These are stories Adams has told before, on the campaign trail, in interviews and at events as mayor. He has made his struggles with the reading disability a part of his everyman political identity.
The kid who struggled in school now leads the city and has begun rolling out a sweeping plan aimed at fixing the systemic challenges he encountered as a child. Adams wants the city to eventually screen every student for dyslexia and open at least one school-based dyslexia program in every borough. He's changing the way the country's biggest school system teaches reading to help kids who struggle. And, with an eye toward addressing systemic failures that may have contributed to their incarceration, he has also proposed screening every person in the city's jails for dyslexia and providing services to those who need it.
"The goal is not to only close buildings that house people who break the law, the goal is to close the pipeline that build those buildings and dyslexia is one of those," Adams said during the convention.
Adams has sold this as a plan that could define his tenure. "People often ask, 'What is your signature issue like pre-K?'" he said in January on NY1, referring to his predecessor Bill de Blasio's lauded universal prekindergarten program. "Dyslexia screening. Thirty percent to 40% of our inmates are dyslexic in jail. Eighty percent don't have a high school diploma or equivalency diploma. So it seems like small items, but they're not. These are the major feeders to the crises that we faced."
More than a year later, Adams' government hasn't hit all the goals he set, and there's no sign of dyslexia screenings on Rikers Island – but the city has made significant headway in some areas, and maintained a focus on serving a population that has often been left behind.
Students across New York City may already be seeing changes under Adams. The mayor set some public goals in a May 2022 press conference at a Harlem elementary school. The city would screen every student for dyslexia at 80 elementary schools and 80 middle schools by fall 2022 and provide targeted interventions to students. By April 2023, all the city's teachers from kindergarten to 12th grade would take a two-hour training session from the international charity Made By Dyslexia. And by the new school year in fall 2023, there would be at least one school in each borough offering a specialized program for students with dyslexia and other language-based learning disabilities.
The city said it has made good progress on dyslexia screening, even if it didn't hit the goal. Some 40 elementary schools had dyslexia screening in place last fall, and by the spring semester that was up to 80 elementary schools, 80 middle schools and 20 high schools, Department of Education Media Relations Director Nicole Brownstein told City & State. It's a good start, but just a small portion of the city's 1,588 public schools plus another 271 charter schools. Brownstein said the pilot program in total cost the city $4.1 million this year.
But the city is closer to another goal. A schools spokesperson said about 80,000 teachers, administrators and paraprofessionals have taken Made By Dyslexia's training – or about 74% of the city's nearly 108,000 school-based staff members. That news of the training was met with thunderous applause at the April 3 World Dyslexia Assembly, which was organized by Made By Dyslexia. Speakers there lauded Adams and education officials, saying New York was the first major city to take such steps.
"I wish I could just lean in the ear of those young children right now living in areas of uncertainty, particularly in areas where you don't have the luxury of your parents understanding," Adams said, "my goal as mayor is to constantly whisper in their ear, 'You got this, you got this, because the mayor got you.'"
The city is also still planning on having at least one school with specialized reading disability instruction in each borough for the upcoming school year, a schools spokesperson said. In February, the city announced that two elementary schools in Park Slope, Brooklyn, would be joining that pilot as Structured Literacy Schools. The literacy program at these schools will eventually become the systemwide standard, schools Chancellor David Banks told PIX11 at the time. That's on top of the Adams administration shifting all elementary schools to a phonics-based reading curriculum – a method of teaching reading that administrators said will get more students reading at grade level. Right now, teachers are just required to include a supplemental phonics program, but Chalkbeat New York reported that the city is moving toward mandating specific reading curriculum.
There seems to be much less action on Adams' plan to screen for dyslexia at city jails. The Department of Correction confirmed the program had not started yet. "We are fully committed to providing dyslexia screening for all people who enter our custody and look forward to bringing this initiative online in the near future," Deputy Commissioner of Public Information James Boyd said in an emailed statement, but follow-up questions about what was meant by "the near future" went unanswered. The department said it will be implementing the screening in-house, rather than contracting out to a nonprofit, or having NYC Health + Hospitals' Correctional Health Services do the work. A spokesperson said the department's Division of Programs and Community Partnerships is developing the dyslexia screening program and will lead it.
But that's still very much under wraps. Adams said on a December 2022 dyslexia panel that the city was allocating $7.4 million to the jails initiative "because we want to go back and help those who have been betrayed." The budget passed in June showed just under $1.5 million a year for "dyslexia screening" at the Department of Correction. Over five years, that'll add up to $7.4 million, but there's nothing yet public to show for it.
Screening incarcerated people for dyslexia is not a unique idea. The federal First Step Act of 2018 mandated dyslexia screening at all federal prisons. The first round of tests found fewer than 1% of inmates had dyslexia – far, far below the 40% of Rikers inmates that Adams regularly cites. The mayor's number may be based on a widely cited research paper that found nearly half of Texas inmates could have dyslexia.
That difference just suggests one of the reasons why starting the screening program may be harder than it seems. "People define these terms differently, I'm just being real," the Rev. Kimora said of dyslexia and learning disabilities. Kimora is a professor at John Jay College of Criminal Justice and an expert on correctional education. "If you look at the common disabilities in prison, most people aren't even going to look at dyslexia, they're looking at mental illness." Kimora is supportive of the city trying and urged the mayor to get it done.
But again, things seem to be moving slowly in the jails. New York City Public Advocate Jumaane Willliams is the sponsor of a bill that would mandate dyslexia screenings in jails – exactly the thing Adams said he plans to do. The bill had a public hearing in June, and Williams' spokesperson Kevin Fagan told City & State he hoped the bill would be passed around the time the final budget is due in June. But his office didn't haven't any updates on whether that would happen and if there is any coordination with the Adams administration.
So Adams has a long way to go if dyslexia is going to be his "signature issue" as he said on NY1. And though he has spoken about his plans frequently, it isn't clear if it's a top priority of the administration. There's no mention of dyslexia or learning disabilities in Adams' mayor's Preliminary Mayor's Management Report from January, and his Mayor's Management Report from September includes just a short pledge: "Students who are struggling will receive the attention and support they need to succeed thanks to universal screening for dyslexia and state-of-the-art interventions." That goal seems to be a long way off, even if Adams' heart – and his personal story – is in the right place.