Education
'Zombie' charter compromise angers public school advocates
Gov. Kathy Hochul originally wanted to lift the New York City charter cap, but is now considering reviving about two dozen lapsed charter licenses instead.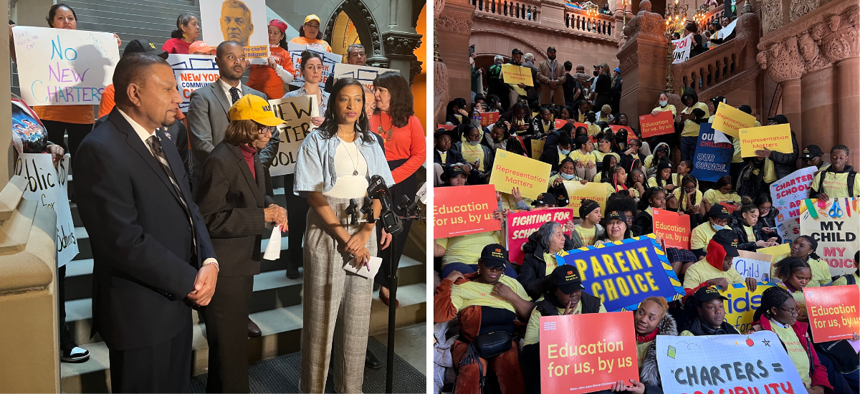 As reported by several news outlets, a compromise may be on the state budget negotiating table that would include allowing "zombie" charter schools in New York City – while still keeping the regional charter school cap in place. 
As part of her executive budget proposal, Gov. Kathy Hochul proposed lifting the regional charter school cap, which would create the opportunity for more charter schools to open in New York City where charter schools have been gaining in popularity.  While there are currently 275 charter schools – according to the New York City Charter School Center – the proposal could allow for as many as 80 new charter schools to open in the city.
State legislators – along with prominent Black leaders, advocates, teachers and parents – held dueling rallies at the state Capitol in March to express their respective stances on charter schools. Supporters say parents should have the autonomy to decide where to send their children to school; while critics assert charter schools take funding away from public schools. 
When asked about the ongoing negotiations on charter schools at the state Capitol on Tuesday, the governor said it was a challenging issue because of the emotion of both sides. "I have invested more money in public education than any governor in history. I believe in public schools. It is hard to turn my back on 50,000 parents who've put their names on waitlists so their kids can have a different alternative," Hochul said.
Despite reporting on the potential deal from the New York Post and Politico New York, Chair of the Senate Committee of New York City Education John Liu vehemently denied an agreement on reviving zombie charter schools was close in an interview with City & State. Liu said the governor's proposal lacked the accountability measures for expanding charters proposed by the Legislature, and he pointed to the number of available seats in existing charter schools across the city. "This isn't about choice for parents and school kids. This is about fulfilling a political promise, which is the worst form of government," Liu said.
In a statement to City & State, a spokesperson for state Sen. Jabari Brisport – who worked as a New York City public school teacher before getting elected – confirmed the senator's opposition to any expansion of charter schools, including  "back-door approaches like zombie charters or grade level expansion." United Federation of Teachers President Michael Mulgrew also confirmed his opposition in a statement, pointing to the number of available seats in current charters. "New York City charters have nearly 40,000 approved seats they aren't using. There is no need for more seats in zombie charters," Mulgrew wrote.
Newly elected Assembly Member Brian Cunningham affirmed his support for the potential compromise in a statement to City & State. "A high-quality education is paramount for all children. We have the opportunity to help students in our state achieve that by allowing charter schools with existing licenses the ability to operate across the state," Cunningham said.
While the budget is 25 days delayed from the original April 1 deadline, the governor has long maintained her position that a right state budget is better than an on-time one. "I don't think New Yorkers or anybody outside this room will be focused on the length of time … they're looking at the quality of my blueprint for leading the state," Hochul said.