Heard Around Town
'Breaking point:' NYC deputy mayor urges state and federal action on migrant influx
Anne Williams-Isom couldn't emphasize enough that city leaders are running out of options.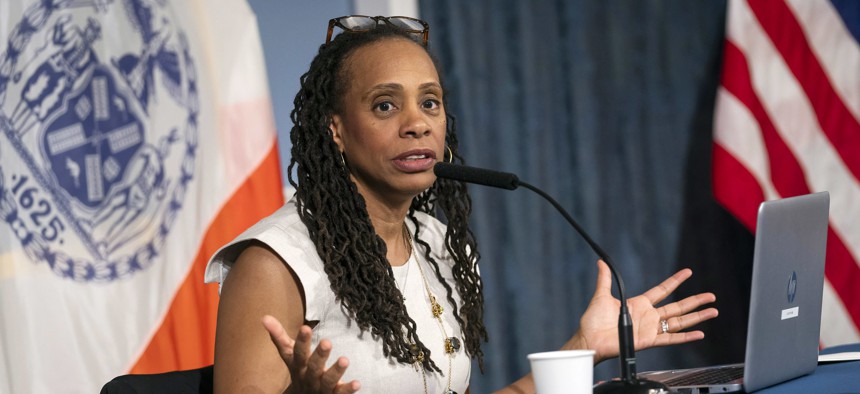 Nine. That's how many times New York City Deputy Mayor for Health and Human Services Anne Williams-Isom said the words "breaking point" and "crisis point" during a press conference about the influx of asylum-seekers Wednesday afternoon. That's a sentiment that city leaders have expressed often in wake of last week's expiration of Title 42, a federal emergency health authority that allowed the government to turn away migrants at the border for public health reasons. 
So far, the number of people crossing the border has reportedly dropped since the federal authority was lifted. But while it's still too early to know the full impact of the end of the federal order, the number of daily arrivals has grown to around 600 to 700 people. Around 4,300 people arrived in the past week, bringing the number of asylum-seekers currently in the city's care to over 41,500, according to Williams-Isom. 
But while Williams-Isom and Dr. Ted Long of New York City Health and Hospitals repeatedly stressed the extremity of the growing crisis – emphasizing that "there is absolutely just no more room right now" to house new arrivals in the city – some questions from reporters seeking details about temporary shelter alternatives for asylum-seekers went unanswered. 
More details however were revealed about the city's new asylum-seeker arrival center, which opened today at the Roosevelt Hotel in Midtown. Long said the centralized location will offer migrants a "dignified welcome." While individuals will be able to access things like medical care, mental health services, health insurance enrollment and more, they'll also be able to sit down with caseworkers to discuss where they want to go and how the city can help them complete their journey.
"We are taking everything that we've learned, everything that's worked well, and putting it under one roof," Long said.